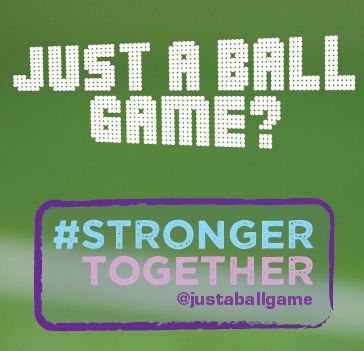 On the eve of their eighth birthday, JUST A BALL GAME? (JBG?) announced their first ever seminar  #STRONGERTOGETHER which will be hosted by The FA at Wembley Stadium on Tuesday 5th February 2019.
The event is supported by GMB Trade Union, The Professional Footballers' Association, UCFB, KIO and others, and will see a day of interactive workshops, networking, guest panel speakers from football clubs, fan groups, players, referees, coaches, education establishments, the police, media, and other sports organisations coming together to showcase the great partnership work done in collaboration with JBG?
Further details on this free, event will be released shortly. Tickets will be booked via Eventbrite.
Confirmed speakers to include referee Lucy Clarke, football coach Luke Tuffs, FA Youth Council member Amrit Singh Bains, former TUC Policy Officer Dr Peter Purton and former Women's FA Hon. Ass. Secretary Patricia Gregory.
"Delighted that this event is taking place, and at Wembley. It justifies years of hard work at  grass roots to raise the issue of anti-LGBT+ prejudice in football, and I am honored to have been asked to take part". Dr Peter Purton, TUC LGBT/disability officer (retired).
Lucy Clarke says: "I love the work that Just A Ball Game? do and fully support them. Football and all sports should be enjoyed by everyone and just because a person is a member of the LGBT+ community they should still continue doing what they love without prejudice."
" As someone who very nearly gave up doing something I love because I am transgender, I appreciate the work the Just A Ball Game? are doing as quitting should not have even crossed my mind. I am honored to have been invited to talk at this event and look forward to meeting you all."
Amrit Singh Bains had this to say:" It's an absolute honor to attend the day  as a guest speaker. I am really humbled for this opportunity to use the game of football to unite, inspire and empower our communities."