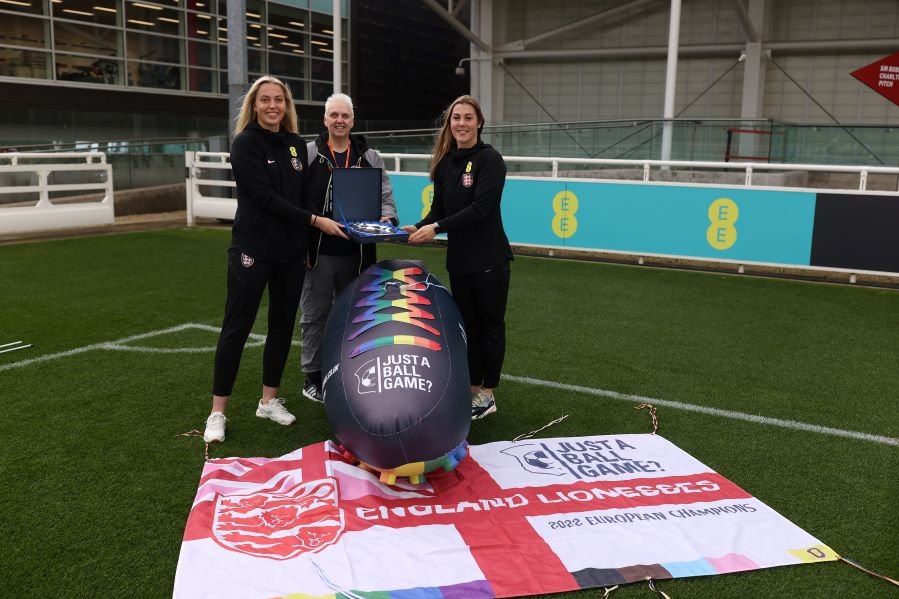 Campaigning organisation Just A Ball Game? (JBG?) have presented England Women with their annual award for LGBT+ inclusion and visibility.
Each year JBG? look to reward good practise from an individual or an organisation who have done their best over the previous 12 months around challenging homophobic, biphobic and transphobic behaviour, alongside enthusiastic LGBT+ inclusion and visibility.
The UEFA Women's EURO 2022 champions were presented the silver salver award at the St George's Park training camp by JBG? founder Lindsay England and patron Emily Ramsey, who herself is a goalkeeper for the Lionesses U-23s.
England said: "The current Lionesses are busy shaping tomorrow with their perceived intrinsic value and understanding on the drivers of change."
"Over the past 12-18 months it's been amazing to see over half of the squads chosen to play be comfortable enough to do so while they are 'out proud and kicking' and the support they have from their peers and the football management and backroom staff teams."
JBG? co-chair Steven Grocock said: "What the Lionesses have achieved on the pitch this year was brilliant, but what they have done to inspire a generation is something else. To see all the new fans at women's games and for young girls to want to play football on the back of this momentous year in sport will make waves for years to come. A truly inspirational team worthy of the award."