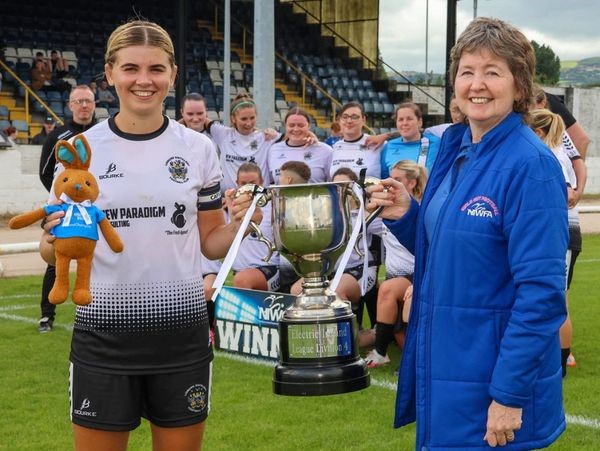 St Oliver Plunkett and Lisburn Distillery became the first two divisional champions of the season in the Northern Ireland Women's FA League.
The race for the Championship remains on although Lisburn Rangers ensured they remained firmly in the driving seat by crushing Belfast Celtic 16-0, thanks partly to an Eve Reilly double hat-trick. Not to be outdone, third-placed Bangor also romped home defeating Foyle Belles 12-2. Ballyclare Comrades' hopes were later ended when held 2-2 by St James' Swifts.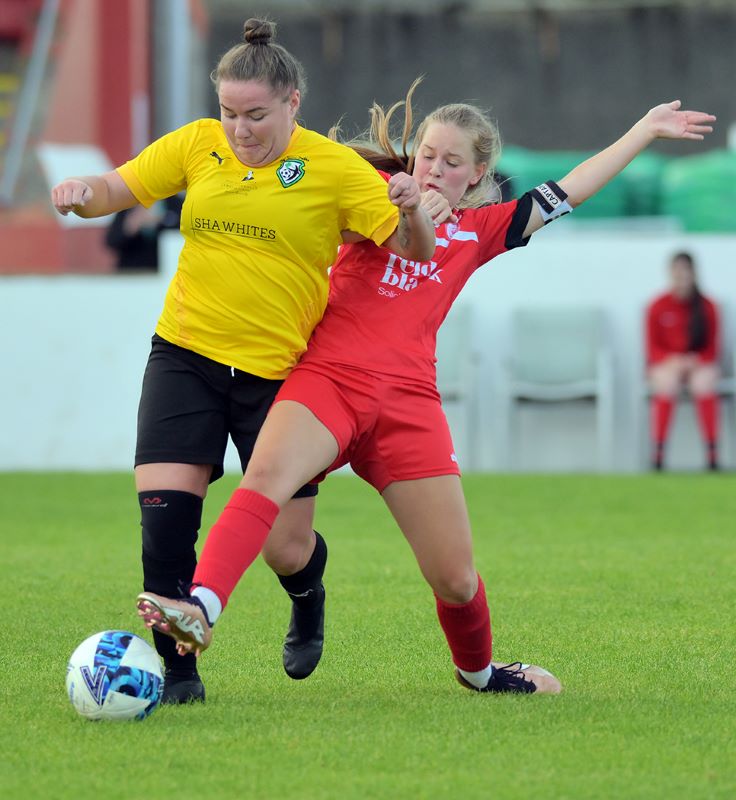 St Oliver Plunkett were the first of the season to clinch a league title, securing the Division One trophy following a fine win over Larne Olympic. Second-placed Camlough had a convincing win over Coleraine but ultimately this wasn't enough to stop SOP taking the title, with Ballynahinch also defeating Kilmore. Coleraine's defeat means they will finish bottom.
Division Two saw the top four sides; Ballymoney United, Greenisland, Ballyclare Comrades Reserves and Ambassadors all secure victories, with the net outcome being that Ballymoney remain one point clear (and with a game in hand) of Greenisland at the top. Portadown's defeat by Greenisland ensures that the County Armagh side will finish last.
Division Three is still wide open, with a win for Strabane Athletic leaving the County Tyrone side two points clear of second placed Craigavon City with two games left to play. Elsewhere, there were wins for Lisburn Ladies Swifts and the 22nd Ladies.
Lisburn Distillery easily overcame Comber Rec Reserves to ensure – despite second place Lisbellaw winning at Maiden City – that it will be the Whites who are crowned Division Four champions with two games to go. Draperstown Celtic Diamonds defeated Banbridge Rangers, whilst Futuro Falcons earned a battling point following a goalless draw at Mid Ulster Reserves.
The top two Division Five sides – Antrim Town and Ballymoney United Reserves – drew 3-3 in what was a highly entertaining game at Antrim Forum. This result means Antrim continue to lead the table by two points with games now running out. There were also wins for Belfast Ravens II and Raceview.
A comfortable win for Bloomfield over Donegal Celtic means that they are now one point away from securing Division Six. Ballynahinch remain in second place following a narrow 3-2 victory over Belfast Swifts, with Ards Rangers and Shorts Women both picking up wins as well.
This week's games in the development league saw wins for Valley Rangers and Holywood, over Oxford Sunnyside and Belfast Ravens III respectively.
The long overdue PWC Super Cup quarter finals were finally completed this week, with a great 6-0 win for Lisburn Distillery over Championship side Comber Rec. This result set up a Lisburn derby in the semi-final, as the Whites will now face high-flying Lisburn Rangers Ladies in the last four, while Ballyclare Comrades take on Bangor in the other semi-final game.