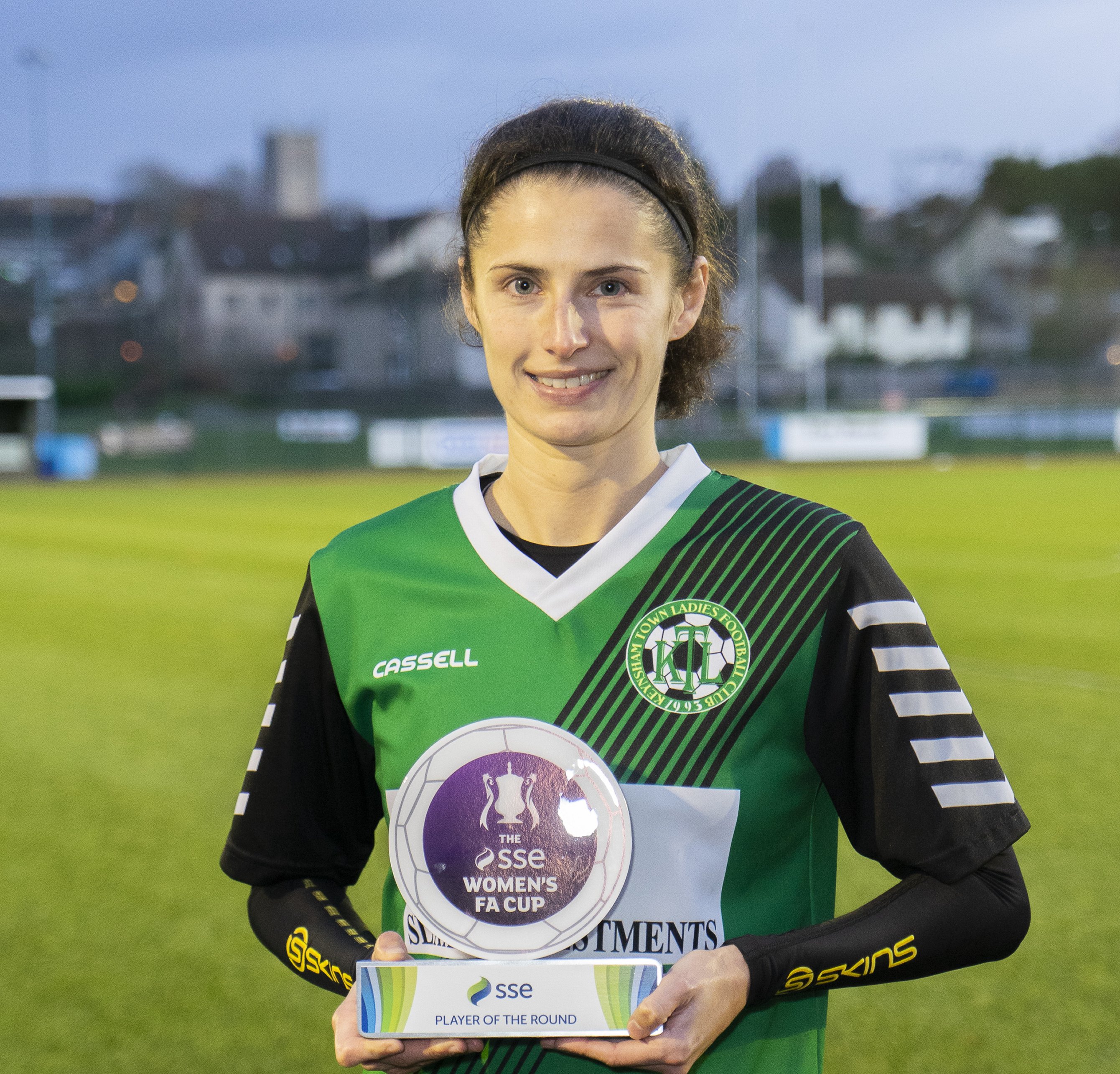 Kerry Bartlett has already bagged 37 goals this season, meaning her tally is greater than the returns of Harry Kane and Lionel Messi but it's her latest off-field gong that has left her beaming.
Bartlett may have been terrorising defenders for years, but never has the goal scoring ace been prouder to win an award after scooping the SSE Women's FA Cup player of the round trophy.
She scored four against C&K Basildon in an 8-3 win to ensure Keynsham Town recorded a second major SSE FA Cup scalp of the season against higher-league opposition.
Despite playing just 60 minutes in the tie, the forward notched her tally up to an impressive 37 goals for the campaign – a figure Bartlett's keen to add to against Fylde in the next round.
"I am really proud, I've never won anything like this before and the SSE Women's FA Cup is such a big thing in our game, so I am very proud," said the 35-year-old former Bristol Academy star.
"We have got this nasty habit of beginning games slowly, but when we play better teams we tend to start really well, and we did that.
"We played really well on the day and raised our game. To be honest I think we could compete in that league anyway, and hopefully we can get promoted this season.
"Strikers never lose count of how many they've scored, I am on 37 and counting this season. I keep thinking do I retire yet, and then I keep bettering my record number of goals. I can't retire just yet.
"I can't do it on my own, I'm not the sort of player that can take on ten players and score. I need people to help me and assist me and they've done a great job."
Linking up with former Arsenal and England striker Justine Lorton, the pair have formed a formidable partnership that's sent Keynsham right to the top of Division One South West.
With a combined age of 79 between the pair, the Quedgeley-born player insists retirement is the last thing on her mind and her immediate concern is masterminding Keynsham past high-flying Fylde.
"Fylde will be a difficult one because it's just after Christmas, so hopefully people aren't going to eat too much food and come back out of shape," she said.
"On the day anything can happen, but we know they are a decent team.
"I think we can beat them as long as our attitude is right. We have got another nasty habit of thinking we can turn up and roll teams over, but against better teams you have got to be prepared.
"At some point it is going to come to an end, but for now I have got no immediate plans to retire. I'm probably not a good trainer but Sunday's are what I live for."
By Sportsbeat
As the energy behind women's football, SSE's ambition is to support girls of all ages in England, helping them join in football from grassroots to the elite level. For more information on SSE's sponsorships and activities visit sse.co.uk