Having seen his West Ham United side reach an SSE Women's FA Cup final in their first season together, as well as comfortably steering clear of danger in the FA Women's Super League, Matt Beard was understandably proud. On the day, Manchester City were 3-0 winners at Wembley to lift the FA Cup, but Beard took encouragement from a strong first-half showing. The two-time WSL winner (with Liverpool) is looking ahead to next season with plenty of enthusiasm. Here were his thoughts in yesterday's post-match press conference.
What did you make of the performance?
Game of two halves, wasn't it? First half, I thought we did well; we created the better chances. We could have used the ball a bit better; we forced it at times when we could have gone back and gone up the other side. The first goal changes the game, and when you go behind against Man City, they're a very, very good team. I think the second half, you look at the first and the third goal, could we have done better with them? Probably yes. I think the first goal changes the game, but Anna Moorhouse, for me, has been fantastic this year. We've got to take the chances when we have them because you don't get many against Man City. Ultimately, today I think that's what it boiled down to.
Tasting Wembley, did it give you the hunger to come back again next year?
I said to the girls at the end, when we were in the huddle – look, Man City deserved to win it on the second-half performance, and that's football – but when we walked round at the end with the fans and you look at what we've created in such a short space of time, as a team, as a club, I'm so proud of everyone that's been connected with it, from the players, the coaching staff, and to the club itself. I'm sure people in here have watched the (BBC Three) documentary and followed the journey as we've gone. There's been lots of highs and lows, it's been really tough, but to be here for what we've created in such a short space of time, speaks volumes of what we're trying to do. We can learn from this, because we've got a lot of young players that will learn from this and they will become better players because of it.
Do you sense you've got a real, growing fanbase here?
I think if you look at the semi-final, where we had 8/900 fans there (at Reading), it was like a home game, they were fantastic. It was funny, because my experience of women's football is everyone sits together, and when we were at Reading, the West Ham fans were behind our dugout and they were on their own. Today, there was a big area where we had five or six thousand that supported us. If you look at how far we've come in such a short space of time, this team and this club's only gonna get better; our fanbase is only gonna grow. I've read Claire Rafferty's interview this morning about everyone talking about this game. The club tried to move the game so fans could go to both games today (with West Ham men playing Southampton at home); I just think that tells you everything about this football club.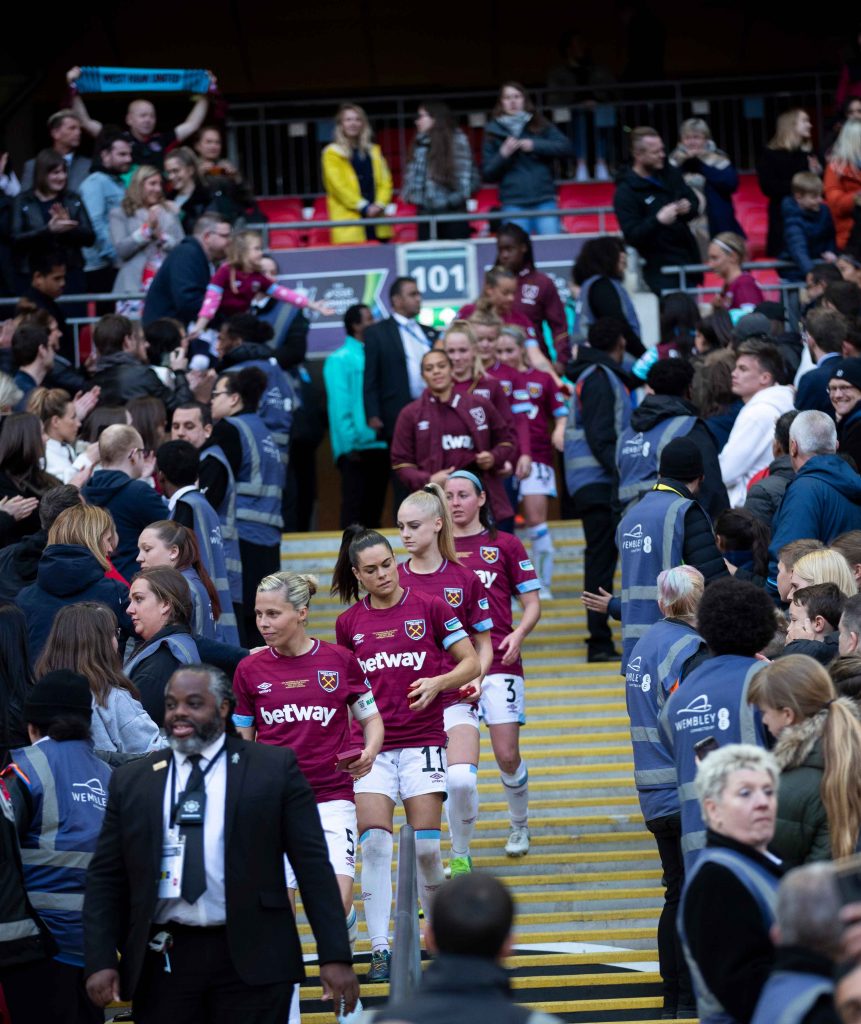 How big are the club's ambitions to come back and play on this stage regularly?
You look at the investment and what we've done, as I said, you've probably all seen it on the documentary anyway, where we want to go. We're not gonna run before we can walk; we've got to be sustainable and we've got to be sensible, but to taste this in our first year as a group together, and to be where we are in the league table, I would have snapped your hand off at the start of the season. Yes, the result's frustrating, but we can take so many positives from the whole experience and the whole journey.
Do you think there's gonna be investment again this summer to build on the success of this season?
Hopefully! That's one for the club, not me, but we wanna move forward, we wanna progress, and as I say, we can take a lot of pride from what we've done this year.
Will your conversations with (managing director) Jack (Sullivan) be about building on the success of this season?
The support from the club has been fantastic, Jack has been fantastic. (West Ham co-owner) David Sullivan comes to a lot of our games and I've never experienced, working in women's football, that you've got the owner of your club coming to the majority of your games. When I was at Liverpool, I don't remember…well, they never came at all. The support from the club's fantastic and we wanna progress and continue to improve this team and prove what we're trying to do.
What did you say to Anna Moorhouse after the game?
She apologised, but Anna's a young goalkeeper . When we recruited her in the summer, she'd played a lot of games against WSL2 teams for Arsenal; obviously she's had experience at Doncaster and Durham. She's grown over the course of her time here and there's times over the course of the season where she's saved us; even today she made two or three good saves, and the one at the end with Steph Houghton. That's part and parcel of football: you're gonna have good days and bad days. I can't fault her at all.
Had Boston (Breakers) not folded you might have been preparing for an NWSL game this weekend, when you stepped out today did it remind you why you came back? For some of the players as well, Bri Visalli wasn't getting a game at Chicago, Claire Rafferty was on the fringes at Chelsea, when you reflect what will you be thinking?
The reflection will be obviously at the end of the season. Forget the NWSL, the Boston thing; Boston folded and I've come back here. I had a tough time in Boston; it was a massive learning experience for me that made me a better coach, I think, and a better person. People like Claire, Claire's a good player, Bri obviously had great success in college, got drafted. It's completely different over there. Having six weeks to build this team, adding players over the course of pre-season, our first day we had 12/13 signed players, we had two or three trialists. Alisha Lehmann came late, Kate Longhurst came late, we had Ria Percival come late, we've added in January. So it's been different from what I'm used to. What I try to do if I can, as best as possible, is I'll want to have our recruitment done before we break up so I can have a bit of time off and recharge and then I can start planning and I've got everyone in from day one and we can really put the work in.
One year, with a bit of investment, to get to Wembley, it's a fantastic advert for not just players coming in, but also the people upstairs to look at.
Jack's outside if you wanna have a word with him for me! No listen, I keep saying, those conversations are ongoing. For us to be here today, no one would have thought that we would be here, and like I say, we've got to take the positives from that.
Is it fair to say there's still a massive budget gap from the likes of City, Chelsea and Arsenal to the rest of you?
I don't know what people's budgets are, so I can't answer those questions. I can only control what I can control and what I've got to work with.