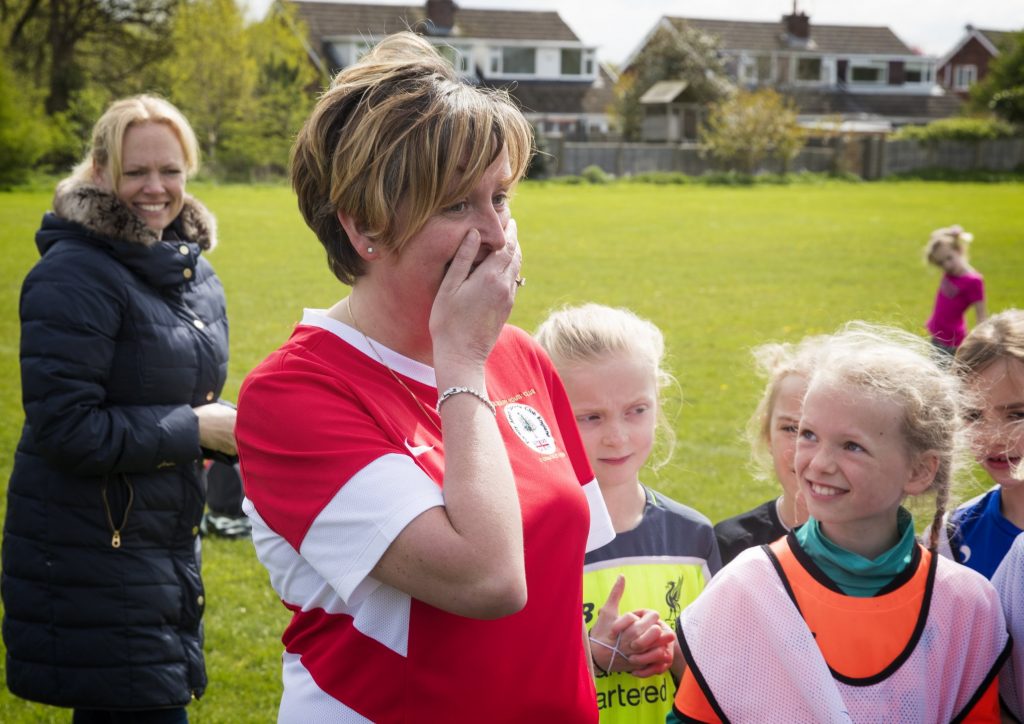 Tina Hamilton thought last weekend's session coaching young girls in Formby was going to be like any other; until the volunteer got the surprise of a lifetime.
Over the years, tireless Tina has dedicated great chunks of time and energy into coaching young girls and turned up to Deansgate Park in Formby thinking it would be another day at the races.
But she was shocked to see the SSE Women's FA Cup Trophy at the fields and even more surprised at what its presence meant.
For the 40-year-old mum-of-two was chosen to present the cup to the winning team at the SSE Women's FA Cup at Wembley on May 5.
Arsenal and Chelsea will contest the all-London tie on Saturday and it's fair to say Tina, of Duke Street, was completely taken aback at the news as she was handed the cup by Anna Farrell, football development officer for women and girls at the Liverpool FA.
"I thought it was a normal Saturday morning," said Tina. "It was all going swimmingly and I saw the SSE Women's FA Cup coming towards me and I thought 'that's a nice gesture [to bring it down]'
"Then I was told I was going to be presenting the cup at Wembley – I was speechless and those who know me very well know that never ever happens – I'm gobsmacked.
"It's a massive, massive honour – we've followed ladies football for a number of years. We were just a little bit devastated that Everton were knocked out by Arsenal but to go to Wembley alone is massive.
"And to present the trophy is something that royalty does! I can't believe people kept it quiet because normally I'm on top of everything!"
Tina started volunteering on a regular basis six years ago after her daughter Lily showed an interest in football.
The group at Formby has grown from 17 girls back then to more than 160, with Tina's enthusiasm, drive and commitment to the cause paying a significant role in the expansion.
And she insisted the love she has in helping to mould the young footballers and see them develop as people and players gives her rich satisfaction.
"As anyone in sport may know you sometimes struggling to get people to help out," added Tina. "The chairman asked if I minded stepping up a few years ago – that's when we had 17 girls.
"The passion and the enthusiasm and the talent they show is incredible – the social skills the children get from the Wildcats sessions are massive as well.
"It's so much more rewarding than a nine-to-five job. You get more uptight about watching the girls play than about watching your own team!"
Tickets are now on sale for the SSE Women's FA Cup Final on Saturday 5th May at Wembley Stadium connected by EE. For more information about tickets and SSE's involvement in women's football visit www.sponsorship.sse.com