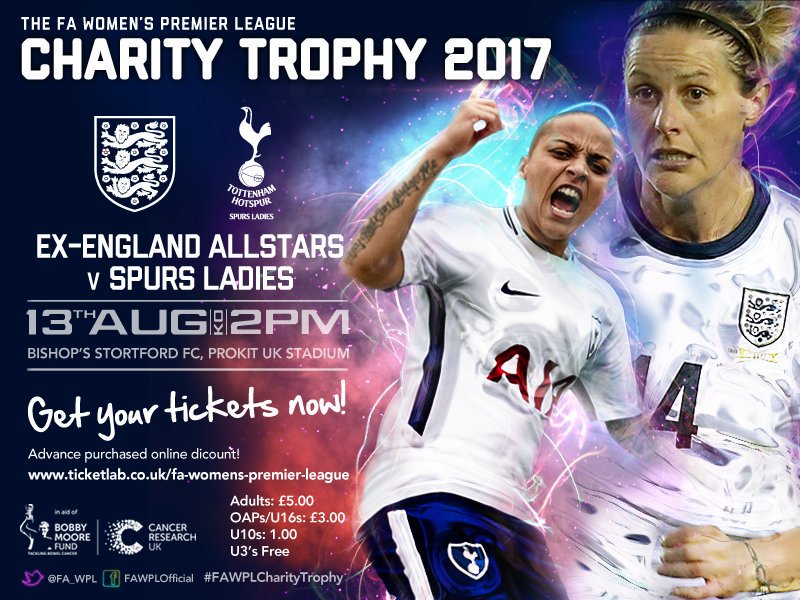 Tottenham Hotspur are to take on some of the greats of the English game in The FA Women's Premier League's Charity Trophy match on 13th August.
As FA WPL National champions, Karen Hills' side have been invited to face the Ex-England All-Stars in the showpiece fixture on Sunday 13 August at Bishop's Stortford's ProKit UK Stadium, kick-off 2pm.
Former England Assistant Coach Marieanne Spacey MBE, goalkeeping legends Rachel Brown-Finnis and Pauline Cope-Boanas, plus defender Rachel Unitt and striker Karen Walker are set to appear for the Ex-England All-Stars, while England's all-time record goalscorer Kelly Smith MBE will take on a player-coach role.
Defenders Lindsay Johnson, Kirsty Pealling, Clare Taylor MBE and Michelle Hickmott, midfielders Danielle Murphy, Sian Williams, Rachel Stowell (nee McArthur), Jo Broadhurst, Sammy Britton and Justine Lorton-Radburn, and strikers Jody Handley and Ellen Maggs have also been named in the All-Stars squad.
The match is being played in support of FA Charity Partner, The Bobby Moore Fund and will also serve as a tribute to England legend and women's football lynchpin Sylvia Gore MBE, who passed away in September, 2016.
Looking ahead to the game on tottenhamhotspur.com, Spurs manager Hills beamed: "It's an exciting opportunity for us to play against some true legends of the game and we're really looking forward to it. There are some absolute greats that have made history in women's football in the side so we're really excited to test ourselves against them and it's a credit to our players for what they've achieved to get themselves into this position as well.
"For me personally it's also an exciting opportunity to see some old faces that I used to play against when I was on the pitch and the organisers have definitely pulled out all the stops to get a fantastic group of players together that are going to very much test and challenge us. I'm sure it's going to be entertaining as well as competitive and obviously it's for a good cause as well, so we're delighted to be part of it, we'll approach it as we do every other game and try to put on a performance that we can be proud of."
FA WPL Chairman Carol West added: "We're absolutely delighted that so many ex-England players have agreed to take part in this year's Charity Trophy match. While there is an obvious serious side to the event, I'm sure the characters involved will make it a hugely enjoyable day.
"Spurs Ladies are our champions and will soon be competing against potential stars of the future in WSL2. This match will see them play against proven stars of the past which is not only a great privilege for them but for the rest of us too.
"I'd like to thank everyone for generously giving their time to support the event and hope that having so many stars in one place will draw a good crowd so that we can raise as much money for charity as possible."
Tickets bought online in advance will be available at the discounted prices of £5 for adults, £3 for Under-16s and OAPs, and £1 for Under-10s. Under-3s go free.
Tickets may be on sale on the day subject to availability but not at the discounted prices.