Well, it took a fair bit of huff and puff, lots of near misses (and brave saves from Jackie Burns), disciplined defending from the visitors and more than an hour (and a pair of substitute Beths) for England to finally blow Northern Ireland's house down, on a historic and enjoyable evening at Wembley Stadium, but Sarina Wiegman's Lionesses can be more than happy with a 4-0 win in World Cup Qualifying.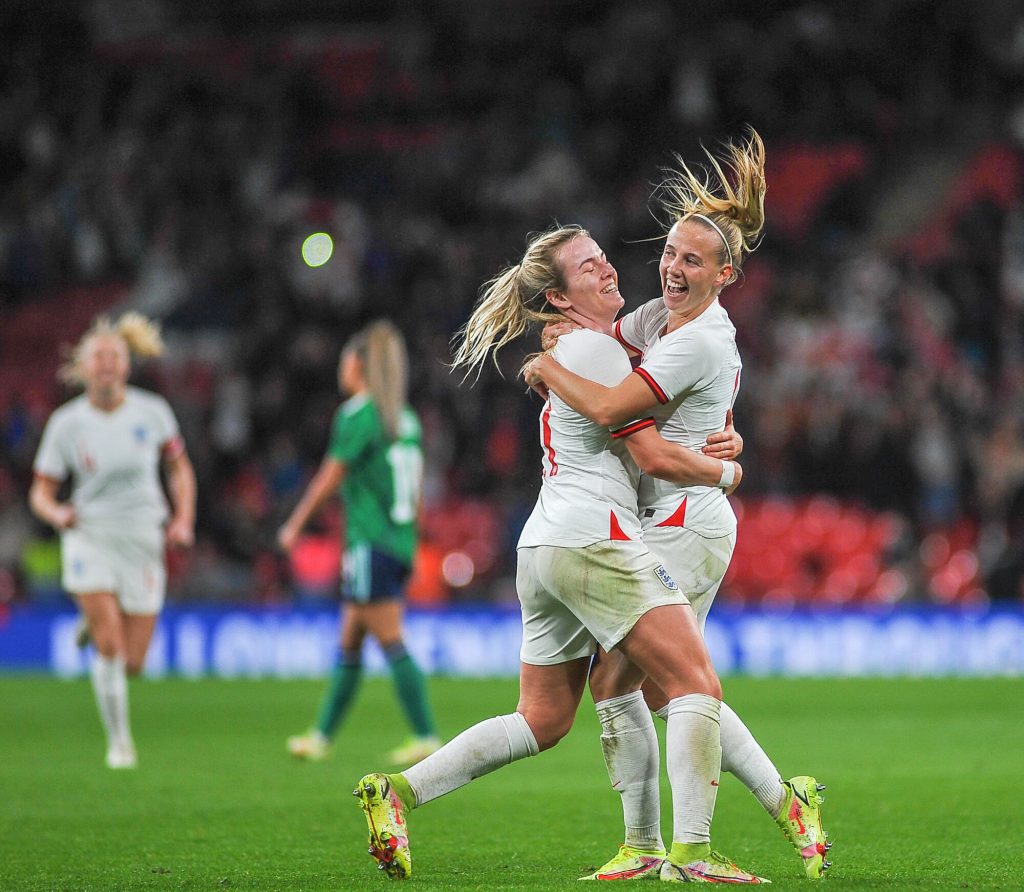 One player in particular, the buzzing Beth Mead who netted a minute after taking to the field and went on to bag a brilliant hat-trick (the first by an England women's player at the home of football) was understandably grinning wider than most, as the fans' favourite told ITV straight after the game:
"Even to score a goal at Wembley is an amazing feeling. It's an honour to put this shirt on and score for my country but to score a hat-trick is a special feeling and I'm glad to help the girls get three points today.
"I think it's got to be up there [in her career highlights]. To score a hat-trick at Wembley for your country is probably one of the proudest moments for me and my family."
The result reflects the dominance of England and almost all of the game took place in Northern Ireland's half but respect to the #GameChangersNI who continue to learn, improve and show brave determination under Kenny Shiels' direction and the noisy and proud travelling #GAWA fans in the stands showed their appreciation too.
Here are Northern Ireland manager Kenny Shiels' honest reflections after the game:
"I don't think we played any where near what we can. England have got superior strength, superior fitness, superior size, superior speed which restricted our normal game. If you look at the full-time and the part-time, there's a perfect example of it. We couldn't get close to them. They beat us through their athleticism and their stronger bench. At 0-0 they were worried because the first 15 minutes of the second half we were threatening. We had two chances at the back post and we weren't clinical enough in that area.
"We can't disagree with the final outcome of 4-0 but we showed a lot of courage and for the first hour, I wouldn't say we were comfortable but we negated everything they threw at us and then they scored with a fluke, a cross… and that was it. The players from the bench were too strong, too quick and there wasn't much we could do about it."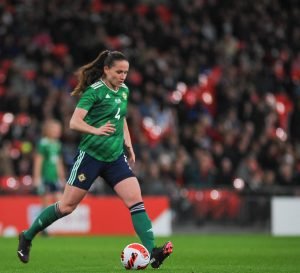 On the team's preparation and performance:
"I thought tactically we were outstanding. Our preparation was so good. We nullified any threats that they had, we didn't do it in totality, but we did it in a lot of areas.
"I think there was a certain amount of stress in the early parts of the game but when we bedded into the game they adapted fantastically well considering the opposition. They're playing against one of the best teams in the world and they showed desire, comradeship and the understanding of what we had to do.
"We felt that Ellen White was going to be a major player for them and we did our preparation on that one and Sarah McFadden was outstanding in that role. It was a fantastic performance from her and the other players in the back.
"We just couldn't get down the sides the way we wanted to. It's a disappointment because if we'd been beaten 1-0 I'd still be in the same mood, I would still be feeling, 'If only'… but the best team won, we can't disagree with that."
And appearing content and relaxed, here are England manager Sarina Wiegman's post-match thoughts:
"I'm very happy with this win. In the beginning it was a pretty hard game because they dropped very deep. We knew this of course. We created a lot of chances and just needed to be patient to score a goal and finally we did. We brought some new players on the pitch and they made a difference. It's really good that you see this team has depth, can play very well but it we need to change or bring some new energy that's really good too.

On whether she needed to get angry at half time:
"I don't think I had to spur them on at all. Of course I don't get angry because they did their best and I think we played very well and created many chances. We played basically in their half of the pitch and the only thing we didn't do was score. We hit the crossbar two times so we just had to keep patient and create more chances to score that first goal.
"I think we could have been more precise but in this match we were a little bit unlucky. I think we were pretty tight on the goal and we created good chances. It is obvious we could have done things better soon but I think if we had a bit of luck we could have scored earlier.
Although Wiegman isn't always keen to be drawn to comment on individual players but of course she was asked about the confidence and form of Beth Mead at present:
"I think she has answered that question already, I don't think I need to answer it! She's in a very good place at the moment. Obviously she's a good footballer and she feels very good and that shows on the pitch, it shows in training and it shows at Arsenal."