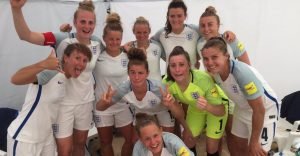 England are through to the Euro Beach Soccer Final in Portugal, after thrashing holders Spain 6-1 on Saturday.
The sides went into the first interval in Nazare level after Selene Alegre cancelled out Gemma Hillier's opener but it was from there that Perry Northeast's side began to show their quality.
In their second game of the day, England showed little sign of fatigue as Molly Clark and Sarah Kempson got their first goals of the day in the second period.
With England in a healthy lead, Spain began to fade late on as Hillier, Kempson and Clark each grabbed a second to set up a final date with last year's runners-up Switzerland.
The Swiss earned the right to fight for the Euro Beach Soccer Cup, after sending the Czech Republic to a 5-1 defeat.
England had earlier staged an amazing comeback against the Netherlands, retrieving a three-goal deficit to win 4-3.
To watch the final live at 1pm on Sunday, or to catch up on earlier action, click here.
Source – beachsoccer.com