The countdown to Scotland's World Cup qualifier against Spain at Hampden Park is on. But when Rachel Corsie met the press this week, the main talking point was, of course, the identical Tweet sent out by the Scotland captain and her team mates about the ticketing for the match, reports CATHERINE ETOE.
Following record attendances at recent women's football matches, the SFA have only opened a fraction of a 50,000+ capacity Hampden Park.

How are we expected to grow the game when only limited tickets are available for our supporters? Come on @ScotlandNT we can do better. pic.twitter.com/WCSGWLVW6j

— Rachel Corsie (@RachelCorsie14) April 5, 2022
It was a social media message written in light of the massive attendances we have recently seen within the sport and it boldly called for more tickets to be made available for Tuesday's tie. "We can do better" it concluded and to many there was an element of truth in that.
There were those, though, who jumped on the Tweet, questioning whether the SWNT had picked the right battle because tickets are sold in piecemeal fashion for men's football too.
But as Corsie revealed in her press conference, there was more to the SWNT's unhappiness than tickets and publicity for one match. There is also the bigger picture – the desire of an ambitious group of players to be given the best off the pitch so they can achieve on it.
As a result of the Tweet, the players have had what Corsie described as an "open and positive" meeting with the SFA's top brass and there is a hope for change. Here's some of what she had to say about the Tweet, how the players feel and their hopes for the future…
On the Tweet:
Firstly, on playing at Hampden and the match itself – we want everybody to be there who wants to be there. The second part came from the fact that there was some limited availability and off the back of everything that's happening around the game, we just want to make sure everybody has the opportunity to know the game is on, for it to be visible.
On how much they debated before Tweeting:
A lot. There's a really good dialogue amongst the players, not just the ones here, but the ones that have been in the squad a long time and players that may have only been in the squad recently. We do very much value and respect one another, so there were good conversations and we have a communication channel where between camps players chat to one another. In terms of dialogue, it was a collective decision to say something publicly.
On her reaction to some of the more negative replies:
I haven't read most of them, it's been a really busy camp since Tuesday night. The purpose for us as a collective group of players was that we want to make a difference, we want to make it the best experience for the players, staff, fans, for everyone that has a part in this. What came off the back of that became good conversations that will enable there to be change that really does make a difference.
On their subsequent meeting with SFA chief executive Ian Maxwell:
It was an open conversation around understanding why the players chose to make that public comment. From that there was a clearer understanding of the wider feelings across the group. It's not about in isolation the tickets, it's more about understanding we are the senior national team, we have an environment that we want to be as professional as possible and I think the players felt it was the right time to want to try and make positive change.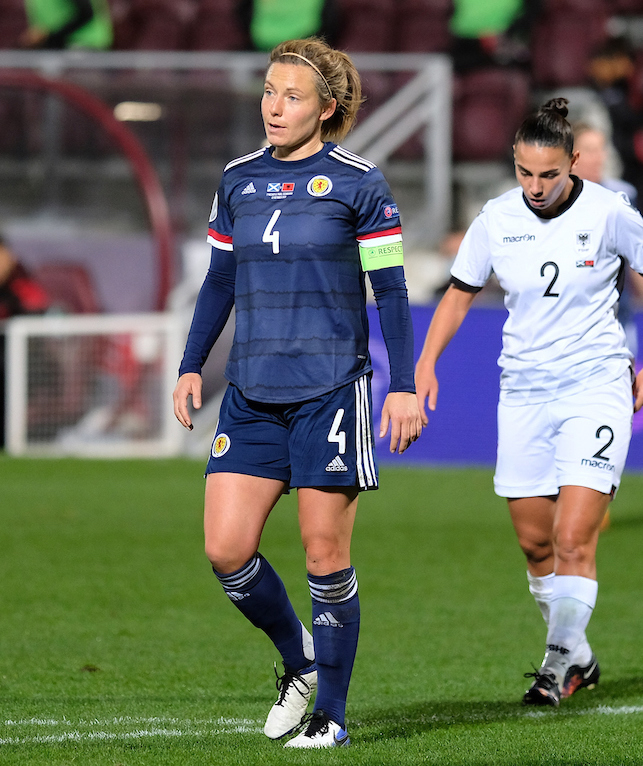 On the issues:
We know what is viewed as a high performing level. In comparison to what either club environments are, or other national teams are given, other teams in the association are given, aren't equal to what we get. There's been a lot of things that the SFA have done, like playing at Hampden, that shows a lot of forward steps, but there's still a lot of things that happen at a very day-to-day level where you can see there's still ways to go. I think that's across women's sport as a whole.
On whether Tweeting about wider issues would have been better:
It's difficult to know how to handle different situations and I think there's been an element of some frustrations built up over time over just the general environment we have in the national team. I wouldn't say we didn't not think about what was the best course of action, it was an opportunity that we felt was the right thing to do in the moment.
On the players' long-time frustration:
A lot of us have had to be involved in fighting for opportunity, for standards, and trying to help others understand what the standards look like, how things look at some of the top clubs, which we now have players within and directly learning and seeing what can be done. It's about pushing it forward but naturally when you're constantly doing that, there are moments when that does weigh on you.
On the players having to take that role:
The fact that Fiona McIntyre now is Head of Women and Girls Football in the association has been a massive help for the players. They can immediately see the benefits of that and I think the fact that we didn't have someone in that role for an extended period possibly means there's been a build up of these conversations. To be honest it's everyone's responsibility, the players want to move this forward. We want this to grow and improve, not just for us, for the country, everyone should want Scotland to do as well as they can.
On next steps:
Now it's a case of we do actually need to see a difference. The SFA know what a high performance environment looks like. We are developing into a country where we can have an expectation of teams qualifying and that comes through building a great culture, building an environment where people feel valued, resourcing all of our teams with the high performing environments that then allow them to have the chance to succeed. Hopefully everyone has the ambition to take this forward and as players we want that to be the case and want as many fans turning up next Tuesday night as possible.
The SFA responded to the players' action on social media with the below statement the following day, which ended with the line, "We hope the SWNT can refocus and inspire the nation against Spain on Tuesday."
You can read it in full on the ScottishFA website, link below ⬇️:
https://www.scottishfa.co.uk/news/scottish-fa-clarifies-ticketing-arrangements-for-scotland-v-spain/?rid=1227