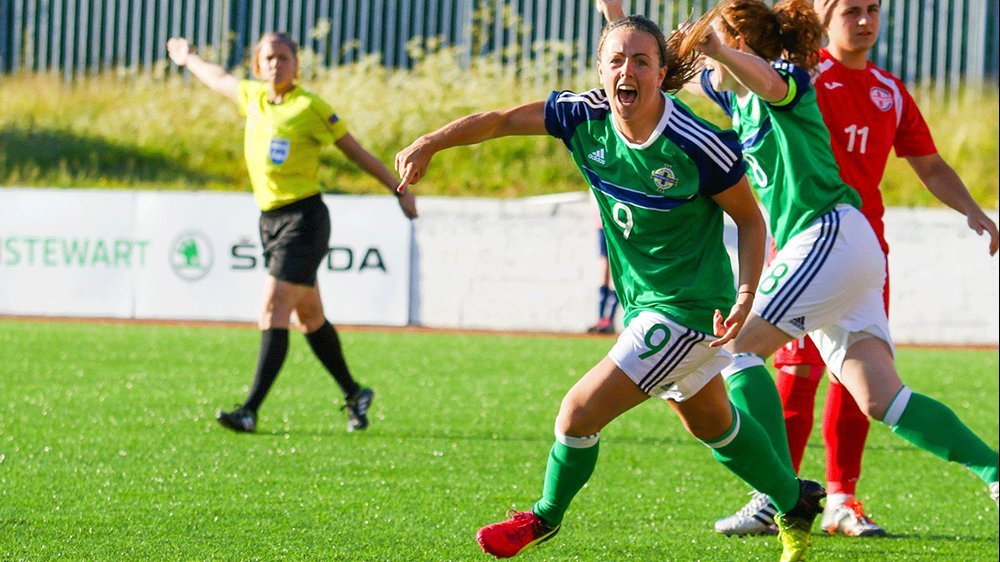 Northern Ireland manager Alfie Wylie has picked his squad for the upcoming FIFA Women's World Cup Qualifiers with a return for Everton striker Simone Magill, reports irishfa.com.
Magill has been out through injury but has returned to bolster the side which will be without Reading attacker Rachel Furness who is absent due to an injury of her own.
Northern Ireland finish their World Cup Qualifying campaign against the Republic of Ireland and Slovakia, looking to end on a high.
They first face the Republic of Ireland on Friday 31 August at Tallaght Stadium at 5:30pm before finishing with a home game at Shamrock Park, Portadown, against Slovakia on Tuesday 4 September at 7:30pm.
They currently sit fourth in the five team group, three points ahead of Slovakia, who they beat 3-1 earlier in the campaign.
Other absentees in the squad include Demi Vance & Kirsty McGuinness but there are returns for Lauren Wade, who has been playing in America, Catherine Hyndman and Kerry Montgomery.
Northern Ireland Squad
Goalkeepers: Jacqueline Burns (Carson-Numan University), Emma Higgins (Selfoss)
Defenders: Billie Simpson (Cliftonville), Emma McMaster (Cliftonville), Ashley Hutton (Linfield), Laura Rafferty (Brighton & Hove Albion), Freya Holdaway (Crystal Palace), Julie Nelson (Crusaders Strikers), Jessica Foy (Glentoran), Catherine Hyngman (Sion Swifts).
Midfielders: Sarah McFadden (Durham), Megan Bell (Linfield), Marissa Callaghan (Cliftonville), Louise McDaniel (Linfield), Kerry Montgomery (Motherwell), Ciara Sherwood (Crystal Palace)
Forwards: Simone Magill (Everton), Lauren Wade (Carson-Newman University), Emily Wilson (Crusaders Strikers), Caragh Milligan (Glentoran), Rebecca McKenna (Linfield)