RICH'S REPORT CARD
Portland Thorns Assistant Coach Richard Gunney has been casting his expert eye over the opening four fixtures in the #SHEBELIEVES Cup and has pulled together some of his thoughts to write a mid-tournament report card on each of the four sides. Who does he kick off with? The #Lionesses, of course.
ENGLAND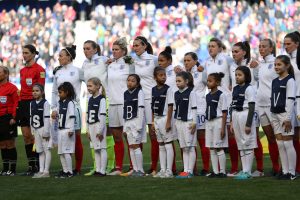 With one game to go England have certainly put themselves in a good position and regardless of whether they win the tournament or not there will be plenty for Phil Neville and his staff to analyse ahead of next summer's World Cup (pending qualification – Really, Rich?! Just kidding (SK Ed)). The first thing that stood out to me against France was how positive the England players were on and off the ball. They had a great deal of energy and desire to play quickly and with purpose and took their chances very well to leave France in a very difficult position at half time. England came out of the blocks firing, working very hard out of possession, whilst France by contrast were sloppy in defence, conceding off a simple throw in restart by leaving players unmarked.
The scoreline didn't tell the complete story though as France created a few good chances in the first half and missed one real opening that could have been crucial to change the momentum of the game. Unlike England they were not clinical enough and paid the price. England had good purpose with the ball, created plenty of chances and took them very well. You could hear Phil Neville encouraging his players from the touchline to keep possession of the ball and "play" so I'm sure he was very encouraged by the first outing.
Whilst there were plenty of positives against France there will be plenty of areas to reflect on from the game against Germany. The goals against were scrappy and disappointing to concede so there will be some defensive work to address. Despite the goals I thought England looked very well-organised and disciplined generally, out of possession, dropping off and creating a good defensive block. Germany on the other hand managed to control the game better by pressing slightly higher up the field than England and with much more intent. This resulted in England's struggling to play out under this pressure and build up the attack from deep, often resorting to longer balls and turning over possession. This will be an area they will need to improve if that's the style of play that Neville wants to pursue as it appears so far.
Higher up the field, however, England were again rewarded for their positivity with the first goal coming from a dangerous crossing opportunity and shot from the edge of the box. The second was 'route one' stuff in its finest form but you cannot take away from the calm and composed finish of Ellen White, on a par with Jodie Taylor and Toni Duggan from game one. White couldn't quite match that again late on to secure her hat trick but England should be pleased with the goal threat they have in the team.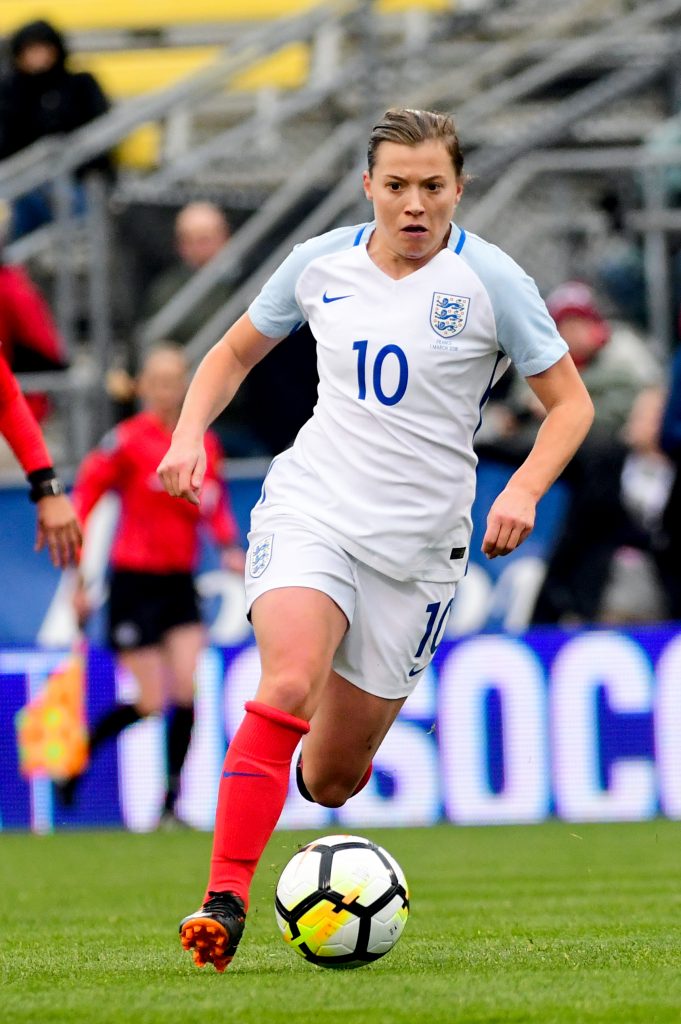 Individually, Taylor, Duggan and White were pretty clinical with their finishing despite also missing a couple of excellent chances. Nikita Paris and Melissa Lawley showed some good potential for the future out wide, with pace and dribbling ability, driving at defences. If they can fine tune the end product they offer a different threat. Keira Walsh was calm and composed in central midfield, moving the ball well at times and Fran Kirby was very calm and accomplished with great awareness putting chances on a plate for Toni Duggan, in particular, in both games. Kirby should have been more selfish in the opening minutes of the second half against Germany to put England ahead but she has definitely been dangerous and effective so far.
Attention now turns to the final game and the chance to lay down a marker ahead of next summer. I think the tournament has prepared England well however the game unfolds because Phil Neville will now have so much information to work with regarding players, opponents, tactics and areas of the game to focus on. They are in good shape.
FRANCE
The current SheBelieves champions had a game to quickly forget in the tournament opener against England, as defensively they were very, very, poor. Wide open at the back and lacking effort and intensity out of possession France made the game much easier for England and were duly punished. For how badly they started France still managed to create chances that at least shows some hope that they are not out of the equitation when it comes to the main event next summer. A lack of composure in front of goal meant they never recovered despite the late deflected consolation goal, so it was more a case of 'how not to play' for them in their first match.
Their defensive organization and desire to work hard was improved in game two against the USA, resulting in them getting a good foothold in the game. Whilst France did not press the USA and put them under any pressure high up the field out of possession, they were more organised in a low defensive block and competed with more determination. They managed to get some good control in the game but again, on reflection, there will be areas to improve as the goal conceded was messy and will frustrate Corinne Diacre.
The bright spot in the game was a moment of excellent individual skill from Eugenie Le Sommer who rounded Alyssa Naeher very well and finished brilliantly from a very difficult angle. Unfortunately for France it seems they have the most ground to make up in the next few months to find the right balance on the field in terms of shape, organisation and selection and that needs to happen pretty quickly, starting with Germany.
GERMANY
Not much can be said about Germany in the first game against the U.S. due to the weather, which spoiled the opportunity to see the two powerhouse nations go head-to-head. Germany didn't get the result so the US will walk away with a few positives on the mental side of the game, digging deep under the awful playing conditions. However against England I thought Germany showed some signs of quality that perhaps signal that they are returning to form. Out of possession they pressed England higher up the field than their opponents and regained possession well at times. England still managed to cut open the Germany defence often so there is more work to be done, especially considering Germany have conceded goals in both games from simple direct play. Tactically, the high pressure from Germany helped them control the game for periods, particularly in the second half. In attack they demonstrated their ability to build attacks well and created plenty of good openings, especially out wide.
Dzsenifer Marozsán and Alexandra Popp are class acts for Germany and it was so disappointing that the opening game against USA was basically a write-off due to the weather because it would have been great to see if they could have tested a strong USA team. They both looked increasingly dangerous against England as the game entered the later stages orchestrating attacks and unleashing venomous strikes on goals. Both are tall and athletic and were putting England under some real pressure. In contrast Sara Däbritz is small in stature but offers a good threat for Germany and maybe a player in the same ilk is going to emerge in the form of Lina Magull as she looked very very gifted on the ball when she came off the bench. If Germany can repeat a strong performance against France, like the recent 4-0 victory near the end of 2017, then I think Germany will have more of a platform to mount a good assault on the World Cup.
Mal Pugh: "is dangerous running at any defence" (Brent Durken/ISNSoccer.com)
USA
As mentioned above, we were deprived of seeing a true reflection of the U.S. in the first game thanks to the horizontal wind and I don't think they reached top gear against France either, so expect more to come from the USA. Selection-wise it seems the squad is starting to take shape for the World Cup, even though there are still significant players to return from injury and some fierce competition for places. The formation is going to be a 4-3-3 it seems and the U.S. are going to have a powerful midfield and exciting attacking frontline regardless of whomever gets the nod for the starting roles.
The U.S. are blessed with real attacking threats in wide areas, despite not catching fire so far in the first two games. Megan Rapinoe took her goal very well against Germany, with one of a few route one goals in the tournament and put in a trademark low free kick to cause havoc for the goal against France. Mallory Pugh capitalised on the French not clearing the danger to score from the free kick and in open play Pugh is dangerous running at any defence, so England will need to be at their best to stop the U.S. Alex Morgan has been close to getting on the scoresheet and she was in good form for Orlando and the national team at the end of last season, so it won't be long until she finds the back of the net, especially as she will be playing in front of her home crowd in Orlando.
In midfield the USA made some changes, so it will be interesting to see who lines up against England. Against France Andi Sullivan was given the role of dropping deep to build the attack but if healthy I would imagine Julie Ertz will come back into the starting line-up. The U.S. may need that protection from Ertz in front of their backline, as France exposed them with the goal and some other chances where the back four were stretched and tested.
The U.S. are blessed with the strength in depth to make changes and on home soil they will be confident going into the game. Like England I think the U.S. are in a good place and hopefully the game is a good one so we learn a bit more about the US.. with plenty to analyse and reflect on.
Roll on kick off time and let's see who makes the statement of winning the tournament and the intent to carry that on into the World Cup next year.