Chelsea defender Millie Bright has been such a crucial part of the England side over the past ten months or so that it's perhaps surprising to remind ourselves that this consistently excellent performer was just working her way into the Lionesses' line-up this time last year. She came on as a substitute towards the end of the game against the USWNT at the Red Bull Arena, just minutes before Ellen White's dramatic, late, winner [in the 2017 SheBelieves Cup]. Now you can guarantee that she is absolutely one of the first names on the team sheet.
We had 15 minutes with Millie at the team hotel outside of Orlando, where it is thankfully 20-odd degrees warmer than it was in New Jersey/Ohio, but it's not just the temperature that has risen, the belief and expectation in the England camp has too, as Millie explains…  
SK: You've just done your two TV interviews, we all ask similar questions…are you bored of being compared to John Terry yet?
MB: No I like that, that's good for me. Obviously he's always been a big role model for me because of his character on and off the pitch and his leadership, just the way he carries himself. I've always tried to go off that. Not to be exactly like him but me my version of that. To have that comparison is nice.
SK: Are there players that you watch now and try to be like, learn from?
MB: I watch Azpilicueta of Chelsea, he's the one that I go off. They play three at the back and we do to [at Chelsea Ladies] and he's the same position as me. I like how he plays, I feel like we're similar in the way that he's a front foot defender, he's always putting his body on the line, always aggressive and getting the team going. Though it's hard to compare men's and and women's players but I take little things from it.
SK:  You didn't start out as a defender, so were there other players you watched, looked up to and tried to copy when you were younger?
MB: When I was younger I didn't watch much football, it's only when it started getting serious that I started to try and watch it like that. One of my uncles will send me clips and say 'did you see this?' And give me tips before games. He was a striker, so it works well. He was a good player, he could have done well, but it works well for me because as I'm a defender he'll tell me what he would want to do as a striker, giving me the opposite view. I always go to my uncles for their views – they all watch loads of football, they're football mad. They'll let me know how they think I've played.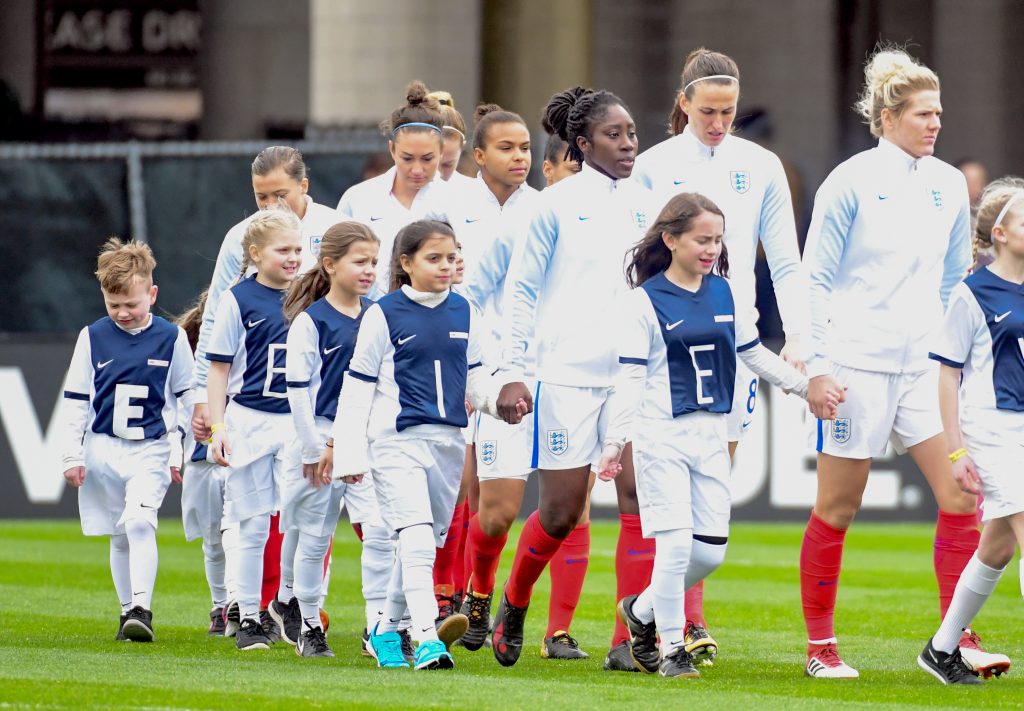 SK: How have they rated your two games so far?
MB: My uncle Rich said I have had dominant performances and the own goals you can't do anything about. If you don't put your body in then as a centre half, you're not doing your job. You can't bottle a shot. There was nearly another incident when [Alexandra] Popp shot and it hit my shin pad and spun off and nearly went in. But I can't shy away from that, John Terry wouldn't, Azpilicueta, wouldn't have, they'd have got their body in. It's part of the game and you've just got to take it.
SK: Have you watched that second goal few times now? It was pretty ridiculous how it ended up in the net.
MB: Those types of goals annoy me more than anything because it's just sloppy. There was a build up of things…but we've analysed it and I think it was just a misunderstanding. In the build up before everything was erratic, someone just needed to take control of that situation, either by putting it out for a corner or the keeper comes through and takes the player and the ball. Maybe we lacked a little bit of concentration in that period of the game but it's all learning. And everything has a knock-on, so ten minutes before there could have been something we could have done better and so it's easy to look at that specific moment but there's also what came before that. There were several situations before that that we could have dealt with better.
SK: At least your manager has noted that you're joint top scorer in the tournament?
MB: Yeah Phil keeps mentioning – not giving me stick – that I'm top goalscorer! It's good that we can have that light-hearted conversation. I couldn't do anything about it, it's not like I banged it in on purpose!
SK: You were sick before the first match, was it hard getting through that game and are you fully recovered now?
MB: Yeah, I'm feeling better now but it was dreadful. It was tough in the first game because I'd only had one training session and I literally was in bed for the rest of that day and the next day. You have to stay away from the team for so long, you have to go for so many hours without seeing them, so it was tough but you just have to grind it out and get through it.
SK: What did you do during that time on your own?

MB: I just slept, got as much sleep as I could and then I ate as much as possible. Luckily it was a later kick off, so it allowed me an extra day and I got through it.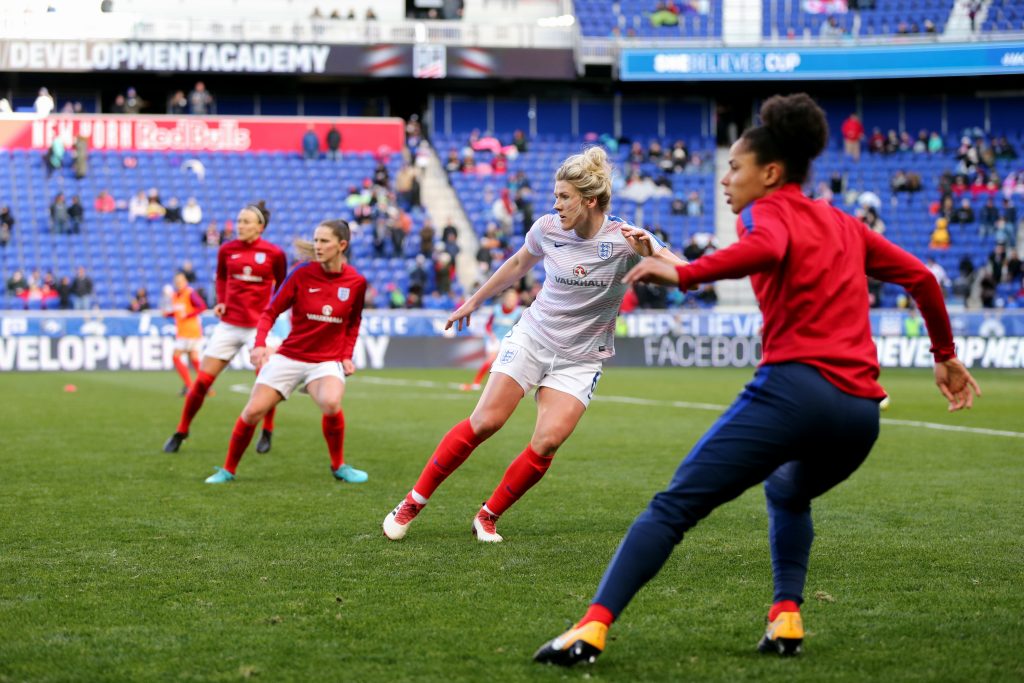 SK: You've always been the sort of understudy to Steph [Houghton] in the centre back pairing, and with Anita Asante's experience gone too, how are you finding being the the senior player?
MB: To be fair I actually think we've done it really well as a unit. I think everyone's taken a step up with Steph not here and taken responsibility. I don't think it can be solely one player, though obviously I try to lead at the back and make sure everyone is getting up and be the voice but I think everyone's shared that role and it also needs to come from the keeper, which it has done. I think everyone has stepped up anyway, it's like a new chapter, everyone's lifted themselves and their own individual standards and it's allowed us to lift ourselves as a team and it's shown in our performances.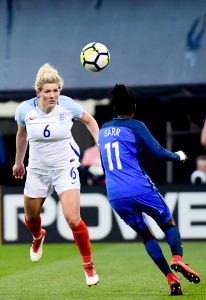 SK: You'll have a goal coming up the other end soon won't you, they're looking for you from set pieces?
MB: Hopefully! Just got to keep putting the good balls in and some of the deliveries have been great, it's just making sure we get on the end of them. But obviously it's tough against the Germans because they're so good in the air.
SK: Did you feel like you were being bombarded in the box against Germany, towards the end? You had to be strong in the air.
MB: Yes, in the last 10-15 minutes there were balls coming in left, right and centre but they're the exciting games, they're the ones that everyone wants to watch and as defenders they're the ones you want to play in.
Congtatulations @Mdawg1bright! ? You've been nominated for the #WomensWorldXI. Read more ? https://t.co/heaqoPdGLu pic.twitter.com/tMKyvYiEp8

— FIFPro (@FIFPro) March 2, 2018
SK: You made the FIFPro 55 world's top players' list (voted for by female professionals/national team players around the globe), you could make the top eleven, you obviously want to win things with England and Chelsea but how hungry are you as an individual to be recognised like this?
MB: It would be amazing to be int eh eleven but even to be nominated into that list now is an unbelievable achievement. I never thought I would be in it. I never expect anything and I'm privileged to be included but I think something like that would boost me even more. I always want to prove people wrong, people in the past that might have said you won't make that or don't do that. It would be nice for that to be out there and for all of the people that have stood by me and helped me, it'd be nice to give something back to my parents. My successes are what I can give back to them. So something like that would be a massive thing for me and it would be amazing if I did make it but of course there are some amazing players in that list.
SK: Your mum sent us a tweet with a pic of your horses with nappies on their hooves to protect them in the snow, does she keep you up to date with how they're doing?
MB: [Laughs.] Yeah she always sends me pictures of the animals, where they are and what they're doing, in the snow…she'd do anything for them just like she'd do anything for us. I love her to bits and hope she never changes.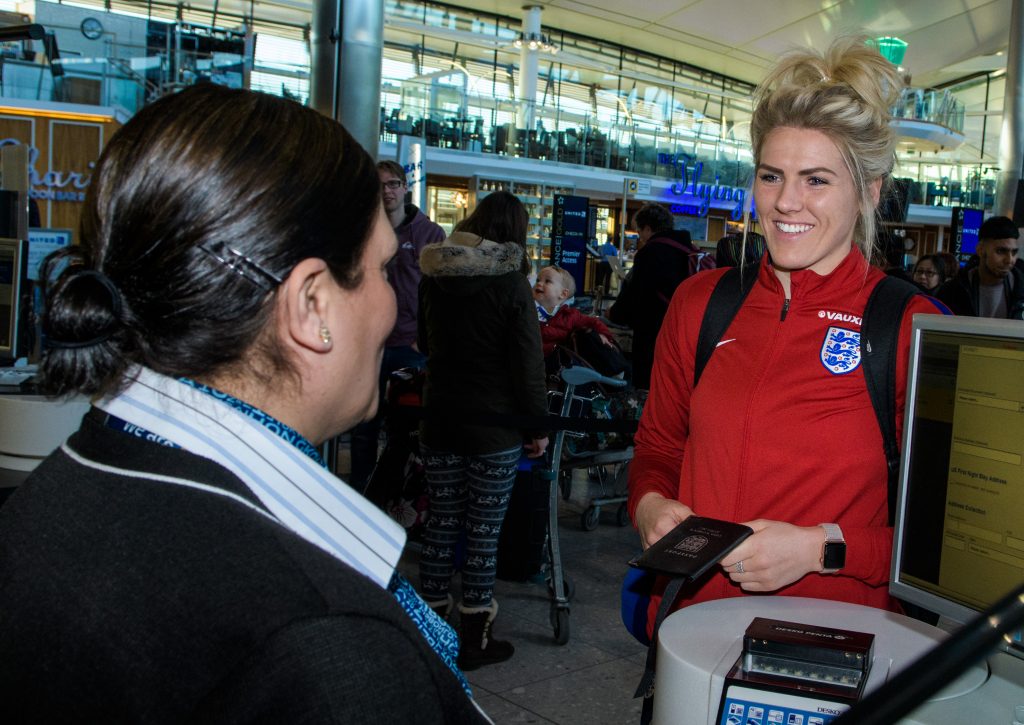 SK: So you've got quite a big game coming up against the USA? The She Believes Cup decider. Looking forward to it?
MB: I'm excited. I love a challenge. At the last SheBelieves I came on right at the end [against the U.S.], so this is the first time I'll have played against them and I'm ready for it and I think as a squad we are ready for it. Knowing that we're in a position to win that silverware is even more exciting. It's going to be a massive game, unbelievable atmosphere, I can't wait to get out there.
SK: The USA have a lot of speed right across the front, which you haven't necessarily come up against in the two games so far?
MB: Yes and we have to be aware of that and watch individual clips and that's a responsibility that players take on before a game, to get to know what they're coming up against. But we still have to focus on ourselves and not get too worried act what they're going to bring. Obviously we respect the team that they are and the qualities that they bring but if you dwell too much on that it can take you away from your game. So it's having that balance of knowing what's to come but we know what we can take to them.
SK: Is the USA game a game you want to win, even though a draw would be enough to win the trophy?
MB: Obviously we can do it with a draw but we don't want a draw we want to win and that's our mentality going in. We don't just want to scrape through with results. We're disappointed that we didn't beat Germany and I think we're now in a position where we're getting performances that have shown we can go and win those big games. Our target is to win every game that we play and beat every team that we face. We can say these things in interviews but we have to make sure we go out there and perform.
DON'T FORGET TO VOTE FOR YOUR SHE KICKS #LIONESSES PLAYER OF THE MATCH AFTER THE USA GAME. LIVE ON BBC TWO, MIDNIGHT (7/8th March) Click HERE