As the powerful storm that hit the NE coast of the USA started to wane, the four teams at the #SheBelieves Cup – having made their way from Ohio to New Jersey on various chartered flights on Friday and Saturday – started gearing up again for their second round of games.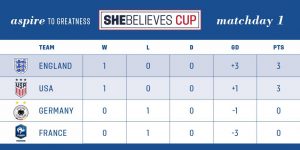 England sit top of the table after their convincing win on Thursday and their new manager Phil Neville has a handsome 100% record at the helm! He's not basking in any glory after just one game though, he was already planning for the Germans before the final whistle in the game against France.
He kindly sat down with some of the travel-weary media (we don't need any sympathy really!) to quickly reflect on the past few days and look ahead to the BIG game against the Olympic Champions, Germany.
Here's what he had to say… (Rather listen instead? Scroll down to the link at bottom of page.) 
The performance [v France] really pleased me. It gave me a glimpse into what they're capable of. I remember looking at the clock from about 74 minutes, we were 4-0 up, and from that moment on I was planning for Germany. That's why I was making the substitutions that I did. When I went into the dressing room after the game, the team were obviously really happy… but I was moving onto Germany straight away. I realised at 74 minutes that Germany's going to be a bigger test and a bigger challenge.
Germany are a better team. We're going from playing sixth best in the world to second best. I stayed after the game with Dan Ashworth (FA's Technical Director), to watch USA v Germany and straight away you saw the step up: their organisation and the front two are fabulous players. Now I'm probably more excited for this game than I was for my first game because 'Can they reproduce the movements, bravery on the ball, the imagination that I wanted to see against France, can they do it against better opposition?' So in the next games I'll be judging the players more.
The hardest part I've found over the past couple of weeks is leaving players out, so I will be making changes but not weakening the team. The players that are coming in are ready, they've impressed me, so it'll be a slight change of team and of formation because Germany play a different formation to France.
My philosophy always is, the 'bigger they are the harder they fall' and I don't want to tell my team before we play France to play in a certain way and then when we play the big team tell them to 'go back into your shell' so we have to take it forward even more.
The pitch [at the Red Bull Arena] is good, it's bigger, it's going to be a sell out. So, can we play under pressure against a bigger team? We're going to be hard on them [the players] about that. Fran Kirby said after the game the other night that I'm only going to be hard on them for not trying to do the right thing and this is going to be one of those moments.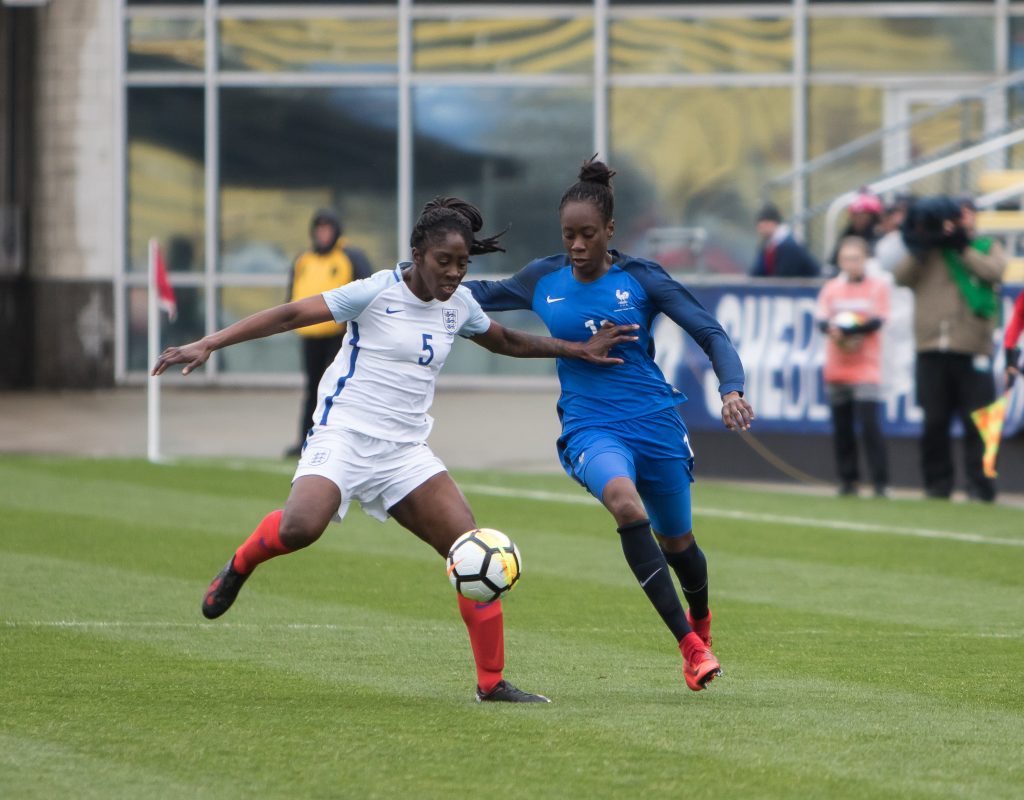 A lot of people have been telling me to retire now! This is as good as it gets! The response has been pretty positive but as I said, I felt like I was the one that was balanced after the [France] game. I wanted to stay away from the team after the game because I wanted to focus on Germany, when I came back my staff were already into the plans for Germany. As a player you can enjoy the victories more than you can as a manager and my philosophy in life has always been to move on and not look back. So from the minute I was watching Germany I was thinking, 'How can we beat Germany?'
Anita Asante's gone home along with one of our physios. She's had the scan and Chelsea are now dealing with the recovery process. The good thing about Anita is she's suffered a long-term injury before, we don't know the extent of this injury yet but she's experienced in that respect. From a personal point of view I sat down and talked to her about my career – I was lucky that I didn't suffer that many injuries until this time in my career – and I told her that you have to be even more diligent about the process now, working two-three times a day, and we're going to make sure as an FA that we will look after her, as well as Chelsea. We've invited her back to the next get-together in April, if she's not back fit by then, to come and spend some more days with us, to help her in her recovery.
That leaves us light in the centre of defence and Millie [Bright] is on a booking, so if she gets a yellow she misses the USA game. If Anita hadn't gone off, my last substitution was going to be getting Gabby [George] on to get her some match action. But it was important to Get Carly [Telford] on because she's been brilliant in training. There's very little to choose between all of our keepers now so, it was one of those where I don't like giving caps away easily but I think there might be an opportunity for Gabby in the next two games and she needs to be ready. I think she is ready, she's the type of character that can step up. Every time I've seen her the higher the level, the more she's raised her performance and they don't come much bigger than these next two.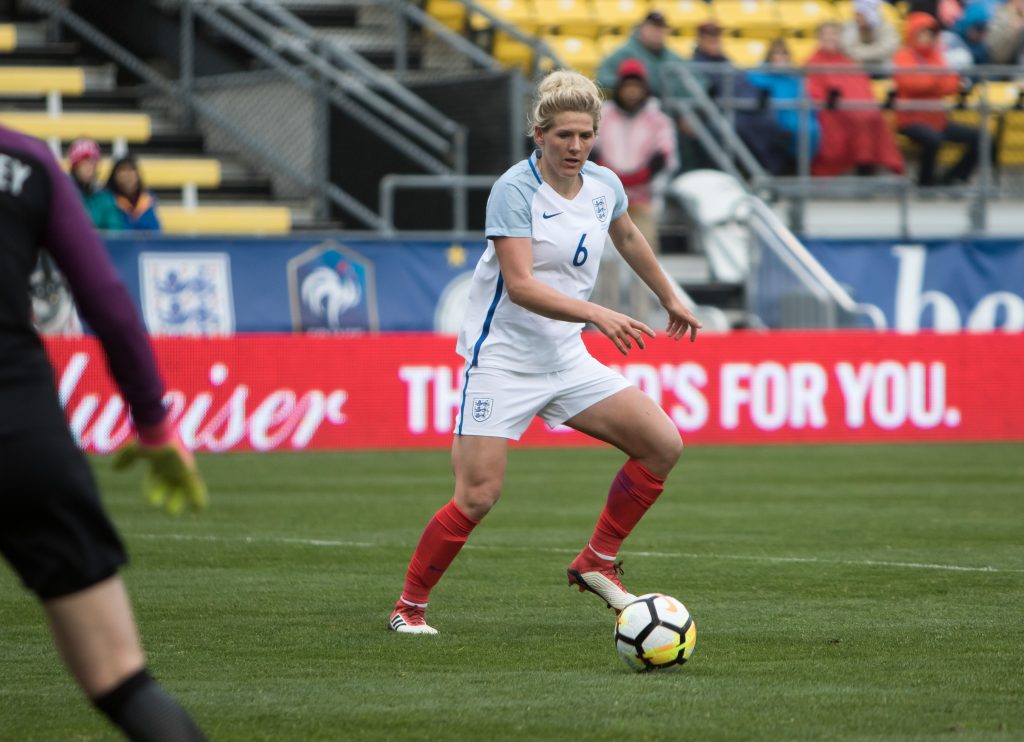 Millie Bright is almost John Terry, she's that throwback to that centre back that is always there and never lets you down. The other day at training she was vomiting, she had diarrhoea and the Doctor told me she was struggling but not one part of me thought she was struggling. You get a sense about players sometimes. We named the team even though we knew she was sick. With 20 minutes to go the Doctor and the physio suggested to me that we need to protect Millie so I shouted, 'Mille you are ok aren't you?' And she said, 'Yeah,' and that was it. She's that type, you don't need to mollycoddle. She's durable, she's robust and she's improving every single game with her distribution. It's coming out of her more and more and the system Emma [Hayes] plays at Chelsea is giving her more and more confidence to come out with the ball playing in that three at the back. So I have said to her, yes, she's an out and out defender and she heads it, kicks it and tackles but I think she's got more to her game than that now. It's about encouraging her and giving her the belief to keep adding bits to her game because we're changing the style of football and the centre backs are the two most important parts of the team that start the play for us.
You can listen to the chat here: