There's a big match coming up in Orlando, Florida, later today. Yeah, we know France v Germany games are always fun…
England face USA at the Orlando City Stadium in what is effectively the 2018 #SheBelieves Cup 'Final'. Ellen White's late finish saw the Lionesses grab a narrow victory in sub-zero temperatures at the Red Bull Arena in their last meeting, last March. Another win or even a draw for England this evening, will see the #Lionesses lift their first senior silverware since the 2015 Cyprus cup win over Canada.
It's already been their most successful #SheBelieves showing but they want to take the biggest scalp – of the number one ranked team, effectively in their own back yard (some of them even play their club football here) – to win the trophy outright.
Their new Head Coach Phil Neville wants them to go 'toe-to-toe' against the USA, a team he has a lot of respect for, and is asking his team to trust him, that 'if they do go full throttle and it doesn't go right then I will still back them.'
It gave us goosebumps listening back, and there was plenty more of interest when we spoke to Neville at the team hotel too. Have a read and get ready for the big one.
The final showdown ?

We take on @ussoccer_wnt in Orlando tonight to WIN the #SheBelievesCup.

You can watch from the UK tonight at midnight live on @BBCTwo or right here online ? https://t.co/VApcTHwc2A pic.twitter.com/GyzhnXzzhr

— Lionesses (@Lionesses) March 7, 2018
SK: How are you viewing/apprpaching this game against the U.S?
PN: It's a world cup knockout game, that's the way I'm approaching it. I want to win. This could be a world cup final next summer or a semi final. In part of my presentation for this job it was about training for critical moments and I think these are those critical moments, can we win these critical games against the big teams, not drawing them. I'm treating it as a one-off. It's not entered my head to go out there and 'park the bus' or be cautious because ultimately it isn't a world cup. I need to see how my players react in a big moment, playing the way I want them to play. Ultimately it's about winning. No-one will remember the second or third place.
SK: In your own England career you got close to successes but ultimately underachieved?
PN: Yes and I feel like there's a big whole in my career because of that. We kept losing on penalties. The first thing I asked the other night was, 'Will this game [the USA match] go to penalties?!' And they said no. That was the problem with England.
SK: As a player you were part of a Manchester United side that won an impressive haul of successive medals, how do you instil that hunger to keep on winning?
PN: You need to get a smell of winning. The last few days have been interesting. We've had the euphoria of beating France, the resilience against Germany and all of a sudden the world's changed in terms of the attention and the positivity and that's when you can drop off because you can think, 'Oh we've made it now.' After the game I gave them the night off in New York, yesterday we travelled and gave them time off to go out and relax as the travelling has been difficult but today we've hit them hard in terms of the messages and the challenges and they've refocused. The challenge now is to see those that do have that ruthlessness, that mentality because if they haven't we can't take them to the world cup because we can't win a world cup without people like that. We had this saying at Manchester United: 'Do you want to go Blackpool for your holidays or do you ant to go to the moon?' Anyone can go to Blackpool, so Fergie always wanted people who wanted to go to the moon.
SK: What is the mindset you want from your team?
PN: I've named the team straight away [this morning]. I had some difficult conversations with those that aren't playing. When you tell players they aren't playing the biggest game in the tournament – there was some disappointment. But I enjoyed the disappointment because it told me that they are hungry to play. The messages are that we are not sitting back, we're going to go toe-to-toe. When you're going into a battle or big game and your leader says we're going to hit this challenge head on – I said to them yesterday that, 'if we're gonna die, we're gonna go down trying' – you can see them puff their chests out and think, 'right, we're going to go for this'. As a player I always enjoyed that mentality, going full throttle, rather than the 'if, but, maybe'. I want to see what they've got. I was half-disappointed with them against Germany because I think we did play a little within ourselves. I still think they've got a little bit of fear about how far we can go. They don't fully trust me yet, that if they do go full throttle and it doesn't go right then I will still back them.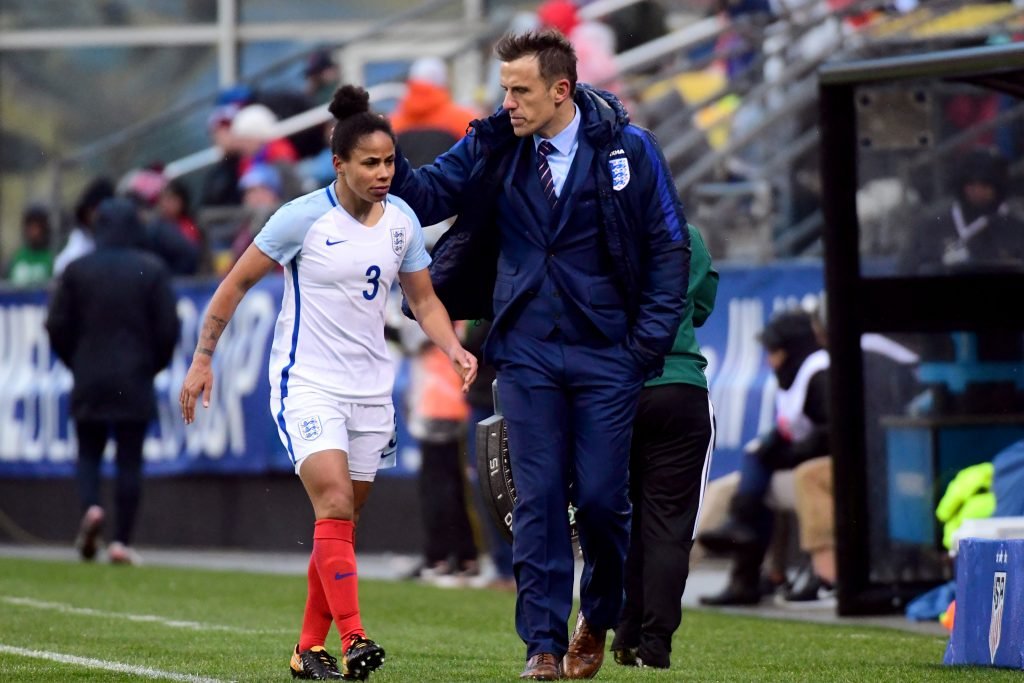 SK: The USA aspire to play in the style of Manchester City, have you seen that and how do you approach playing against that?

PN: They're a very good team [the USA]. I've enjoyed watching them, I really have. I went for my job interview and then for the next three weeks I watched us against the U.S. in the She Believes last year. I actually watched it four times because I thought we played well in the game and I enjoyed watching them as well. For me, they are the benchmark, the challenge ahead is the USA for us, so I'm excited to see if our style of football can play against them. They are a high pressure, physical side. All the attributes you would expect of American athletes, this team's got and it's their arrogance that I like. They are the best, they know they're the best and they've got that swagger. That's the swagger I want my team to have.
SK: Keira Walsh mentioned that she saw from Carli Lloyd, from their time at Man City together, the 'in-game' tricks of a little shirt pull or stepping on someone's toes, anything to get the edge, is that what you want from your team?
PN: 100%. That's what winners do, that's the ruthlessness of top level, professional sport and that's what wins the game and in these critical moments I don't a situation where we come off and think 'we survived'. Sometimes that requires challenging the laws of the game or doing something separate from what the game plan is. That might be just an individual doming something which is a spark of genius. That's what wins finals or semi-finals, they're won by individuals, they're win by people doing something different and that's what I'm looking for.
And I think we can instil that mentality into them. When they accept that 2-2 against Germany is not enough, if you keep challenging them and asking them for more, then they become ruthless. And when they know the management wants more from you, you do what it takes to win.
SK: You played under some great leaders, how important will your captain be in the game v USA?
PN: I think what I've seen in Lucy Bronze this week, is someone different to the quiet, shy girl I spoke to on the phone three and a half weeks ago. That shyness surprised me because when I see her play, she doesn't play with any shyness. Her character is withdrawn though she leads from the front but I want her to come out of her shell. I've given the players more responsibility and asked the players to debrief the Germany game, I split them into two groups and I asked Lucy and Fara Williams to present back to me (for the two different playing units) for ten minutes and Lucy spoke brilliantly, without a nerve in her body. They both set the tone of what is required going forward.
My job now is to develop Lucy Bronze into, not just a great footballer, but into a great leader. What I've seen on this trip is that there's so much inside of her to come out because she's the best full back in the world and the girls are in awe of her. When she speaks they listen and when she gets on the pitch, she drives from the front and I think there's more to come. I had a five minutes rant at her after the Germany game the other night and she did the same back to me and I loved it because if your captain's got the same expectations as you have, it filters down into the team. She's not one that will just say, 'Yes boss,' she'll say, 'No boss,' and she's decisive too. I think there's still more to come from her both on and off the pitch.
SK: There were a lot of wasted passes against Germany, how do you resolve that?
PN: Yeah, too many, particularly in the first half and the players realised that and that's what they presented back. It allowed Germany to get control of the game and from a position against France where we dominated possession, we always seemed on the back foot against Germany. It wasn't until we got Keira and Izzy Christiansen on that we started to get a little bit of three-four passes together. That was my disappointment in the first half, it wasn't as if they pressed us so well, it was our mistakes. It might have been my fault, to be honest, because I should have pulled Jill Scott off after 60-70 minutes against France. I kept her on because you feel safer with her on the pitch, because of her energy, her height at set-pieces, her experience. It then meant she went into the Germany game with a little bit of tight hamstring and I had to take her off after 60 or so minutes, if I'd taken her off against France we probably would have seen a more energetic performance.
SK: Do you take that potential fatigue of players into account when selecting the team because players will play if you ask them, even if they feel tired?
PN: Yes, it's important that I have my freshest, quickest, most powerful team but freshest and quickest most importantly. Because you've got to match them physically. 100% And then hopefully our football will take over.
Don't forget to vote for your SHE KICKS #Lionesses Player of the Match after the game…Click below: