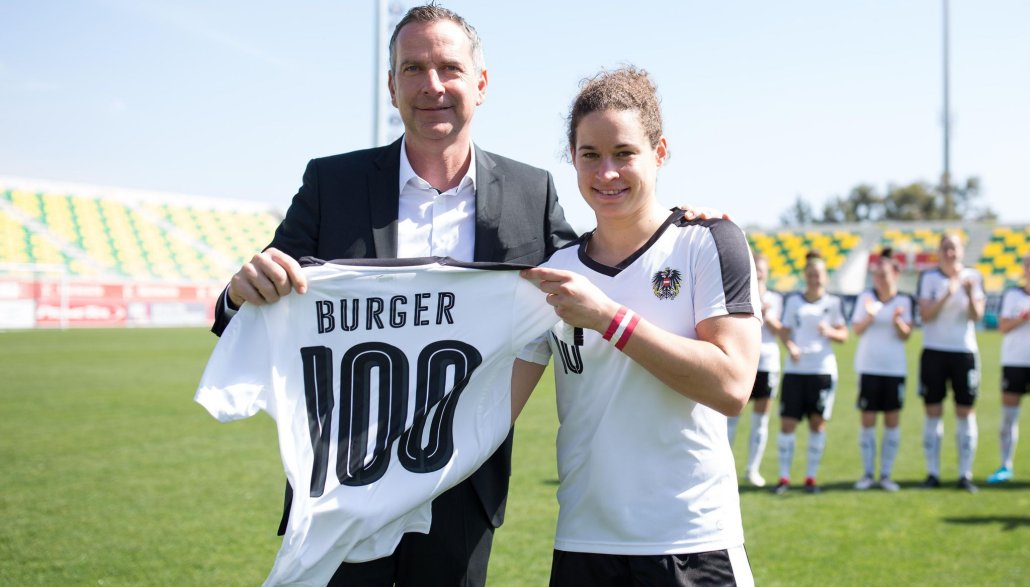 Wales missed out on seventh place at the Cyprus Women's Cup, beaten on penalties by Austria after normal time ended with the scores level at one apiece.
Gwen Davies and Kylie Nolan were given their first starts for Wales, while Austria's Nina Burger was making her 100th appearance
Austria took the lead on 13 minutes with a half volley outside the box by Sarah Puntigam, while Helen Ward attempted a bicycle kick but the ball was cleared and Jayne Ludlow's side trailed at half-time.
Nicole Billa hit the Welsh bar in a second period of few chances but then substitute Kayleigh Green intercepted a back-pass and rounded the goalkeeper to level.
Green also converted in the shoot-out, Nadia Lawrence getting the other for Wales and Laura O'Sullivan saving two but Austria won when Sophie Ingle's effort came back off the post.
Austria: 21 Jasmin Pfeiler (1 Manuela Zinsberger 45'), 5 Sophie Maierhofer, 6 Katharina Schiechtl (20 Laura Wienroither 82'), 9 Sarah Zadrazil, 10 Nina Burger, 11 Viktoria Schnaderbeck © (18 Laura Feiersinger 45'), 13 Virginia Kirchberger, 14 Barbara Dunst (7 Carina Wenninger 45'), 15 Nicola Billa (12 Stefanie Enzinger 62'), 16 Jasmin Eder (22 Jennifer Klein 65'), 17 Sarah Puntigam
Wales: 1 Laura O'Sullivan, 2 Loren Dykes, 4 Sophie Ingle ©, 5 Rhiannon Roberts (9 Kayleigh Green 81'), 6 Alice Griffiths, 10 Jess Fishlock (15 Amina Vine 45'), 17 Charlie Estcourt, 18 Melissa Fletcher (Nadia Lawrence 59'), 20 Helen Ward (19 Hannah Miles 48'), 21 Kylie Nolan (3 Gemma Evans 45'), 22 Gwen Davies (8 Angharad James 45')
Spain beat Italy in final
Spain won the Cyprus Cup with a 2-0 victory over Italy in the final. Amanda Sampedro scored early in the second half and Patri Guijarro sealed the trophy 6 minutes from time.
North Korea won the third place play-off with Switzerland 2-1. The Koreans took a 26th-minute lead through Yu Jong-Hui and Kim Yun-Mi didn't get their second until into added time, with Rachel Rinast then getting a consolation goal for the Swiss.
Belgium came from behind to beat South Africa to fifth place with a late winner. Matlou gave Banyama Banyama the lead but Tessa Wullaert equalised before half time, Yana Daniels then with the deciding goal 5 minutes from the end.
Czech Republic took ninth spot with a 5-2 success over Slovakia, who had Kristina Kolikova sent off when already 1-0 down on 30 minutes, Tereza Kosarova having scores early on. Patricia Hmirova did level by the break but Aneta Dedinova and Kosarova took the score to 3-1. Cudmila Matavkova scored to put Slovakia back in the game, only for Tereza Svewieczkova and Katerina Svitkova to then take then game out of their reach.
Finland finished eleventh with a 2-0 victory over Hungary, Olga Ahtisen and Emmi Alanen on target.