We spoke to Phil Neville at the team hotel yesterday, so to get you in the mood (as if you needed any extra help!), here's a few words from the #Lionesses boss ahead of the biggie against the host the USA in Nashville this evening…
On the health of the squad:

We have a few bumps and bruises: Nikita Parris took a sore one on the first half, Keira has a little bit of a knock, Leah Williamson has a little bit of a knock, so we're going to have to probably patch a few people up and go again but I'd be very surprised if anyone wants to miss this game. We're training later on, so if they can get through the session then we'll have a fully fit squad. 
On whether what he saw in both games on Wednesday changed anything in his thinking ahead of USA game today:
We pick the teams before we came out here, the injuries obviously can change it but the system and the way we want to play will not change. I've got to say I was really impressed with the Japanese in the game after us and the USA were typically USA. They were strong, they were powerful, they tried a few different things. Obviously we [all teams at SheBelieves Cup] are not at the World Cup yet so we are still in that phase of implementing things for the World Cup.
I think the pitch didn't help with either game. USA and us in particular, like fast pitches. Hopefully we will get that here in Nashville. I think you'll see faster game in terms of the passing style of both teams.
We're not going to change our style – which is dominating the opposition and causing them the problems and not worrying too much about them – but we know when you play the top three or four teams in the world there are going to be times when you are in uncomfortable situations, down in the game, chasing the ball, not having possession and showing qualities like we did the other night.
The determination I smelt and saw to win [the other night], that's what impressed me more than anything. We still got players on the half-turn, like Fran, who I thought was sensational when the game opened up. I think she was probably the one that turned it for us, in terms of getting on the ball. Formiga, in the first half, was getting really up against her but in the second half she took up better positions and she had more runners, in Nikita and Ellen, running in behind, which is what we had worked on. It's just in the second half we played it better.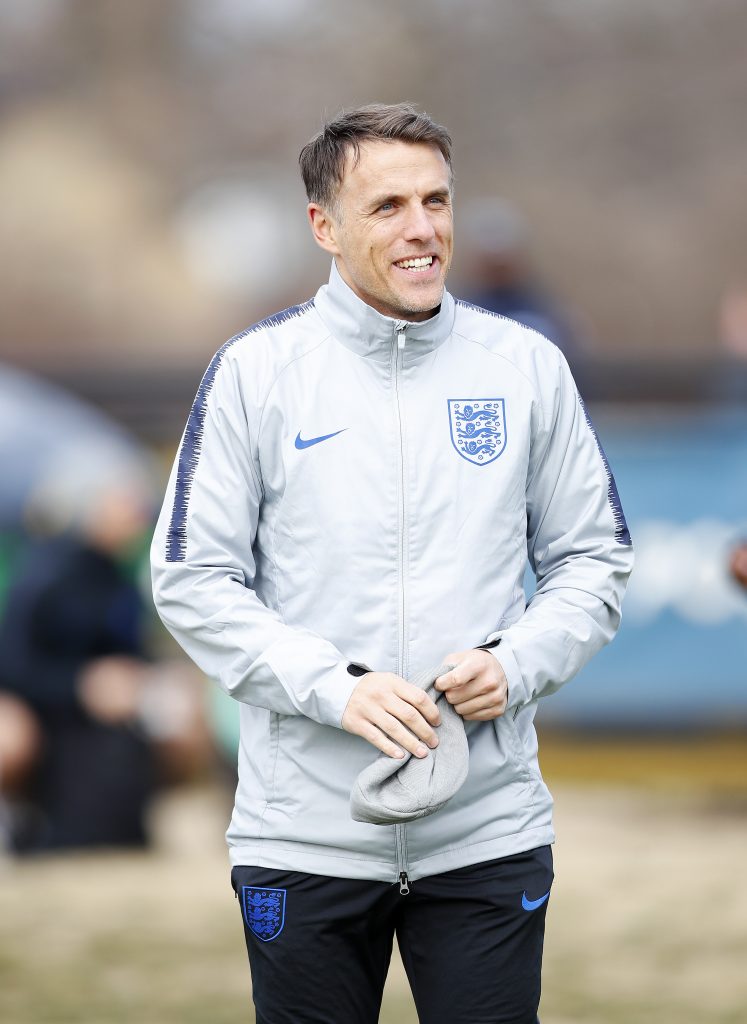 On the sluggish start vBrazil and how that will not be an option against the USA:
No and we spent probably two or three hours looking at every single factor, dissecting everything rom the travel, the nutrition… and ultimately what we came up with at the end was that we have just got to start quicker! 
We know that the USA like to come out of the traps early with pace and power and we have to deal with it. But both teams will be in better shape and you will see better in terms of the physical outputs in the game. We were coming off the travel, the jet-lag, so my players woke up today for the first time probably having had a full night's sleep, which is big. So I'm hoping for a better show from the start.
On the game between the two sides in Orlando last year and testing his team against the best:
The look in my players' eyes are that they are excited about this challenge. I remember standing watching the game and you just had the feeling as a coach that this team is a little but better than us at this time. The challenge after that game is how close can we get to them, can we overtake them. Tomorrow will be another barometer of how far we have come or what we need to do still to get up their level. 
On the way they are getting close to where they want to be playing-wise:
I'm not sure that we're totally at the point where we're understanding everything but we are getting close to that point. I sensed that in Qatar at the last camp where we worked on a couple of concepts that I wanted to spend three days on but I actually spent one on it because they got it straight away. So that tells me that they're beginning to understand.
Now it's about repetition and perfecting playing in a certain style and system. We've got two or three systems that we're comfortable with and we've got to get world class at every one of them. That's what this tournament is about. It's about testing those systems about the best teams in the world.
We learned a lot from the Sweden game. Probably more from a management point of view. That week was filled with things we tried to implement but maybe we did it too fast. So we took a step back in Qatar and we started to move forward again. We are learning lots and now is the time to do it because when we get to the World Cup there is no time for learning, you've got to win.
Of course we all want to win now – and I'm watching games from the Algarve an Cyprus Cups today – those teams that are in the World Cup need to get rid o the problems now and by the time you get to the World Cup there needs to be calmness. I feel quite calm now which means we're in a pretty good place.
DON'T FORGET TO VOTE FOR YOUR #LIONESSES #SKPLAYEROFTHEMATCH AFTER THE GAME!
2019 #SHEBELIEVES Cup ENG v USA – Vote for your #Lionesses Player of the Match