Maybe you are a Women in Football member and regular attendee of their workshops, seminars and networking events, perhaps you have heard of the organisation but never quite made it to one of their events, or maybe you are discovering WIF for the first time? Here, we look back at the Women in Football Be Inspired Conference held at Wembley Stadium on 17th March, with ABI CURRAN reporting…
After a motivating morning at the Women in Football Be Inspired Conference supported by Barclays – filled with anecdotes from Kelly Smith MBE, Dr Sian Massey-Ellis MBE and Monique Choudhuri, to name a few – there was a sense in Wembley Stadium that the sky really is the limit.
The 'What glass ceiling?' panel left around 250 WIF members ready and raring to go and soak up the wisdom of panellists from the breakout room sessions that followed.
The sessions covered a breadth of areas, all surrounding women in the football industry both on and off the pitch. From the importance of male allies to the compelling stories of how women got into the industry through non-conventional means, there was something for everyone.
In the Wembley Suite broadcaster Reshmin Chowdhury kicked off the panel 'Football – not just careers on the pitch', supported by Visa.
Reshmin opened by explaining Visa's apt sponsorship and promoting their campaign The Second Half, which aims to help female footballers in Europe as they consider their careers beyond the football pitch.
One panellist whose story relates to Visa's campaign is Tina Keech, Head of Women's Football Research at Sports Interactive. Tina described her transition from playing football at university and for the then Barnet FC Ladies (now London Bees) to finding a career off the pitch due to recurring injuries.
She explained: "Mentally I struggled and was probably losing a bit of love for the game."
Tina then landed a role in data analytics. "I just worked my way through the company – 15 years in data analytics. I got all the comments: 'she's a woman', 'what's she doing?'. I had to work hard and prove myself.
"I lost my job during Covid – horrendous, my confidence went down. Monique helped me build up my confidence again and I got into this job with Sports Interactive. The goal is to add women's football to the game and bring in a brand new audience."
Something so striking throughout the day was the honesty of the WIF panellists. The conference felt like a safe space to share difficult moments in lives and careers while also celebrating the positive movements women are making within the industry.
The conversation fed into a discussion around women supporting other women in the industry. Monique Choudhuri – Women in Football board member and Non-Executive Director for Brentford FC – reminded the room that "when people work hard to get to a certain level, their elbows actually start to push other women out the way."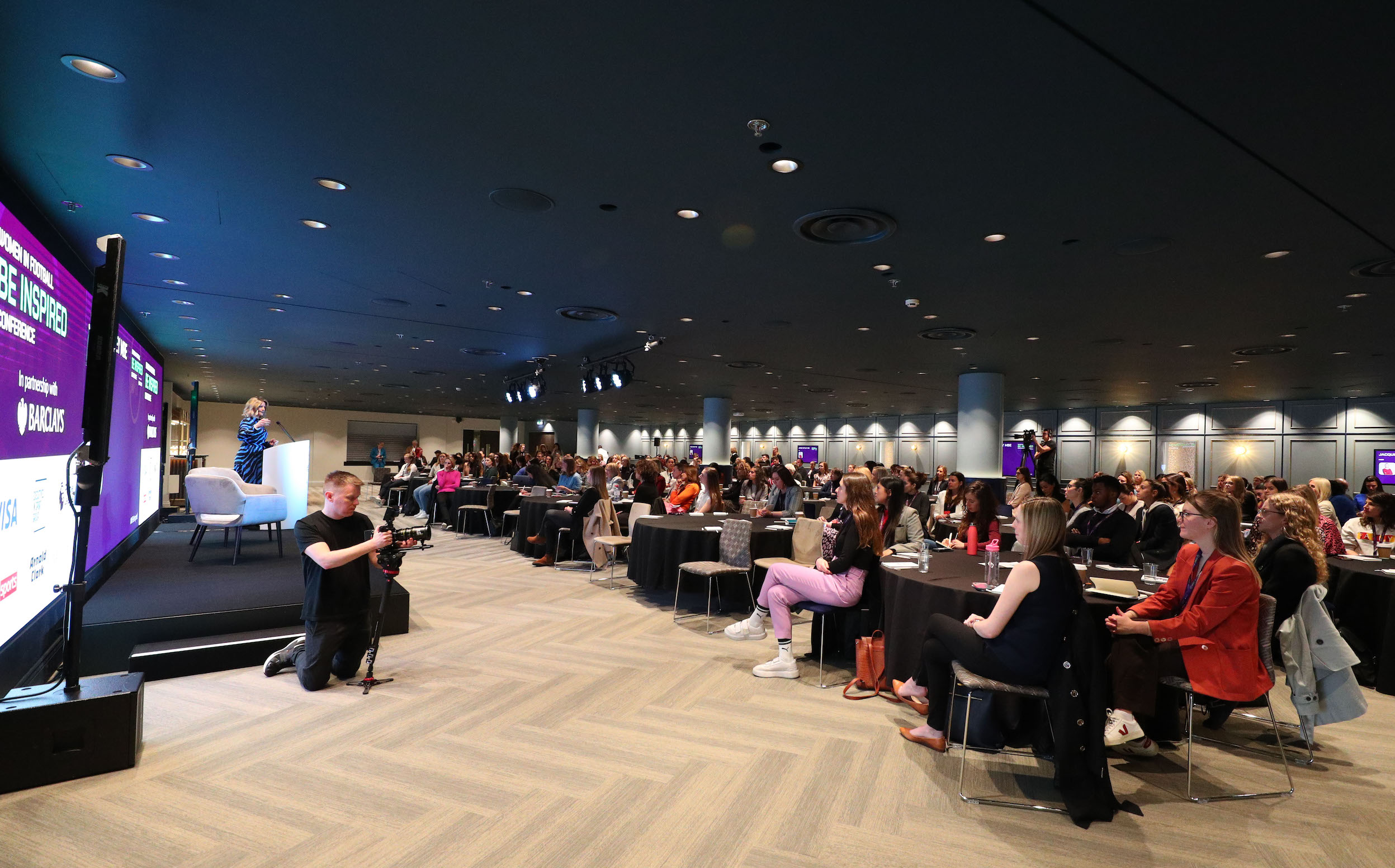 Women's Business Lead for Burnley FC Lola Ogunbote spoke about the importance of friends. "It's important to have a core group of girls that keep you in check," she said. "It's something I have always valued, having that ability to reason with them and knowing they aren't going to blow smoke."
Lola – who is also Executive Director of Goals for Girls, a non-profit that unites girls through football – came into the football industry through non-linear means. "My journey into football was quite unconventional," she said, introducing her story.
After eight years working in law, Lola landed a top role. "I remember standing there and celebrating that I got that position and I remember the CEO at the time was saying to me 'this is great for you, you can end up just like me'. He was in his late sixties."
At that moment Lola decided that was not her path and switched to football, working at Tesco at night to be able to coach during the day. As Business Lead, she has recently been part of Burnley's first Lancashire Women's Challenge Cup win and has aspirations to take the club as high as the WSL.
Over in the Three Lions bar, Women in Football's very own Jane Purdon led the 'Career planning' breakout, supported by the Premier League.
COO for Birmingham City FC Lungi Macebo joined the panel and, despite the emphasis on career planning, stressed how it is never too late to switch and get into a career you have always wanted to get into.
She explained: "Starting again and pivoting into another industry is not a bad thing. We are surrounded by an ever-changing world. It is never too late to start anything new."
The ever-changing nature of the football industry was also a hot topic of conversation. Head of Football Partnership at Barclays Katy Bowman noted that "as the world is evolving more opportunities are going to be realised".
The panel also discussed how, within career planning, it is important to always be thinking about the next role. Jane posed questions about diversity in the industry and how more diverse environments can help with career planning, pointing out that "diverse groups work better and deliver better results".
Managing Director for LHH Sports and Athlete Solutions Mayi Cruz-Blanco further explained the importance of "working with people that are different from us and working with people who challenge what we believe". She went on: "Some of the best advice I've heard has been some of the most uncomfortable."
At the far side of the Three Lions bar, Faye Carruthers hosted 'The importance of male allies', supported by Arnold Clark.
The broadcaster sat down with Kick it Out's Head of Player Engagement, Troy Townsend, and a host of other panellists who worked through how males can be better allies to women in the football industry.
CEO and Deputy Chairman of Brighton & Hove Albion FC Paul Barber spoke of his own experiences where people within the football industry discriminate against women.
When he took up a role with WIF, a couple of peers said "why?" Paul explained in some stronger terms that this really annoyed him and that "male allies do not need to be challenged".
He said: "If you look now across most football clubs, there is a woman in a senior position acting as a role model for all the other women in the club. There needs to be a male ally within the club enabling women to get into those positions of power."
As part of Brighton's #GetOnside pledge, Paul wants to increase the number of women in executive positions in football.
Troy Townsend went on to conclude the first session of the afternoon. He said: "When your eyes are opened to the challenges that women face, you automatically become an ally."
Troy's words resonated with the audience. Across the panels, it seemed that much of the discrimination and negative attitudes directed towards women in the industry stems from ignorance. 
Women in Football's first breakout sessions certainly worked to challenge that ignorance and were a true celebration of the tireless efforts of women in the industry.
When WIF members proceeded out of each breakout room to lunch, there was a sense of collective empowerment lingering through each suite.
The latest WIF campaign is to encourage more allies and potential members to join… #SIGNHERUP
Click below for more information:
https://www.womeninfootball.co.uk/news/2022/04/27/women-in-football-members-urged-to-signherup-in-new-push-for-growth/
SHE KICKS BACK: Looking back to the Women in Football Be Inspired Conference at Wembley in March (Part I)