We continue our look back at the Women in Football Be Inspired Conference held at Wembley Stadium on 17th March, with ABI CURRAN reporting…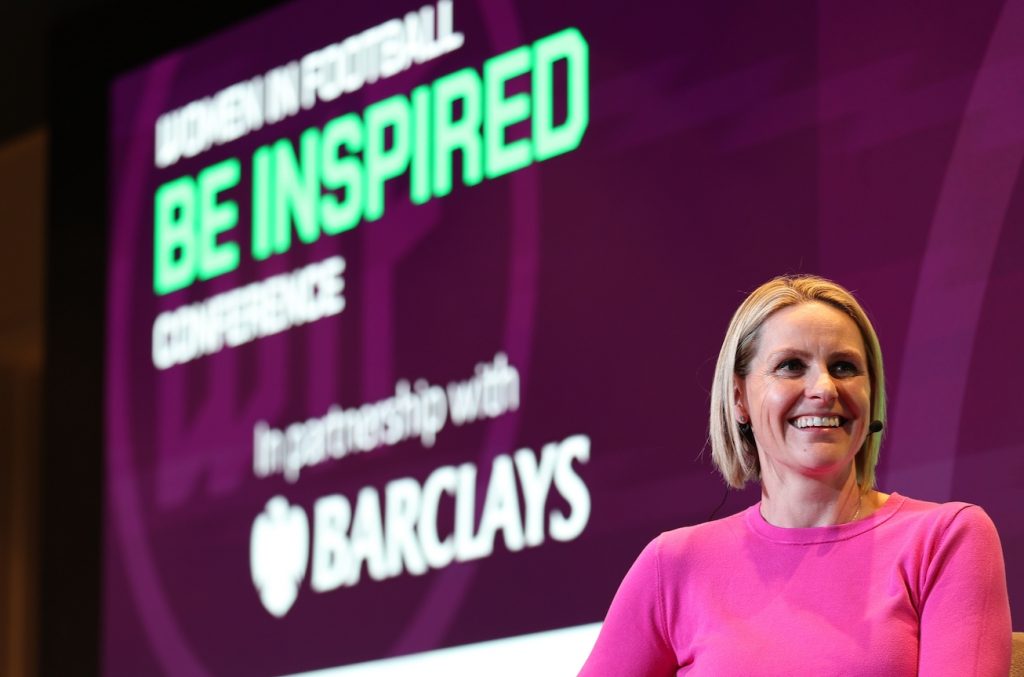 Following a replenishing lunch in the Lioness bar, WIF members were invigorated for an afternoon of more inspiring discussions.
At the far end of the Three Lions suite, proceedings kicked off with the 'Media training, confidence and presentation skills' session, supported by Sky Sports. The panellists were professionals from a variety of backgrounds who certainly know their stuff surrounding all things football, media and PR. 
Jo Tongue's opening remarks about her earliest football memory at Wembley set the tone –that to succeed within the industry, you have to know and love your football.
Nia Wyn Thomas of Sky Sports emphasised: "As our coverage grows across our football platforms, we look to involve fans and bring on the next generation as our audience changes, and pave the way for any aspiring broadcaster or commentator – especially as our coverage of women's sport goes from strength to strength.
"I am always in awe of anyone who puts themselves in front of the camera or behind the mic. When we had the session with the Premier League, Kelly Cates was asked 'where do you get your confidence from as a broadcaster?' And she said 'I fake it'."
Confidence was a strong theme which often led the session. Host Ruth Shaw, CEO of the Premier League Charitable Fund, posed a question to broadcaster and presenter Pippa Monique about the way she navigates confidence and nerves in front of the camera.
Pippa, whose YouTube channel boasts 2 million hits, replied that being in front of a camera "is always a nerve-wracking thing to do – especially if there's a big story. It's all about having confidence."
She advised aspiring broadcasters to "meet as many people [as possible] that are already in that industry. In the world we live in now it's much easier to put yourself out there. Just keep putting as many videos as you can out there, whether that's getting five views or five thousand, or 500,000 views – whatever it is, just be comfortable in front of camera."
Brimming with advice and a wealth of experience, the panel also confronted perhaps one of football's most pressing and most uncomfortable truths – online abuse via social media.
Caroline McAteer, CEO of The Sports PR Company, said: "The level of racist abuse that our clients get shocks me on a daily basis. All we can do is tell the client not to look at it."
Caroline spoke of progress made in the recent Online Harms Bill and of her support for the idea that ID be required to have a social media account.
Jo Tongue, as CEO of her own company, Tongue Tied Media, noted the increasing abuse of female footballers, as well as male, on social media. She said that "the problem is with that recognition on the pitch – unfortunately, with that comes the scrutiny, which the men have had for years. 
"We're at this really interesting period at the moment where they're getting all this attention – they're getting the right attention for their performance and ability but they're also getting attention because they are now subject to all this abuse."
On social media more generally, Jo concluded: "Jobs depend on it, but let's be real sometimes. We're human beings. What do your friends think about you? What do your family think about you? That's what matters; let's focus on that."
Over on the other side of the Three Lions suite was a discussion surrounding 'The power of mentoring', supported by Mishcon de Reya. Mentoring is such a broad topic area which is often clouded by the corporate sector's dictionary of career-advancing terms. Panellists from a variety of backgrounds and professions defined it in more accessible and applicable terms.
Preeti Shetty, CEO of Upshot and a director of Brentford FC, drew upon her personal experiences of mentorship, noting that it is about finding common ground with someone. She said: "One of the best things about joining the board at Brentford was not being the only woman and not being the only person of colour."
For Preeti, it's important to find "what is our commonality, what is that thing we are both interested in. It's a real way of saying 'I heard you, I am listening, so let's speak about the things that interest us'."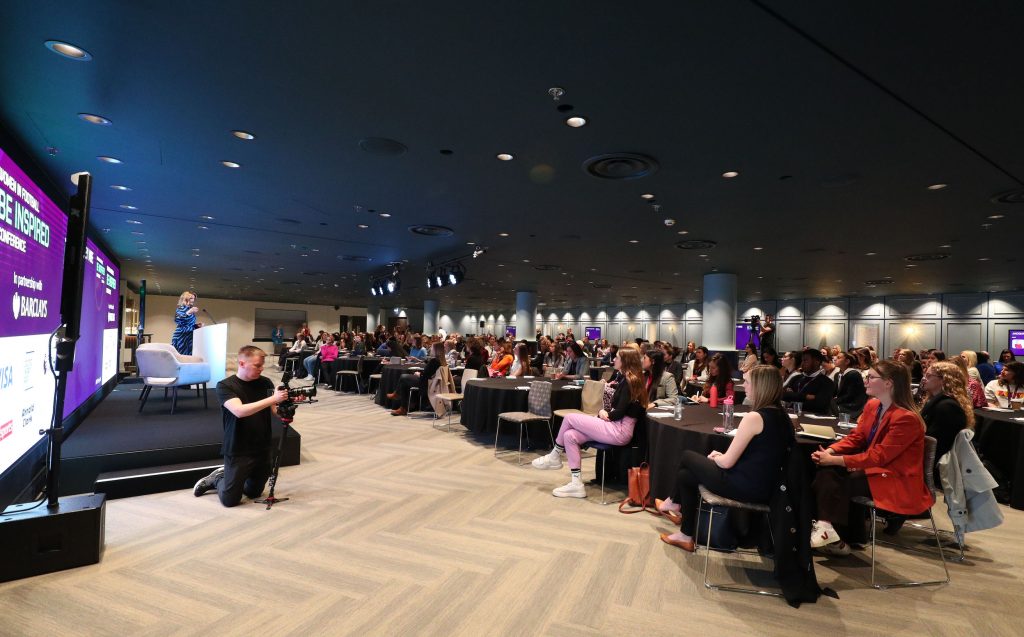 On next steps, the panel's host Nicole Allison encouraged her audience to reflect upon their own unique experiences: "Give yourself some time for self-reflection. Your own personal, lived experience is unique and someone can get something out of that."
The message that came to light among the panel was that mentorship is all around us. We all have the capacity to become brilliant mentors and the people in our very circles provide mentorship in our own daily lives.
The breakout room sessions concluded with 'So you want to work at a football club? Meet the HR directors and recruiters', supported by Executives in Sport Group.
Panellists representing outfits from West Ham to Wrexham shared insights on how to break into a football club. These women understood what it takes to get to the top at an organisation like a football club and stressed that age-old phrase "it's about getting your foot in the door".
Sandra Garlick MBE, Head of Safeguarding and HR at Coventry City FC, highlighted how the club are making their entry level roles accessible to those wanting to make the very first step in their career. "Don't be afraid to approach people," she advised. "Start at the bottom and get your hands dirty. 
"A lot of our roles are part-time and casual but it's a foot in the door – we've developed a pathway so you can join us on a part-time, casual basis and move into other roles."
Sandra also found that "women hold back and apply at the last minute or don't apply at all – as women we don't sell ourselves enough, we don't shout about ourselves enough."
But change is in evidence because women are transferring the skills they learn from other sectors into the football industry. HR Director for West Ham United FC Michele Gull explained: "There's a big misconception that to work in football you have to be good at playing – no, but we have to be passionate.
"It's not just about kicking a ball around – we've got marketing departments, we've got sales departments." From a public sector background herself, Michele was keen to share how transferable skills from different industries are valued within football clubs.
A fitting note to end on was Sandra Garlick's explanation that, while football has a long way to go, "I know things are changing at Coventry because we now have to queue for the ladies' loo!"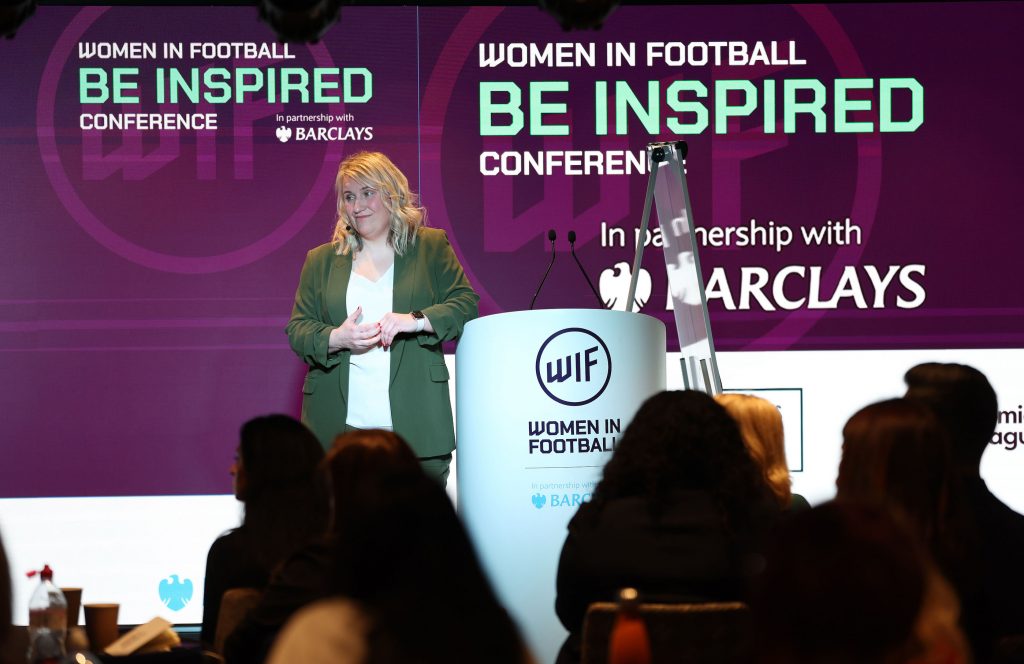 All this, followed by Emma Hayes' mesmerising keynote session and a consolidating networking session, made the day one to remember for WIF members.
Here's just some of the things attendees had to say on twitter:
Such a great day @WomeninFootball Conference yesterday! Inspirational, motivational + lots of nuggets picked up! #WIFBeInspired #football #Motivation #LoveWhatYouDo pic.twitter.com/TQz9mDKHyq

— Emma Barnes (@emmabarnes2014) March 18, 2022
Encouraging, inspiring, enlightening, heartwarming & authentic @WomeninFootball #WIFBeInspired conference was one of a kind event bringing a community of experts, professionals, and those at the beginning of their careers to discuss inequalities in the game⚽️and ways forward! pic.twitter.com/Gn68KJZQMG

— Anielka Pieniazek (@aniel_pieniazek) March 18, 2022
We should make this an annual affair without second thoughts. Let us do this @WomeninFootball @BarclaysFooty @MichelleCDorgan @JanePurdon https://t.co/QaUws1hqab

— Shivani Laddha (@Shivani_Laddha) March 30, 2022
The latest WIF campaign is to encourage more allies and potential members to join… #SIGNHERUP
Click below for more information: 
https://www.womeninfootball.co.uk/news/2022/04/27/women-in-football-members-urged-to-signherup-in-new-push-for-growth/https://www.womeninfootball.co.uk/news/2022/04/27/women-in-football-members-urged-to-signherup-in-new-push-for-growth/