If it seems like Raquel "Rocky" Rodríguez has been on the international scene a while, it's because she has – having broken into Costa Rica's senior squad aged just 13!
Now 26 and her country's all-time top scorer with 43 goals in 72 games for La Sele Femenina, the versatile attacking midfielder recently signed on the dotted line for NWSL powerhouses Portland Thorns – having previously shone at Sky Blue FC (2016 NWSL
Rookie of the Year) and in college football with Penn State University (2015 NCAA Division I Player of the Year).
Also very active off the field, in February she successfully held the first edition of the Rocky Rodríguez Football Clinic, in the Costa Rican city of San Rafael de Alajuela, for girls between eight and 16 years of age. Currently in lockdown in her home in the US, Las Ticas' leading woman – star of their bronze-medal showing in the 2019 Pan American Games – caught up with She Kicks' Nick Aitken.
[Interview also available in Spanish – courtesy of Onuba Communications]
She Kicks: Raquel, you've always been very determined and committed, qualities that have taken you to the Costa Rica squad, to success with Penn State University and subsequently pro football with Sky Blue and now Portland Thorns. Could you pick out three main turning points in your journey so far?
Rocky Rodríguez: The most significant challenge I managed to overcome was earning a sports scholarship at Penn State, as that was the springboard that enabled me to leave my country and go to the United States – the country where I'd go on to carve out a pro-sports career.
The second main turning point was scoring in the NCAA Championship final with Penn State and helping them win in it for the first time. That was the cherry on the cake of a very successful year and it proved key when it came to being drafted and making the leap into US professional football.
I'm going to go so far as to say that the third main turning point is signing for the Thorns. Though I haven't played or even trained in person with them yet, it's clear to me that this is a team with a competitive culture, with a fan base that demands results, and with the ambition and goal of becoming NWSL champions again. The idea behind seeking these challenging factors was to put myself in an environment which would drive me to continue growing and developing.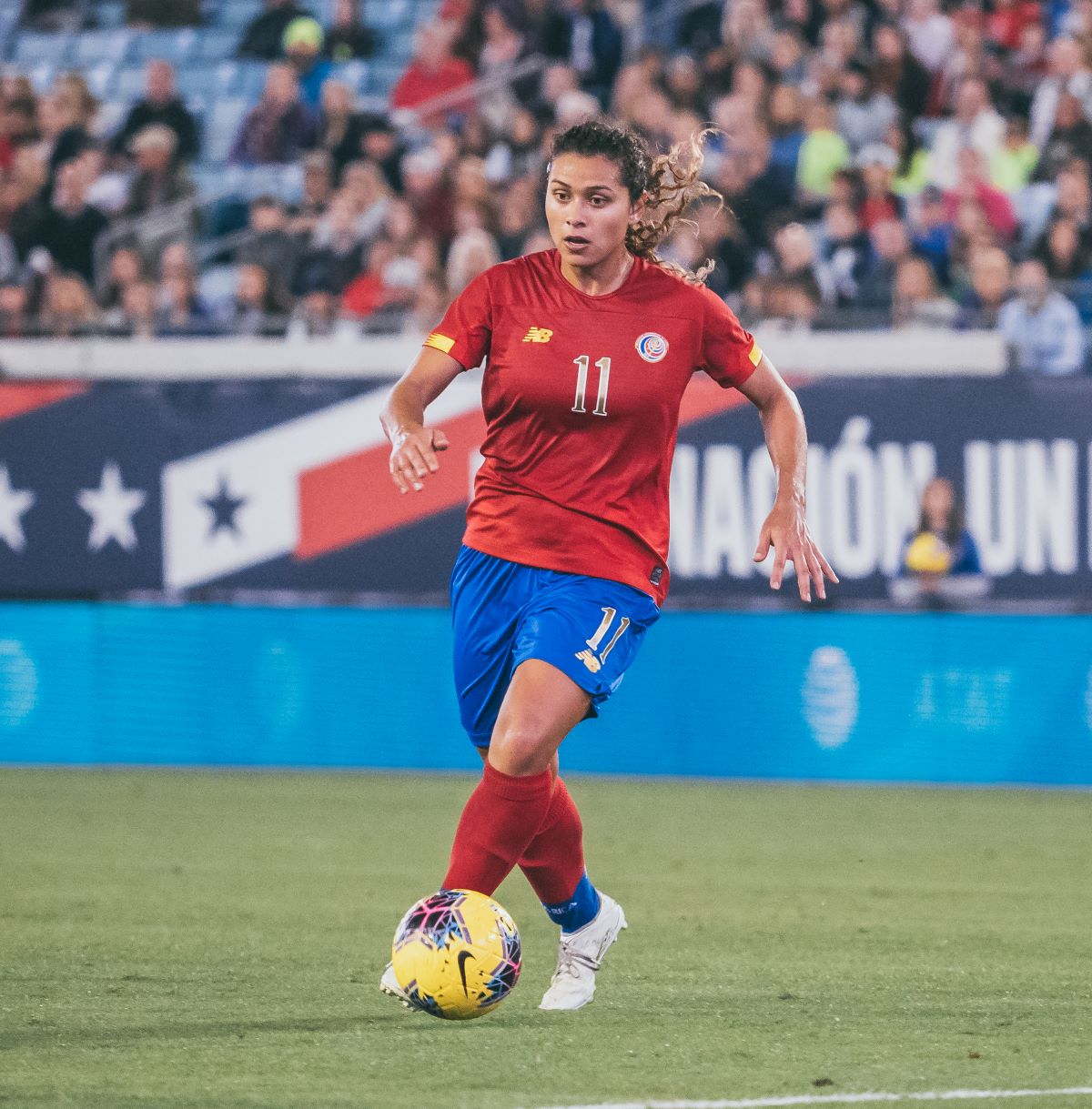 SK: You started playing for the senior Costa Rica national team at just 13. Can you remember how it felt to start training and playing with international players who were so much older than you? The support of your parents, the coaching staff and your team-mates must have been vital, right?
RR: To start with I was very nervous, simply training with players who were much older than me was already a challenge and actually competing against them was even more so. However, that cut and thrust, that 'baptism of fire' at international level was a vital part of my development as a footballer. As the years have gone by and I've been achieving the personal goals I set for myself, my confidence has also increased, and with that I have learnt to handle my emotions better. The evolution of women's football in Costa Rica is something that I've had to watch from afar, but seeing how it's grown fills me with joy, since the current state of the game there is very different to what I myself went through.
SK: At Canada 2015 you scored Costa Rica's first ever goal at a FIFA Women's World Cup. What do you remember about that goal? Did it mark a before-and-after moment in your career?
RR: Scoring that goal felt incredible! After the game I cried all the way back to the hotel, because of the emotion. I remember that people hadn't expected us to make much of an impact in our section [Group E with Brazil, Spain and Korea Republic] and I also remember that the goal came almost immediately after Spain had scored against us. It felt like an individual and collective victory, a real boost for my country. And going on to become Costa Rica's all-time top scorer is something that makes me happy and proud: there's no feeling to match bringing joy to my country and doing my bit for the national team by scoring goals – it runs very deep.
SK: You have continually surpassed yourself since arriving in the United States, with individual awards and collective success at Penn State University, the 2016 NWSL Rookie of the Year prize, and going into the record books as scorer of the NWSL's fastest goal – against the Thorns! Do you think that studying a university degree has helped you prepare better for everything that being a professional footballer brings, as well as what will come afterwards?
RR: I think that my time at university was very important in every sense. Although it is not considered professional football, you have all the facilities that a pro club has, perhaps even more. If you choose a place that suits you, you leave university being more mature, with a university degree that nobody can take away from you and which you have for when you finish playing football. You also come out of college tougher and more prepared. Ticking off career objectives requires patience and perseverance and, as I mentioned earlier, without college football I'd never be where I am today.
SK: Over your four years at Sky Blue you shared a dressing room with footballers of the calibre of Christie Pearce, Carli Lloyd and Sam Kerr, to name but a few. Between playing with and against such high-quality players, as well as having to get used to playing in a number of different positions, those four years after turning pro were full of learning, right?
RR: It's very true that I learned so much and I'm very grateful for my time at Sky Blue. was certainly full of learning. Without those experiences, I wouldn't be ready for this new stage of my career at Portland thorns. I think we all have to stay humble and always keep learning, so sharing a dressing room with players like the ones you mentioned was a privilege and a great opportunity to learn from them. Not only did I learn and evolve a lot but I also, as time went by, realised that I too have the ability and the qualities to stand shoulder to shoulder with players of that calibre.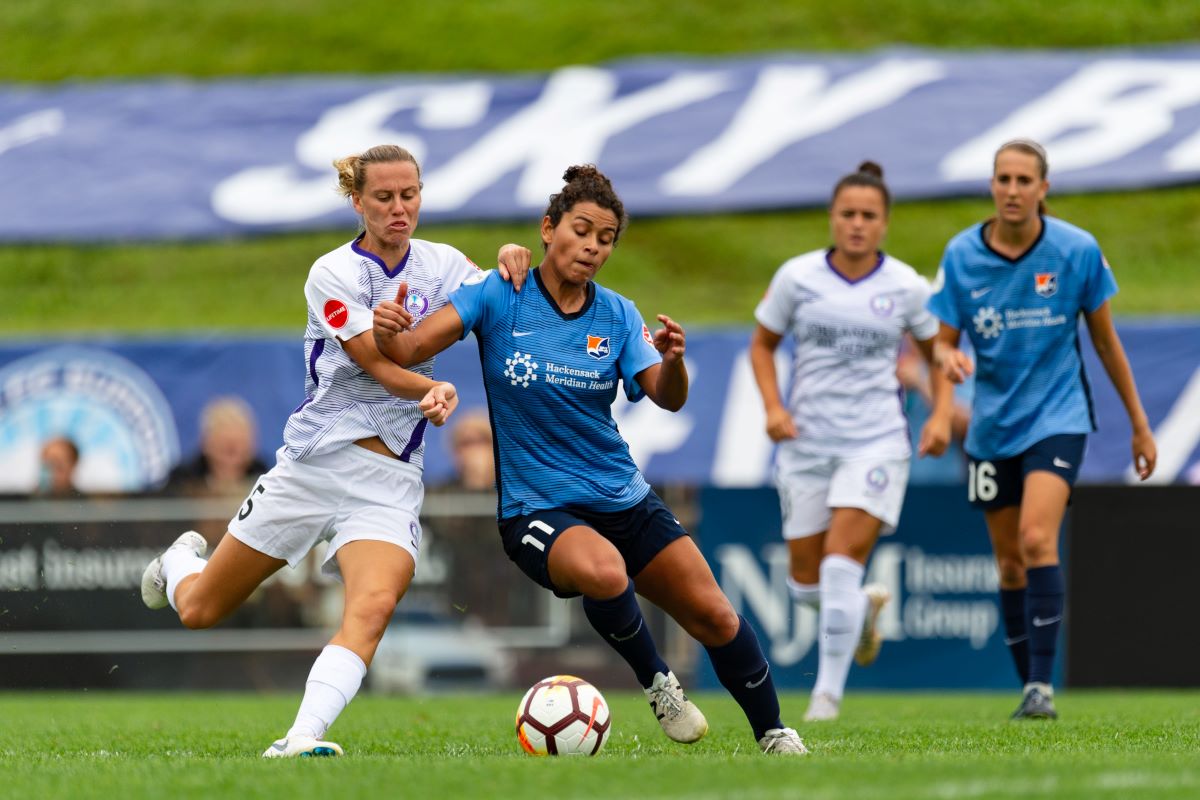 SK: This winter Portland Thorns made the move to bring you in. They're a club that's known around the world for the passion of the fans and the atmosphere that they generate at home games. I imagine that you can hardly wait to be able to train each day with your new team-mates, including players like Becky Sauerbrunn, Lindsey Horan, Tobin Heath and Christine Sinclair. Was this move the next logical step in your career?
RR: This new experience is a dream come true! The moment has arrived where I'm getting the opportunity to play in one of the world's best-known clubs, a club where even top European players come and play. This is what I've always wanted to do: put myself to the test and see if I'm up to the task – surrounding myself with the very best to see if I can be amongst the best myself and to be a champion, in whatever competition I'm playing in. I think that I'm ready for this new challenge, this is what I've been preparing for for a long time and I've worked very hard to get to this stage. Now all that's left is to show what I can do, earn my place in the team and really go for it.
SK: One final question, given the current situation, do you have any words of encouragement for She Kicks' readers and women's football fans in general?
RR: I think that the words I'd like to say may or may not be encouraging, but I think that your readers might be able to identify with me. I have had good days and other not so good ones, there have been lots of ups and downs. I've asked myself if we'll be able to get through this situation or not, I've had to take it one day at a time. That said, here we are, we're still going.
Human beings have an enormous capacity to adapt to change: we are resilient and we are capable. I find it hard to believe that there are no areas in life where improvements can't be made, so I hope that these difficult times we're living through have not happened in vain. Let's hope that it serves to help us evolve into being better people, whatever that means to each one of you.
Interview translated from Spanish to English by @onubacomms, experts in translating web and social media content. We believe everyone in women's football should have the opportunity to connect with their global audience.