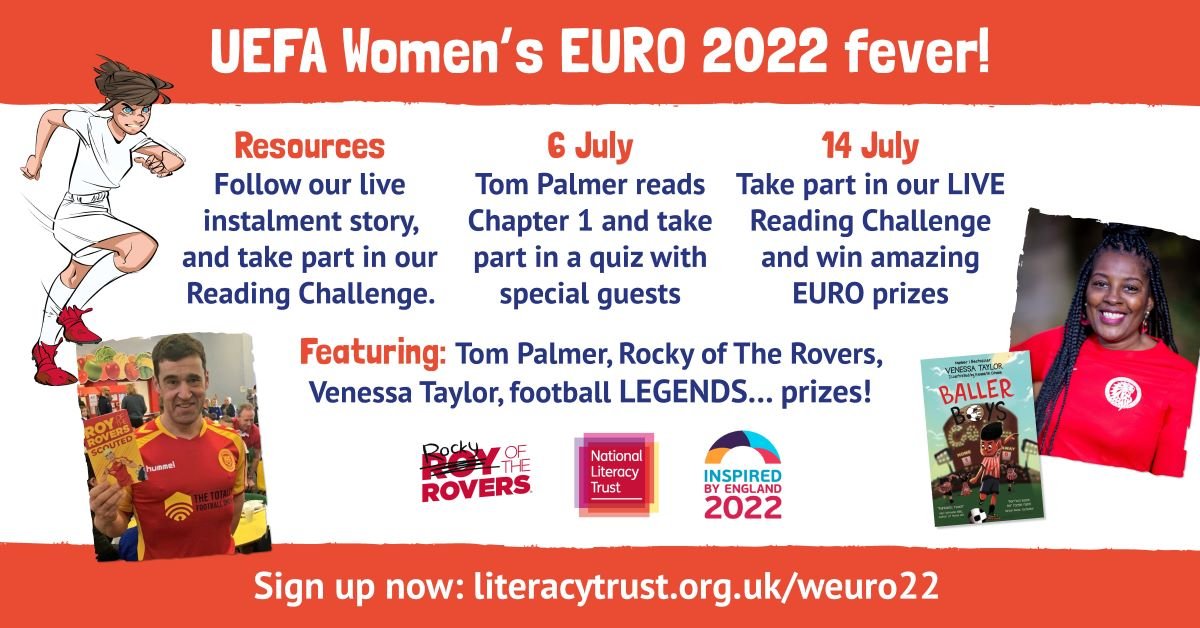 Popular children's book character Rocky of the Rovers takes to the pitch at the UEFA Women's EURO 2022.
In celebration of the biggest European women's sporting event of the year, the UEFA Women's EURO 2022, the National Literacy Trust has partnered with The FA and Rebellion Publishing to get schools and children excited about women's football AND reading.
As part of this campaign, award-winning children's author Tom Palmer is bringing his female football star character Rocky of the Rovers to the Women's EURO by writing and releasing 'live' chapters throughout the tournament, taking Rocky on an exciting journey in line with the twists and turns of the competition. Every Monday, Wednesday and Friday of the tournament, the chapters can be downloaded for free from the National Literacy Trust website from 07:30am.
Over 13,000 children from across the UK were able to hear the first chapter of Rocky's adventure read live by Tom at a virtual live event hosted by the National Literacy Trust on Wednesday 6 July, which also featured a football-themed quiz, special guests including Baller Boys author Venessa Taylor and a prize-giving.
There is still time to get involved because the National Literacy Trust is hosting a second very special virtual event for schools on Thursday 14 July, 'The Great WEURO22 Reading Challenge', featuring the charity's first ever live reading challenge based on the WEURO Reading Challenge wallchart that schools can download for free on the UEFA Women's EURO schools website. Pupils from a random selection of schools attending will choose, or be allocated through a traditional football draw, a text which they will 'play' in book matches against other pupils' texts in an inter-school battle. All the other school groups attending will be able to interact with the challenge and get involved in real-time.
To add to the excitement, 'The Great WEURO22 Reading Challenge' will be hosted by engaging TV presenter Kenzie Benali who has presented some of the biggest competitions in both English and European football, as well as matchday presenting for several Premier League Football Clubs. She is also a regular face on children's TV, having presented programmes including CBBC's Match of the Day Kickabout and Nickelodeon's Nick Kicks, so she will be easily recognisable among young football fans. England football legend turned children's TV presenter Rachel Yankey will also be making a special guest appearance during the event.
Furthermore, courtesy of The FA, there will be some fantastic prizes up for grabs during the event including a Lioness shirt signed by player Milly Bright, UEFA Women's EURO balls, water bottles, pens, tote bags and more.
In addition to this event, teachers can find recommended reading lists created by the National Literacy Trust for Key Stages 1, 2 and 3 and school resources from The FA on the UEFA Women's EURO schools website. An introduction to Tom Palmer's live Rocky of the Rovers chapters is also available, while the instalment chapters are released on to the National Literacy Trust website, along with a series of writing challenges that support the story.
All schools who complete the Reading Challenge wallchart in the classroom by Friday 22 July 2022 can also enter into our prize draw to win a box of great books, carefully chosen by the National Literacy Trust.
Jim Sells, Sport and Literacy Programme Manager at the National Literacy Trust, comments: "We are delighted to be working with The FA and Rebellion Publishing during the UEFA Women's EURO tournament. Through our live story, virtual events and free downloadable activities themed around the competition, we hope to get schoolchildren up and down the country excited about reading and writing to help equip them with essential literacy skills for success at school and in life.
It is brilliant to be championing women's football as part of this campaign to inspire the next generation of sports superstars; we would like to thank Venessa Taylor, Kenzie Benali, Rachel Yankey, Tom Palmer (and Rocky of the Rovers!) for their support in bringing literacy and sport together during the UEFA Women's EURO 2022."
Sign up now for The Great WEURO Reading Challenge: https://literacytrust.org.uk/events/womens-euro-2022-event2/