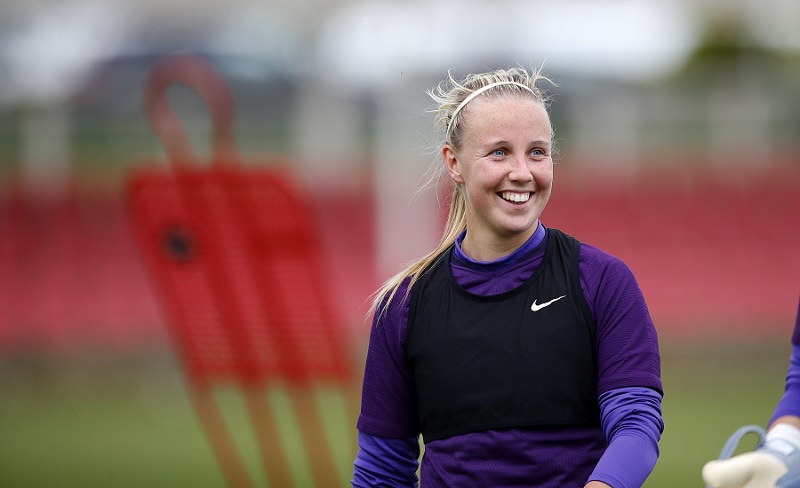 An FA WSL champion with Arsenal and a SheBelieves Cup winner with England already this year, the performances of Beth Mead have certainly impressed in recent times. Nevertheless, a conversation with Lionesses boss Phil Neville back in January came with some home truths that have sparked the former Sunderland striker into another gear. After a Player of the Match display in yesterday's 2-0 World Cup warm-up victory over Denmark, the 24-year-old is closing in on her first major tournament in high spirits. She shared her thoughts with the gathered media in the post-match press conference at Walsall, with many keen to hear more about that aforementioned phone chat…
Asked about the phone conversation she had with Phil Neville in January, and whether it was a pivotal moment in her development:
Yeah he probably didn't tell you everything he said to me! (Laughs) Sometimes as a player you need that, you get a bit complacent. I was playing well for Arsenal, but I came away, I think it was the Australia game, I had some chances, I didn't score them. Probably should have, and I think he said to me 'that's the difference between Player of the Match and them forgetting about you in that game.' I missed Qatar, which I was frustrated about; took a little bit of a knock against Chelsea, so that was frustrating. Literally the week before SheBelieves, (Phil) basically said I had one game to prove whether I could go or not. He told me and I think it was what I needed at the time, as a player. It made me kick into another level. I started performing better for Arsenal, I started scoring goals, as well as assists, and then I kind of brought that to England as well, creating chances for other people and scoring goals. I definitely believe it was the best thing for me and I think me and Phil are on a very good level right now, that he could do that to me as a player. Yeah he got the best out of me and now I'm pushing to be better and better every day.
On Phil Neville's suggestion at the time that she was too nice in her play and he needed to get her angry:
Yeah, do you know what? I've always been a nice girl…yeah my mum probably won't say that! I've had to get a bit tougher in different environments. I was a girl from the middle of nowhere, I had people around me that were always nice, and I guess I've had to become a little bit more tough, a bit more aggressive. In a good way; I'm not going out there to hurt anyone, but if I see a 50-50 I'm gonna go into that tackle and I wanna come out the better player. I think it's made me a better player and I've had to bring that within my game. I guess these are things you learn as you get older; I'm 24 now and I guess these are different things I have to bring into my game. All my career I've played as a number nine, now I'm playing as a winger for England Women's team and Arsenal Women, so there's a lot of things I'm still learning and I probably will continue to learn and become a better player.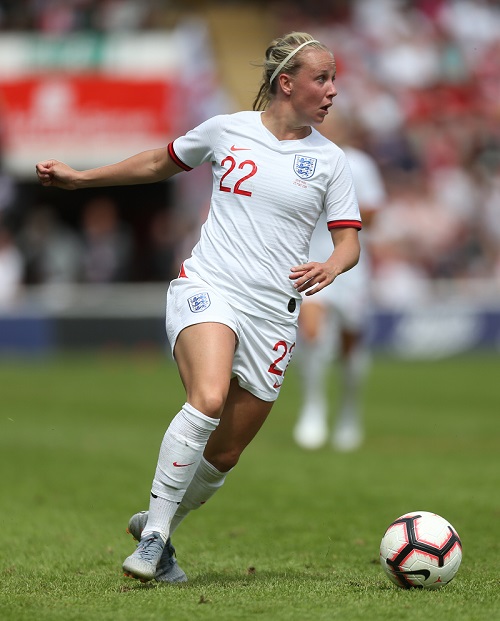 On what her feelings were at the time of the conversation, as opposed to looking back at it now as beneficial:
At the time, sometimes you think you're doing alright, you know? 'Do you know what? I did alright today. I played 6 or 7 out of 10.' But actually you want to be playing an 8 or 9 out of 10, and I think they're the expectations I have on myself now, the team expect from me and Phil expects from me. I have the players around me who'll let me know; Kaz Carney, for example, said at half-time, 'Beth, you step up and the rest of the team step up.' I think that's the thing you need to hear from players and people closest to you, to know 'do you know what? Yeah I do. I need to be playing better, I need to be doing this better.' It's for the better of my team.
And did the conversation get her angry?
Yeah, it did. When he rang me and he was saying all sorts to me on the phone, it did make me angry, because I actually sat there and thought 'why did I not do that myself? Why did it take someone to say that to me?' Yes I'm very glad he did that, but I maybe should have took initiative, and I've learned from that, that I need to be stepping up a lot more.
Is that also the job of the coach, though?
Yeah, it is and it shows he is a very good coach, even when I'm not around him. I'm around him for ten days of a month, or however long it is, and he's seen that and he lets me know after every game what I did well, what I didn't do well, and I think that's the communication you need sometimes to become a better player. They're the things he sees.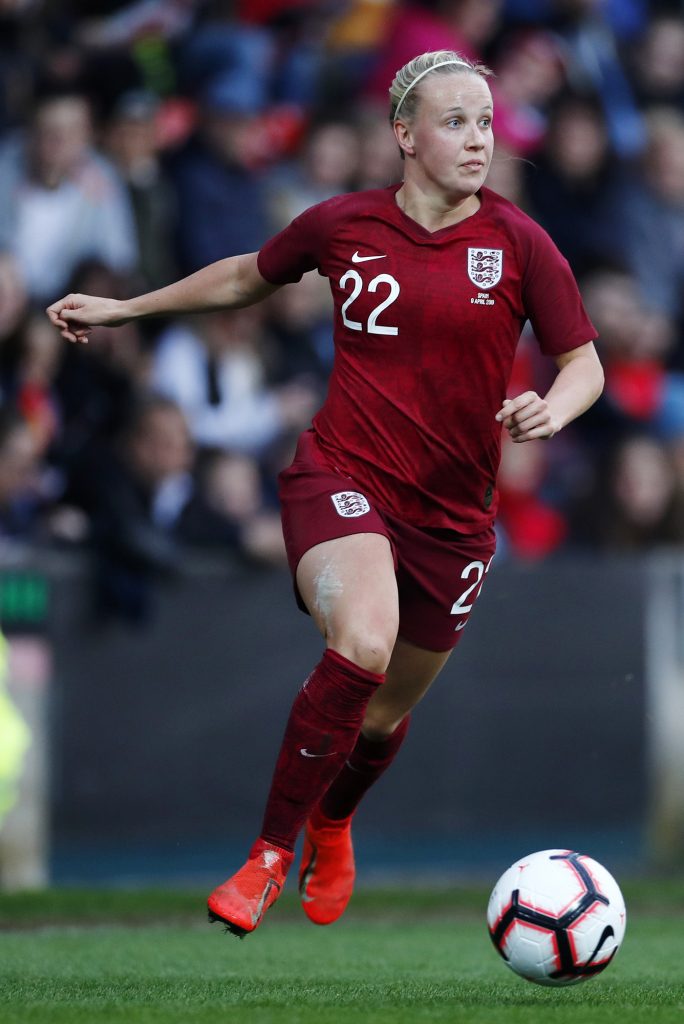 In response to it, she's developed the 'crot' (cross-shot), of course…
Yeah, true – different ways of scoring! I mean I was lucky for one against Liverpool, probably didn't mean that one, but the one against Brazil started it off, I guess. Not a bad one to start it off.
After the Brazil game in the SheBelieves Cup, when Phil Neville told her she wasn't playing against the US, he saw the anger he wanted to see from her. Would she go along with that?
Yeah, I think it was. I was happy to be in the England team, and I think now I'm pushing to be more than just in the team, the squad of 23 or whatever it may be; I want to be in that starting 11 now. I think I want to give Phil the biggest headache on that 9th of June, to be like 'I can't not put Beth in this team.' I've got the likes of Kaz Carney, Nikita Parris, Toni Duggan; I'm competing against them players, who are world-class players, and if I'm stepping up that little bit more, they have to. I think my mindset is 'we're getting the best out of each other.' But yeah, (Phil) asked me if I wanted to say anything after he told me I wasn't playing, and I just walked away! So it was probably the best thing to do at that time!
Player of the Match today, does she feel she's showing what she can do with her performances lately?
Yeah, I've got to give out an 8/9/10 performance to be in his team. I'm doing the best I can on the pitch. It was a rough first half; we probably weren't playing to the best of our ability, we were a bit excitable, bit nervous. People on the pitch were trying to prove a point to be in that 11 right now and you could tell first half. I think we settled down second half, but as a team we know it still needs to be better. I think we said we conceded six corners in 20 minutes; for us as an England team, yes we defended them well, but that's not good enough. Now we've got a couple of days off, we need to recharge, we need to watch the game, we need to look back at what we thought we did okay and go back on the training pitch and try to rectify that. I guess this is what these games are for right now and we go into a World Cup fully prepared.