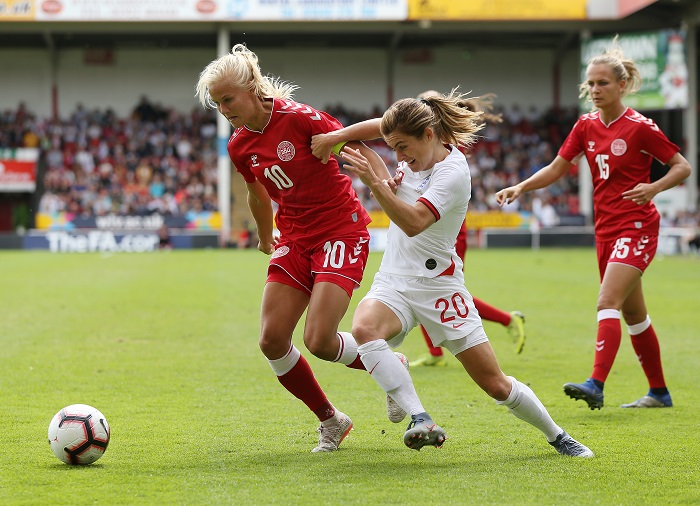 Pernille Harder was cited a number of times at the weekend in interviews with England players and staff. The Danish captain and VfL Wolfsburg star was highlighted as an ideal test for the Lionesses, as they prepare to take on the elite in next month's World Cup. That a player of her calibre will not be performing at such a tournament, however, is a significant loss all around. The same could also be said for Denmark, after their impressive runners-up showing at Euro 2017.
The Danes are looking to the future under the stewardship of Lars Søndergaard, who gave opportunities to many young players in the 2-0 friendly defeat to England in Walsall, which could easily have turned out differently. Along with Harder, experienced midfielder Sanne Troelsgaard and young Paris Saint-Germain forward Signe Bruun offered us their thoughts after the match.
Pernille Harder
What was Lars looking to see from the team in today's game?
We are practicing our game and how we want to play, and we are a team that wants to play football, from goalkeeper to the front. I think we did quite well for a big part of the game. We have a lot of young players with us today also, and a lot of them are playing only their second game for the national team, so I think they are doing really well. Of course, we are not satisfied with the loss, we wanna win, and we had the chances to score. So we practiced how we want to play and some players got to experience a big game.
Since Nils Nielsen left (after Euro 2017), has this become a different kind of Denmark, or is Lars asking for more of a continuation?
Yeah, it's a lot of the same. We have the Danish way to play, we want to play football, and that was the same with Nils. Not so much has changed; of course there were a few things, like formation, but our values in the game are the same.
We mentioned the young players called up for this squad, maybe just as an example, have any impressed you or stood out this week?
I think (Sofie) Svava on the left, at full-back. She did really well. She started the game and I think this was her second cap for the national team, and I don't think you could see that. I think she was one of the better players in the whole team today, so that was really cool to see.
It's a huge shame of course for Denmark not to be at the World Cup, what do you think needs to change or improve so that Denmark are qualifying consistently for it in the future? (Denmark last qualified in 2007)
We have to be good and play football, but we also have to not be naive sometimes. That's the balance. I don't think we play naive so much any more, so that's good, and then we also just have to score our chances. One of the big things that we have been practicing also is our defence. Often we focus mostly on how we play, not so much how we defend, and to be in a World Cup and to win a World Cup, I think you have to have a good defence.
Will you watch or be at the World Cup, and who will you be supporting?
I'm actually going to France to support Sweden.
Have you enjoyed this time in England this week? Did you have chance to go anywhere, or only to train?
Yeah we came on Thursday so we haven't been here so long. We have been in West Bromwich, I think. I haven't seen so much!
Sanne Troelsgaard
In these last two years since the Euros, what has changed about the team, as you see it?
Yeah of course there are a lot of new players. Today we have a lot of young players, so the system has changed a little bit since the Euros. I think today we played a very good first half; I think we put England under pressure and I think we had at least three or four chances. Then they scored the goal one minute before the end of the half, but I think we can take some positives from how we played.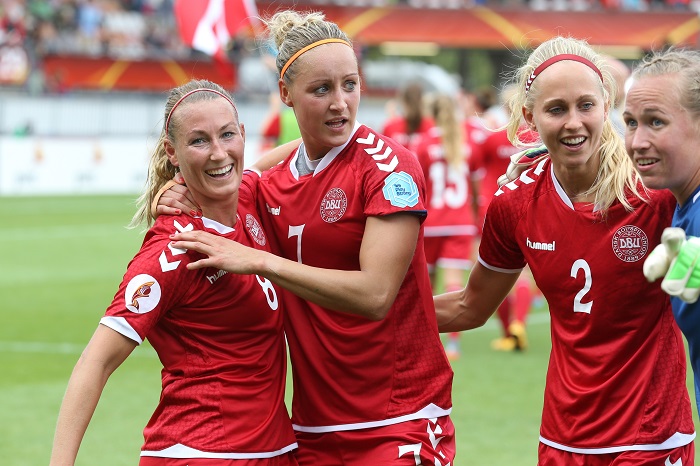 With the young players coming in, who has impressed you? Anyone you've looked at and thought 'yeah, she has a big future'?
Yeah, our left-back (Sofie) Svava. I think she's been doing well, playing one-against-one and making a lot of crosses, which we have to score from. I think she was very impressive today.
For your club team, FC Rosengård, a positive start in the Damallsvenskan, what do you think your chances are of winning back that title this season? (Rosengård last won the league in 2015, finishing 3rd in 2018)
I think there are a lot of good teams and each team can beat the other. I think we have a chance, but I think everyone wants to beat FC Rosengård still.
In the Champions League, did you feel you could have gone a lot further this season? (Rosengård lost 3-2 on aggregate to Slavia Prague in the last 16)
I think it was a disappointment. We have to beat a team like Prague. Then we finished in third place in the league (to miss out on qualification for next season), so it wasn't a good season. I think we put the disappointment behind us and now we can start again.
For the national team, after such a strong showing at the Euros, it's a World Cup without Denmark. What needs to happen so that we aren't talking about that the next time these tournaments come around?
I think there are a lot of new players coming through, and we also have a lot of injured players the last two years since the Euros. We are just starting to build a new team, with a lot of new players, so I think for two months we have a break now, and after that, we just keep going for the Euros (in 2021).
Will you want to watch the World Cup, or prefer to switch off from it?
No, I want to see the games, of course. I love to watch football, especially the World Cup for women. I want to sit at home and still be disappointed that we didn't make it, but I want to see good football and a lot of good players as well.
You've also had a great club career so far, do you think one day we might see you play for a club over here in England? One day maybe?
Yeah, one day, maybe. I think English football looks very exciting and some day I want to play in England.
Signe Bruun
Let's start with the handball decision, when you scored with the game 0-0. What did you think of that? (Replays appear to show that she controlled the ball with her shoulder)
(Smiling ruefully) Yeah, first of all, it was a very good cross, and then it had a weird bounce up. I wanted to try and finish with my foot, but the bounce was weird, so I just wanted to do something. For me, I touched it on my shoulder, but I understand it's difficult to see. The ref said she was also in doubt, but she has to call it, and she watched it on video afterwards. For me, it wasn't handball, but it's easy for me to say. I want to see it again and then I can say, but it's sad because a goal then would be good for us. We might go on and win the game.
What kind of opponent were England to play against?
It's a very tough team. They are very physical, it's a good team, very good technically and plays fast. It was a good match for us to test ourselves and see how far we are from the top level, because right now we are in a period where we are developing and preparing for the qualification for the Euros. So it's a good team; physical and very hard to play against.
This season for you moving to PSG, have you enjoyed it, has it been difficult?
Both! The first half-year especially was very hard, but I was prepared for that. I expected it to be hard, I knew that I just had to pass those six months and everything would be easier, and it was like that. When I came back after the Christmas break, I kind of felt like I knew the club and they knew me. It's also about getting into all the routines and how the club do it compared to my old club (Fortuna Hjørring). Especially after the Christmas break, I've been very happy there and enjoyed every training, learning every day. There are some very good players there, so for me, it's just a big honour to be there and learning from some of the best players in the world.
How does the style of play compare to what you had been used to back in Denmark?
It's faster and more physical. I'll say there's more tactical training in Denmark; I think in Scandinavia we're really focused on the tactical stuff. In France, all the players are so good individually that you don't need it in the same way. That aspect, the tactical, is the biggest difference, but of course technical, the tempo, everything is just like a level up. I think that's good for me as a player and for my development to try and be in that environment and be better every day.
How about speaking French, how have you been doing with that?
(Laughs) It's difficult, it's difficult. It's far from Danish. I'm trying, I have a teacher, but it's very difficult. I understand a lot now, but I still have a long way to go.
Will you want to watch the World Cup?
Yeah, of course. I love football. Of course it's sad that Denmark is not there; I think we could have a spot there, but that's how it is, that's the game. Now we know we're not in, now we're just going to enjoy the games. It's a big tournament and it's good for women's soccer. It's very big and France is very good at promoting it, too.
And at 21, with your career really starting to progress, will seeing this tournament inspire you to really push to be part of a big future with the national team, where you're a key part of Denmark reaching that level consistently?
Of course, of course. It's a goal for every young player who wants to achieve something big with football, and for me too. If I was in the World Cup this year, it would be a huge experience, so it's a big motivation to keep going. Now we're just focusing on the qualification for the Euros; hopefully we'll be in there, and it's just another step on the journey. It's gonna be exciting.
Interviews by @chris_brookes