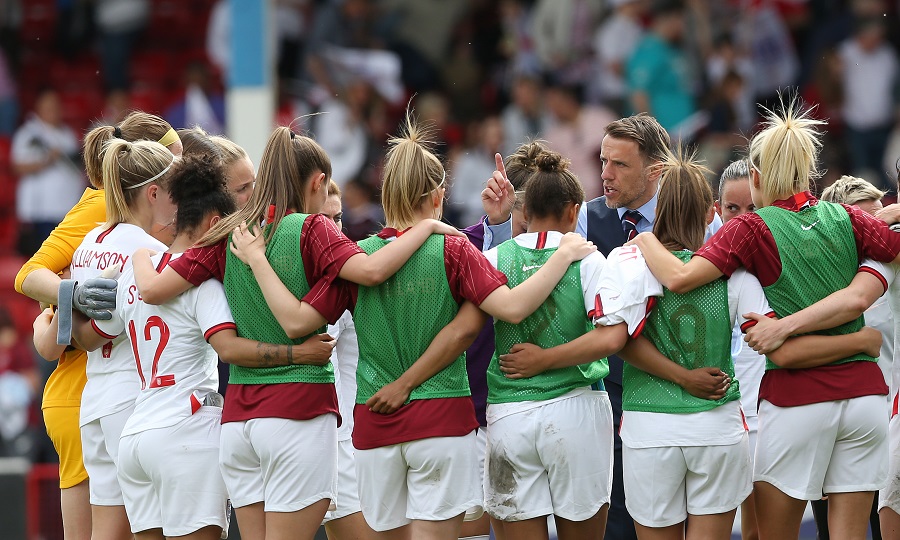 Phil Neville saw his England side beat Denmark 2-0 in their penultimate FIFA Women's World Cup friendly on Saturday. A goal in each half, from Nikita Parris and Jill Scott, ultimately saw off a largely experimental version of the Euro 2017 finalists, but it was certainly not a routine victory. Having seen his Lionesses come through on a problematic pitch at Walsall, Neville spoke of the match as a necessary jolt for his players, as he gave his post-match thoughts to the media.
On how he assessed the exercise:
I think the players needed it. We half-expected that kind of performance; a little bit leggy. Coming off the back of the end of the season, we've trained them hard, and obviously had the team-bonding day the other day, where they only got one or two hours sleep. We expected a little bit of fatigue. I've got to say the pitch was really, really energy-sapping, but the disappointment in the first half is we didn't play with any kind of rhythm; we played stand-still football, which is not what we do. Then when we got into good areas, we looked so excitable and we made the wrong decisions. We were clashing heads and we were bumping, and it just looked messy and there was no composure on the pitch. I think it was really important that we had that type of game today, with that type of pressure, because in 20 days' time we're going to be in front of 31,000, and there's gonna be even bigger pressure on us. I think a few of those players needed that kind of jolt today, and what they did, they actually stuck in the game and got stronger as the game went on, so I was pleased in the end.
If the lack of rhythm was understandable given team changes:
That's the team that I played against Spain, in April, so it's the first time I've made only three changes. The keeper changed, Toni Duggan didn't play. It's the first time I've played probably the same team, so I played this team because I wanted us to play the same team with consistency and rhythm. That's what surprised me; if I'd made probably eight changes from the last game, I'd have been 'actually it's my fault'. The changes that I've made over the last 16 months haven't really impacted our flow and rhythm in games, so I think it's just an accumulation of a few things; pitch, camping, and the fact they probably got to the stage of 'sell-out (game), ooh we're nearly at the World Cup here,' and didn't play the way we wanted to play in the first half.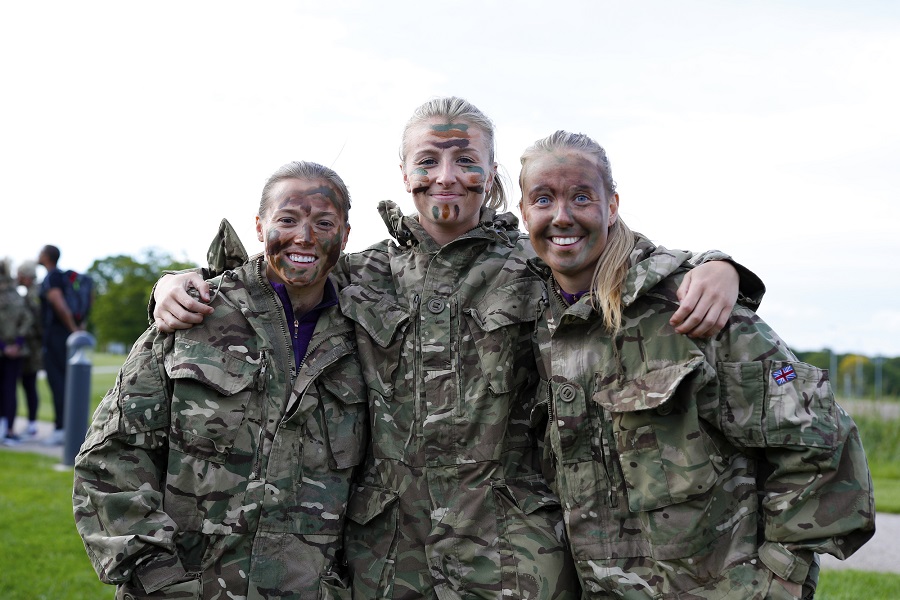 On opening goalscorer Nikita Parris, whose move from Manchester City to Lyon has just recently been confirmed:
The kid's had such a big ten days in her life. You know, you think about the girl from Toxteth who's now gonna be going living in France, change clubs, first time she's moved away from home, big emotional strain, that, on anyone, and I know it myself from moving abroad. We wanted to protect her day, but she's a goal threat, she's got goals in her. When you think about before the game, 'who's gonna be our goalscorer?' her, Jodie (Taylor) and Ellen (White) are probably the ones who come to mind straight away. We're just going to need to protect her over the next ten days to make sure she gets back up to the levels that we know she can.
The challenge of managing the spotlight surrounding Parris:
No, she loves it, to be fair to her. She loves it. I just need to make sure that we conserve that energy she's got; she's buzzing around, she wants to train 27 hours a day, and we just need to make sure we manage her well, because the World Cup's the biggest thing in her life. She's dreamt about it all her life and she wants to go there and make a real impact. She's that type of player that can go there and become a world star, so we just need to protect those jewels that we've got.
How important was it to have this game and still come out with the win?
Yeah, look I've played in these pre-tournament games, and what happens is you stand in front of them as a manager today and say 'come on, let's get going,' and they've actually got half their mind on Scotland and Nice. 'Let's just get through these games.' So it's my job to keep motivating them, but I'm not daft, there were four or five tackles we went into that we didn't come out of because you know they're thinking 'I wanna be fit for Scotland,' so it's human nature, what we saw today. The important thing was we won, the important thing was there was a number of players that got to play against a world-class player in their number 10, (Pernille) Harder, who I thought was fantastic. That would have really helped Jade Moore; that kind of intensity (of) game, playing against a world-class player like that. I'd say my three best players today were Karen Bardsley, Jill Scott, and Karen Carney when she came on. My three most experienced players, because when they're on the pitch they give the team a little bit of composure. We've got a lot of young players in there that are all excitable, that always want to do the right things, and the experienced players today I thought were fantastic.
On what will be key next week, with the New Zealand game to come:
Well we're giving them three days off now. They need the time off. We're shifting down to Brighton, which will be great because (previously) being at St. George's Park, we can now give the players a little bit more freedom to go out into the town, just to relax. We're probably not going to train them as hard, and we'll be playing on a brilliant pitch, so I want us to ramp up the speed. (Steph) Houghton, (Lucy) Bronze, (Fran) Kirby will start, because they need the minutes next week, and I want us to play with a better speed and rhythm.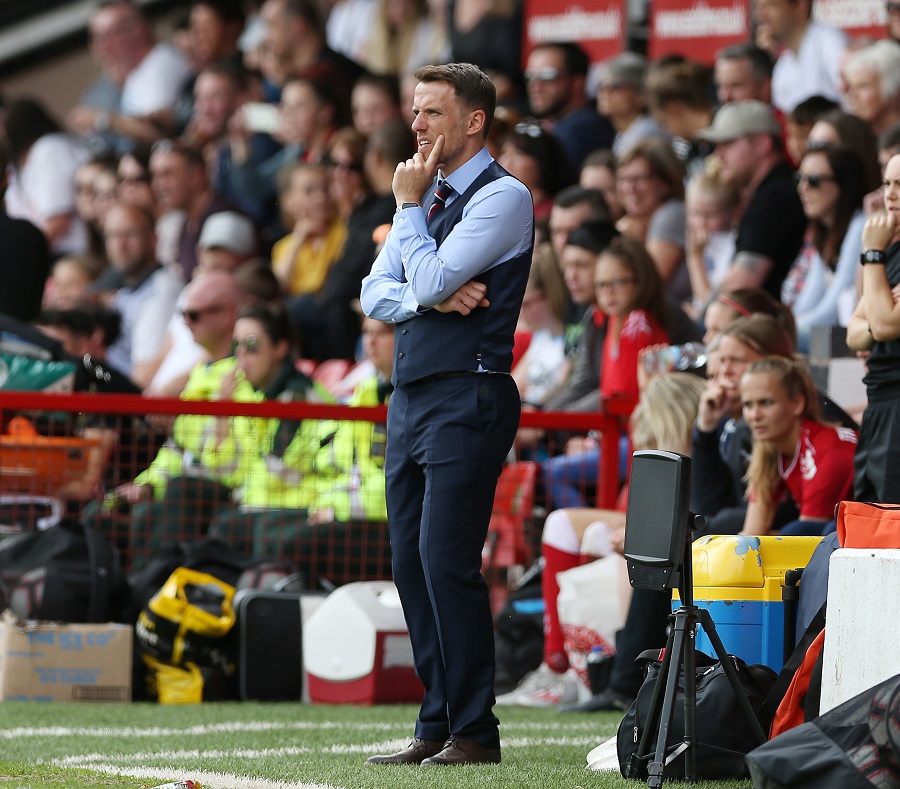 Was it due to their participation in last weekend's UEFA Women's Champions League final that Lucy Bronze and Toni Duggan didn't play?
Yeah, Toni Duggan lost the game, Lucy Bronze won the game. I think Toni's played 11 more games than anyone else in the squad; she doesn't need football, she needs rest. The plan was never to play them today. Most of the Barcelona team have been given seven, eight days off, but because we wanted them with us straight away and they wanted to come, we protected them today.
Would it have been good to have played Bronze in that centre-midfield role against Pernille Harder?
Well you don't like her in midfield, do you?! (Laughs). No look, it was never in consideration, she was never coming on the pitch. If Rachel (Daly) had had to come off, Abbie McManus or Leah (Williamson) would have gone on (to right-back). Lucy then gets two or three days off now. She had two days off after the final; both clubs had to take their players back to Lyon and Barcelona respectively, and they had to do the celebration, the meals, so they've had two days holiday, all season. We have to protect them.
Where is he in his preparation, with one game left before the World Cup?
I was ready after SheBelieves. I've got to say the April games were a pain in the backside, and I suppose these games are a bit of a nuisance, because you want them to come through unscathed, playing with confidence, because we want to get to June 4th, when we fly out to France, to be fair. I think any manager going into a World Cup would say the same, and these games you want to get through unscathed, and you want to get through with rhythm.
Does he actually want to play all these warm-up games?
Oh I've chosen the games. I wanted a tough game today because I knew the players would need a bit of a jolt and a spike, but through the game, even though I wanted to win, I was like '90 minutes, come on'. When she held up four minutes (stoppage time) I was like 'come on, cancel, get off,' because you just want your players almost to use it as a training exercise to get through, get to the next game, build confidence, and keep the momentum going.