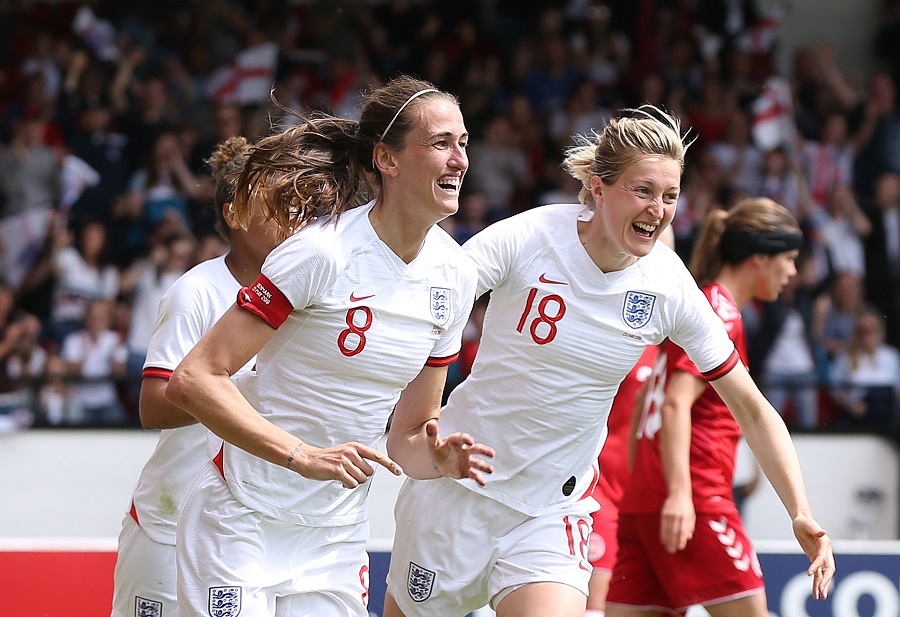 Arriving at just the right time to head home Beth Mead's cross, Jill Scott's second-half goal put the seal on a 2-0 win for England against Denmark yesterday. With one final friendly to play (against New Zealand next Saturday) before their FIFA Women's World Cup begins at last, the interest continues to build. No doubt that also brings heightened pressure, but for Manchester City midfielder Scott (preparing for her fourth World Cup), she welcomes the added spotlight for the Lionesses. Here's what she had to say in the post-match press conference at Walsall following the Denmark win.
Did the players feel tired going into this one?
I think it's all part of a process really. We've been doing a lot of weights and a lot of hard training, whereas if you were in a tournament, you wouldn't do that. It's obviously with the bigger picture of hitting the ground running when we start that game against Scotland. I do think the girls probably looked a little bit tired today, but we ground out the result and I think that's the main thing, especially heading into a World Cup.
On whether it's tough to be playing friendly games like this with one eye on the World Cup:
It's exciting. I said this week I've really started to feel excited. I'm not a player that looks too far ahead, so now the club season's done, you can't help but think about that World Cup, but I've really felt that excitement gathering this week. I was looking forward to this game; yeah we could have been better, we know we could have moved the ball a little better. Not using it as an excuse, but the pitch probably didn't help us at times, but overall, as I say, getting that result and carrying some momentum into the World Cup's the most important thing.
As an experienced tournament player, has she spoken to any of the players going to one for the first time?
I think everybody's journey's different. When I was a younger player, I really did rely on the likes of Fara Williams, Kelly Smith, Katie Chapman to pull me through, but I think now, looking at the younger players we've got – Georgia Stanway, Keira Walsh – they've played so many games at the top level already at such a younger age. They know that I'm there if they need to ask any advice, but sometimes I'm looking at what they're doing and trying to think 'can I get a little bit better at that?' So I think times have changed a bit and they're really starting to bring a maturity to their performance, and if they need the older players to help them then we're here for them.
With the welcome they got today, is World Cup fever hitting the country?
Yeah, it was fantastic. I think even just seeing how many people stayed behind at the end; usually you can get through the autographs in say ten minutes, but I think Ellen White's just come in for a shower now! So she's been out there for a while, but yeah we love that. We say it all the time, we know we hold a responsibility wearing this badge, and we're talking about it a lot, inspiring the next generation, and to see so many people turning up to this game on a Saturday when they've probably got a lot of other commitments, it's fantastic for us. I said in the huddle today 'let's make sure that we give them a performance and show our commitment and passion out there to get them to support us in the World Cup,' and hopefully they've seen that we really wanted to win that game today.
On how she's changed since her first World Cup:
I probably feel a bit more pressure going into this one. The one in 2007, I always describe it as I felt like I'd won a competition; I only had about five England caps and suddenly I was playing with my idols. I thought I was gonna go there and probably not kick a ball, but I featured in every single game, and that's a message that I give to the younger players – 'whatever position that you think you're in now, whether you're starting these next two games, whether you're not, anything can change in a World Cup.' You might be needed because of suspensions, because of injuries. Hopefully not, but that's the situation you go into. Yeah I feel probably a bit more pressure, having that experience, but I think it's something that I thrive on now, (I) really enjoy it.
Does she prefer playing in a two or three in the middle?
I think in my career I've played in every midfield combination you can think of! A diamond, a one and a two, a two and a one, and for me, I think it's just about the detail and getting on the right page. Luckily for me, there's midfielders like Keira Walsh, Jade Moore, Georgia Stanway; I've played with them with England and at club, so when you get out there you kind of know what each other's going to do. So I think we're really starting to form those partnerships all over the pitch now and hopefully that's something that people are starting to see. I probably haven't got a favourite; maybe that one where I can get released a little bit more, from a selfish point of view. It was good that I got a goal today, but whoever puts the ball in the net, I don't care.
How good a test was Pernille Harder, to face before the tournament?
Yeah, she's a great player. We did highlight her in the analysis before; she likes to get on it, she likes to run at players, and we know that's the level we're gonna be faced with in the World Cup. It was a good test for us. You don't want to put in a tackle because you know that you're probably going to give away a foul, but I think we coped quite well with that, in spells. Could it have been better? Yeah, probably, and that's something we'll look at going into the next game.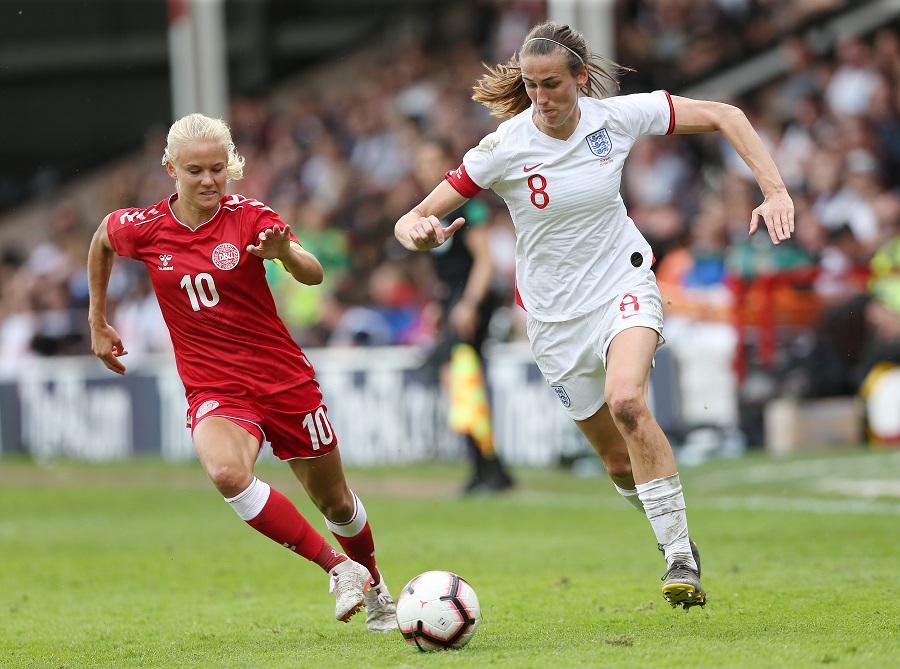 On Man City teammate Georgia Stanway's performance today:
Georgia's really confident. I know for Manchester City she's played in so many different positions and she looks like she can adapt to anything that's thrown at her. I think when she picked the ball up today and ran with it, she's got that shot from the outside of the box in her game as well, and I'm excited to see what kind of player she develops into. Will she be a midfielder? Will she be a forward? Who knows? But I think she did well today and she'll have learned a lot coming up against opposition like that.
On Nikita Parris producing that kind of finish to open the scoring on the stroke of half-time:
Yeah it's a bit of a football cliche that to score just before half-time always settles the nerves, but yeah, I know that Nikita's been working a lot at her game, working a lot at her finishing. I think that's shown today and this season. You don't get the amount of goals she has for club by not putting in the work, so I was really pleased to see that goal go in before half-time, for the team and also for her, on a personal note.