As Sweden came away from Rotherham with a 2-0 friendly win over England yesterday, Swedish coach Peter Gerhardsson hailed it a highly significant pre-World Cup exercise for his team. While Sofia Jakobsson and Anna Anvegård's goals proved decisive, Gerhardsson also had encouragement for Phil Neville's Lionesses, noting the potential match-changing moments that squirmed from the hosts' hands.
The former BK Häcken (men's) manager took over from Pia Sundhage following Euro 2017, and the 59-year-old discussed the change of style he has been trying to implement since, as he offered his thoughts after yesterday's game.
How much of a boost was this, to beat the team currently ranked third in the world?
It's a very big boost. England away, one of the toughest games we could have; I think we need that experience so we are not afraid to challenge the best in the world. But you never know before if it is the right decision (to face this opposition). You can say after 'yeah, it was the right decision,' but you never know before. I think we made a good choice to choose this game. It was a very good performance.
(21-year-old Växjö DFF player) Anna Anvegård got the second goal. She is much more of an emerging name compared to your other attacking options, what does she bring to your side?
Anna is a player who has scored many goals for three or four years. Maybe more years than that, but if you talk about senior level, she's played in the second division (Elitettan) and scored many goals, and then in the highest division (Damallsvenskan) she was second top scorer this season. She's also been in the youth national teams, scoring goals, scoring goals. This was the first goal for her in the senior national team and you don't get so many opportunities at this level. When she gets the opportunity, you know that she can take it, so she could be very important for us in the World Cup.
From what you know of England, and what you have seen of them today, are they realistic contenders for the World Cup?
I think in football, a goal changes things sometimes, and I think if you look in the game after that, England did many good things and they had some chances. I think we were very good in getting the ball back and we were pressing very high and trying to disturb them in the way they play from the very beginning. I think we did that very well, and when we played in the qualification, we didn't really meet any team who was pressing high. So with Norway now, and Italy, they were pressing high, and from this you get new problems and you need new solutions. 'How do we deal with this?' That's experience, and even aside from the result we got today, I think it was very important for us to meet (England), because we need to do things better. From the qualification, you get self-confidence, and that's good for us; we are ranked ninth now in the world. To meet a strong opponent like this, it's very good.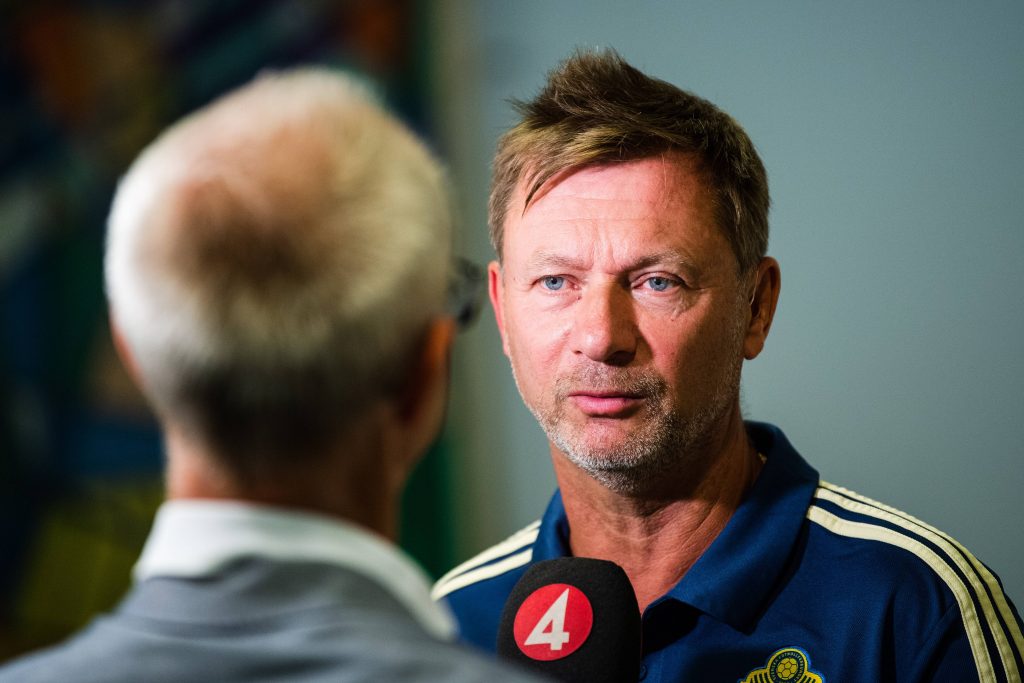 Since you took the job, how much further on do you feel the team is, in delivering what you are trying to achieve?
I think when we took over, a little bit more than a year ago, we tried to change and be very aggressive, because I think that's a little bit of modern football, both male and female. If you see the European champions, the Netherlands, against Denmark (in the Euro 2017 final), it was a very good game, and football is like that now. We have a history in Sweden that we often play 4-4-2 and we play (a) low (defensive line) and things like that, so we have tried to change that attitude to be more aggressive, to win the ball, to run more. The defence starts with the strikers, and I think we got that pretty fast with this team. If you do that against Croatia, Hungary, it's one thing, but you have to test 'does it work against England, against Canada, against France?' So far, we can say 'yeah, it works,' and it's more the other things that we have to be working on to be better. But our defence and pressing is very high quality.
There are still many months before the World Cup but do you have an idea of how many names are set and how many places are still up for grabs in your squad?
I don't think so much about it, because for the next squad you will take many players who you think are going to be in the World Cup, but you also have to check other players. I think England, they play one starting eleven against Austria, and then this game today was not like that. I don't sit and write down 'this one's gonna be in the squad,' but it's in my head. Sometimes I take players out that I know are going to be in the World Cup, and that's normal. Of course, I have to test others; if you don't take some players out then you can't put any others in. So there are not really numbers, but if you force me, I could maybe tell you!