After another tournament in which England's Lucy Bronze had brought her trademark buccaneering right-back performances to the international stage, the Lyon defender was left to rue another near miss for the Lionesses, but remained greatly enthused at the continuing progress.
She reflected on stepping into the captain's role for Phil Neville's first competition as head coach, and plenty more, as she spoke in the mixed zone at the Orlando City Stadium after a 1-0 loss in the decider with the United States.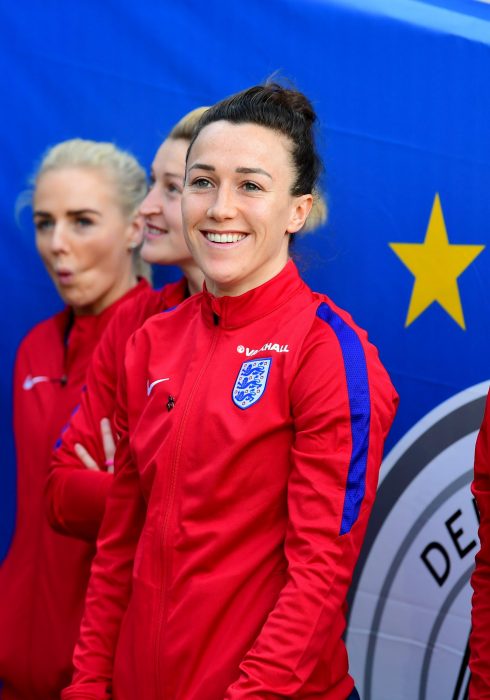 How are you feeling at the end of that, as captain?
I'm really proud of everyone that's not only just stepped on the pitch but everyone that's been here. A lot of the girls have had their first couple of caps for England and they've put in a really good shift and they all deserve to be picked for England; I think Phil's got a hard job picking the squad for the future camps. At the same time, we're obviously disappointed that we had it in our hands at the end and we've just let it slip and a very unfortunate way to get beat as well. All the goals that we've conceded this tournament have been kind of unlucky, we've been on the end of a lot of bad luck but hopefully that'll turn around at some point. I think we're starting to build, we're starting to play good football and this is just the beginning.
Does the gap feel bridgeable between you and the U.S.?
Yeah, I don't even feel like there is a gap. You look at last year, it was 1-0 to us, this year 1-0 to them through a deflected goal. Last year was a last-minute kerfuffle in the box, pretty much, so I think it's either or on the night, and obviously it went their way tonight. We know that we can be a lot, lot better; I think the U.S. are maybe at their peak, they have been for a long time. The French and the Germans all know what they bring as a team and what they're gonna get from them; I think we're at the beginning of that. I think Mark Sampson pushed us a long way but now Phil's took over and he's really getting an extra yard out of us, so much more out of us, and I think we've got so much more to give than any other team in the world.
There's momentum, isn't there? You've stepped up a level and that momentum's started for the next sort of 18 months?
Exactly. I know we've drawn and we've been beaten but we still feel like we've got a lot of momentum behind us. Phil's only had a week to coach us and we've gone out and had a brilliant result against France, good performance against Germany and just missed out today, so we're definitely at the start of something really, really good, and if this is how good we are after one week, then it's exciting to see where we'll be after a year-and-a-half, at the World Cup.
Have you enjoyed the opportunity to be the skipper?
(Laughs) I've spoke to Steph (Houghton) and Jordan (Nobbs) a couple of times this week, because I think it's a little bit harder than you realise and I feel like I'm everyone's babysitter, asking a hundred questions! On the pitch I love it, setting an example for the girls, and I think a lot of people have stepped up this week to try and help lead the inexperienced girls on the field. Off the field, the change of manager, change of scenery, change of faces, I think I've probably had a little bit more to deal with than Steph normally does, so I've been complaining to her a little bit, telling her to hurry up and get back! But it's been good and I think it's been good for me as a person and a player to grow a little bit more.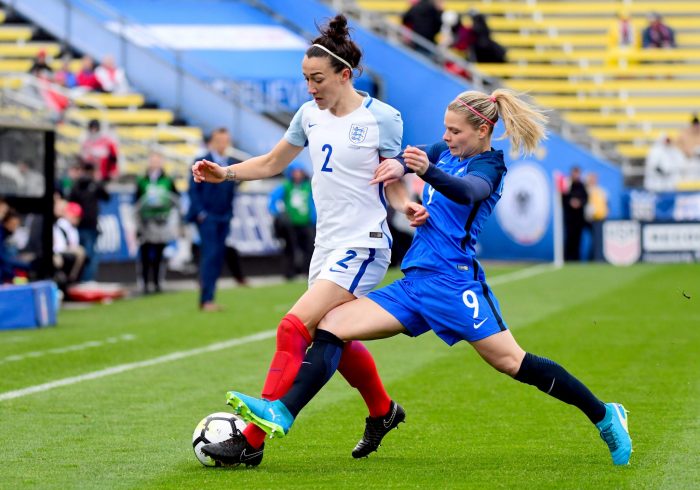 There was a lot made when Phil took the job about him not having experience of women's football, you've had a week or two to work with him now, have you noticed any differences in the way that he's approached things?
Not really, I think the only difference would be that anyone else who's involved in the women's game will be like, 'Oh my God, this is the USA, this is Germany, this is France,' and Phil's come in with a clean slate and he's looking at them purely as a footballer. He's not looking at their reputation, who's that, who's this – for Phil it's 'who's the best players?' Carli Lloyd or whoever it might be, it doesn't matter, he's watching them for the football because he might not have watched them over the last couple of years. In that respect it's kind of refreshing because in women's football we do get caught up with names and Phil doesn't, because he's obviously not been in the (women's) game that long.
Do you think with his big name in men's football it can bring more attention and more media and eyes on the women's game, whether it be good or bad?
Well I think from the beginning it already had that. Straight away it was 'it's Phil Neville,' everyone was talking about it, and then two days ago, 'Oh my God, David Beckham's come to see him.' Do you think David Beckham would come and see anyone else? Obviously he's played with Phil before. So yeah, I think he's going to bring more attention, whether it's good or bad. I think we're probably going to get scrutinised and criticised a little bit more if we don't do well, but then at the same time I think when we do well it'll probably magnify that. It's good and bad and all the girls are enjoying having him at the minute. Obviously everyone enjoyed seeing David Beckham!
How is your early experience at Lyon, playing with those players there, impacting on your international career at the moment?
It's definitely different. I think it's harder now to come into England, to settle back into the team with a completely different set of players who play a different way. Before, I was always saying, 'Yeah, I play with Steph week in, week out, I play with KB (Karen Bardsley) week in, week out,' and it was an easier transition. I've tried to improve my game as an individual but it's still difficult to come in and slot in when I'm used to playing with completely different people, speaking a different language even as well. I think it's been a little bit of a hard transition, the first couple of days here has been hard for me as well, obviously taking on the captaincy, but I think in the long run it's only going to make me better. Hopefully, if I improve as a player then England will improve as a team as well.
You've been very positive but are you absolutely gutted?
Yeah. Yeah. I think there was a camera on me and I was stood with my arms folded for about 20 minutes with the biggest frown ever, like someone's just took my sweets off me!