England may have missed out on SheBelieves Cup glory by a hair's breadth, after a 1-0 defeat to the U.S. in Orlando, but experienced goalkeeper Karen Bardsley was as encouraged as anyone by the Lionesses' showing (if not more!). 'KB' talked to the media in the mixed zone after the game, sharing her thoughts on another slice of own-goal England misfortune, returning to action after her broken leg, the shared desire that runs through the camp, and the small matter of an upcoming cup final back at Manchester City…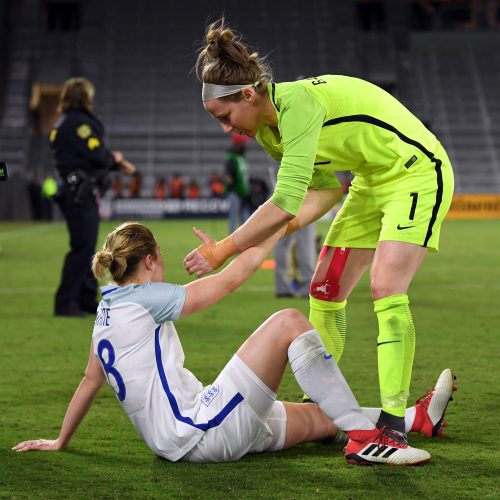 What exactly happened on the goal?
I think that's one for the video replay, but basically there was just a few deflections before it got to me really, and it ended up going in the net off…someone – I don't know who!
Very frustrating for you, given you'd been keeping everything else out?
Yeah…I agree! It was disappointing; I think the girls all played really well. It's just football, isn't it? It's the way the ball bounces sometimes, it doesn't always bounce in our favour and unfortunately, that's kind of been the theme for this tournament, but there's been so many positives that outweigh the negatives. I think we can all come away knowing that we did very, very well. I think we all believe that we should have won that tournament, and we took United States and Germany toe-to-toe really, and we're disappointed with being second, so I think that's a big step forward really. I think we're really excited for what's coming next.
You haven't had the chance to play that regularly recently, and it's important for a keeper to have that consistency, but you really looked in the zone.
Yeah, I think my season so far domestically has been a bit tumultuous, to say the least, with some really freaky injuries and stuff. Coming off the back of the Euros with a broken leg and all that junk, it's been one of those things where your mindset doesn't change, even if you're physically unable to be involved and get a rhythm, so to speak. I think you can still control things in training; you can control things and how you react in your mentality. I was really pleased, I really enjoyed the game today and I felt comfortable, so hopefully we can take that into the (Continental) Cup final when we get back (with Manchester City, against Arsenal) and hopefully win a trophy. There's exciting things to come and I think plenty more to come from me as well.
How quickly can you switch from what's happened here to thinking about a cup final?
Already there. I'm ready to go!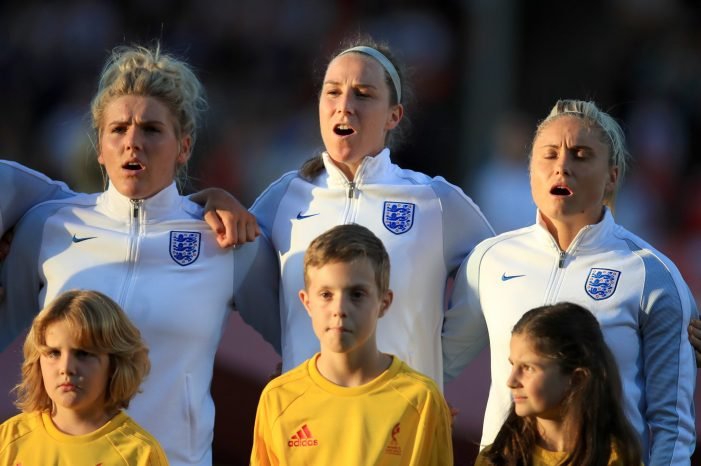 You said there's been a lot of positives on this trip, what's been the biggest one for you?
I think the biggest positive has been how well the youngsters have done; they've slotted in seamlessly. I think Keira Walsh has been phenomenal for us; she really dictates the tempo well in midfield, she's brave, she gets on the ball. I think that's been fantastic, I think the mentality is good as well, we wanna play attacking football and we believe in what we're doing, so I think everyone's really, really excited to get out there. There's no hesitation about how we're going to play, I think everyone's got a bit more freedom and a bit more self-belief as well, so things look good going forward really.
There's a lot more depth now so does it put more pressure on the players?
I don't think you look at it like that; I think you look at it as everyone's challenging everyone else to get better. Every opportunity on the training pitch is a chance to get better and push someone else. At the end of the day, if the team does well, you're proud of the team. That's the most important message going forward really: if England does well then we all do well. That's what you have to keep in your mind; it's not about you being better than someone else on the day or vice versa. It's about all of us working together for the common goal: we wanna win the World Cup.