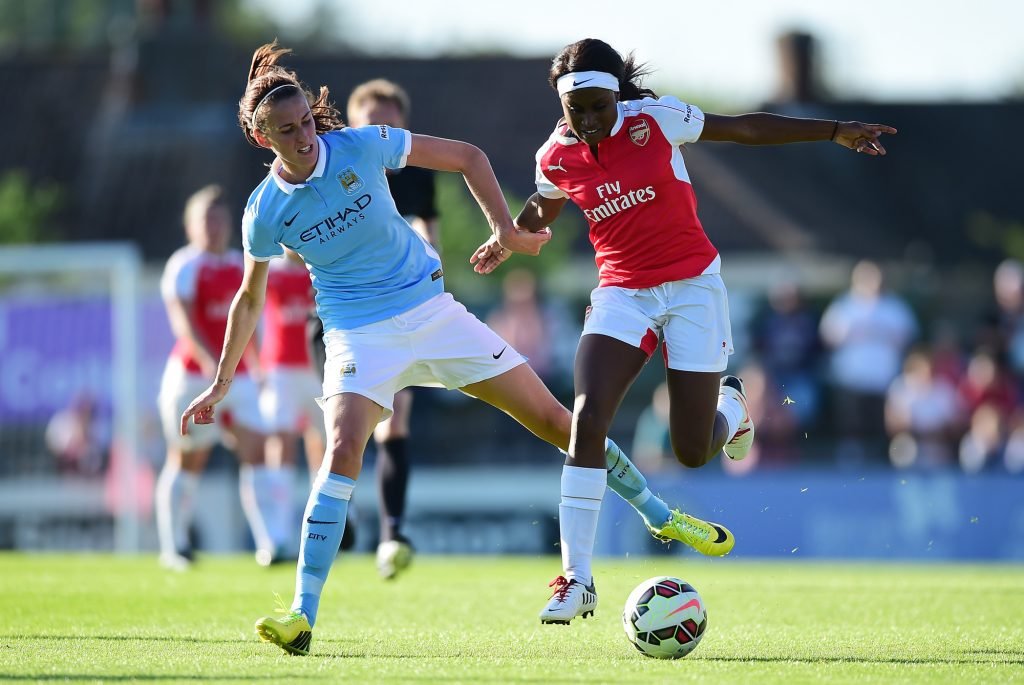 As Phil Neville named his latest England squad, Orlando Pride's Chioma Ubogagu was undoubtedly the surprise selection. The Texas-raised forward was born in and lived in London for the first three years of her life, later playing for Arsenal in 2015, but represented the United States up to Under-23 level and even earned a senior call-up this time last year, so her Lionesses call had not necessarily been anticipated.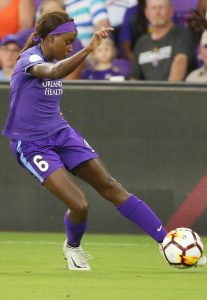 With Brisbane Roar for the new W-League season, 'Chi' flew from Australia to link up with England this week, but her timezone-hopping did not hold her back from opening the scoring on her debut in Vienna. She shared her thoughts after setting the ball rolling in a 3-0 friendly success over Austria…
CHIOMA UBOGAGU
On a whirlwind sort of week, what Phil has asked of her coming into the team and what the conversations have been like so far:
Yeah I mean, this week's been quick, but we've been in conversation for a while now. Since SheBelieves (Cup) I've expressed interest and said I'd love to put on the England kit. He's been tracking my progress since that past February, so we've had a lot of communication and he just kept telling me to work hard, be consistent in my club matches. That was definitely extra motivation to hopefully get a call-up in the camp. One of the things that really stuck with me was that he thought I could handle it, so that gave me extra belief and extra confidence to come here and try to help the team in any way I can.
On whether it was a hard decision to switch allegiance:
No. It was just a feeling, I think. When I went into the (U.S.) senior camp last year, the environment wasn't for me; I guess that's the best way to put it. Then coming into this environment, it just felt right immediately. Some things in football, it's just like an instinct, and it felt like this was the place I'm supposed to be and what I'm supposed to be doing. I'm just hoping I can keep working hard to hopefully keep earning call-ups to represent England at a World Cup, Euros and Olympics etc.
On the experience of the first few days in camp:
It's been really cool. It was an instant very warm welcome. A few of the players came out when I arrived from the airport and they've helped me every day with 'what's this?' in a meeting, or there's some things on the schedule and it's just a different wording. They're helping me understand how camp works and I've never been afraid to ask questions; I've always felt comfortable and I can talk to anyone very easily. That's pretty rare, only being here a week, and I think it just speaks volumes of the culture they've built with this team and I'm really excited to be part of it.
On the goal, being exactly in the right place and if there was anything in her mind at that point:
I think that just speaks volumes of the coaching staff this week, because they really expressed how they wanted me to press and it was very clear how they wanted me to play. They've put me in a position to finish the ball, and even with the finishing this week, it was 'keep everything on-frame, keep everything low,' and that's literally how it happened in the game, so that was pretty cool. When you're that close, you keep it low and you keep it on-frame and most chances are gonna go in. I guess instinct's the best way to put it.
On turning away to celebrate and it's quiet (with no away supporters) and what her team mates said to her:
They were just buzzing for me, they were really excited. It was just really nice that they were genuinely happy for me, and I could feel it. It was pretty amazing.
On if someone had told her a few weeks ago that she'd be playing for England and scoring on her debut, what she would have thought:
It's always been a dream of mine, so I like to think if you dream of something and add actions then it'll happen. For it to actually be here is very exciting.
It's early days to put things in perspective but where that goal ranks in her career so far:
For me, I enjoy that because I think that was about my positioning, and that's something I need to be better on. I think the fact that I was inside the box on pressing and I was the closest to the ball at that time, I was happy about that, because that's something where I have moments of lapse; I'm still wide or I'm late reacting. It's a different type of goal that I've scored. I'm left-footed also and it was with my right foot, so I'm pretty happy about that as well.
On whether her family were watching back in Texas:
So I just looked at my messages and I guess the stream wasn't working! It was like geo-blocked, but I think my brother was able to send my mom a clip or something.
READ TONI DUGGAN & GEORGIA STANWAY'S REACTION:
POST MATCH REACTION: Stanway's debut delight and captain Duggan feels 'like a proud mum' after Austria win