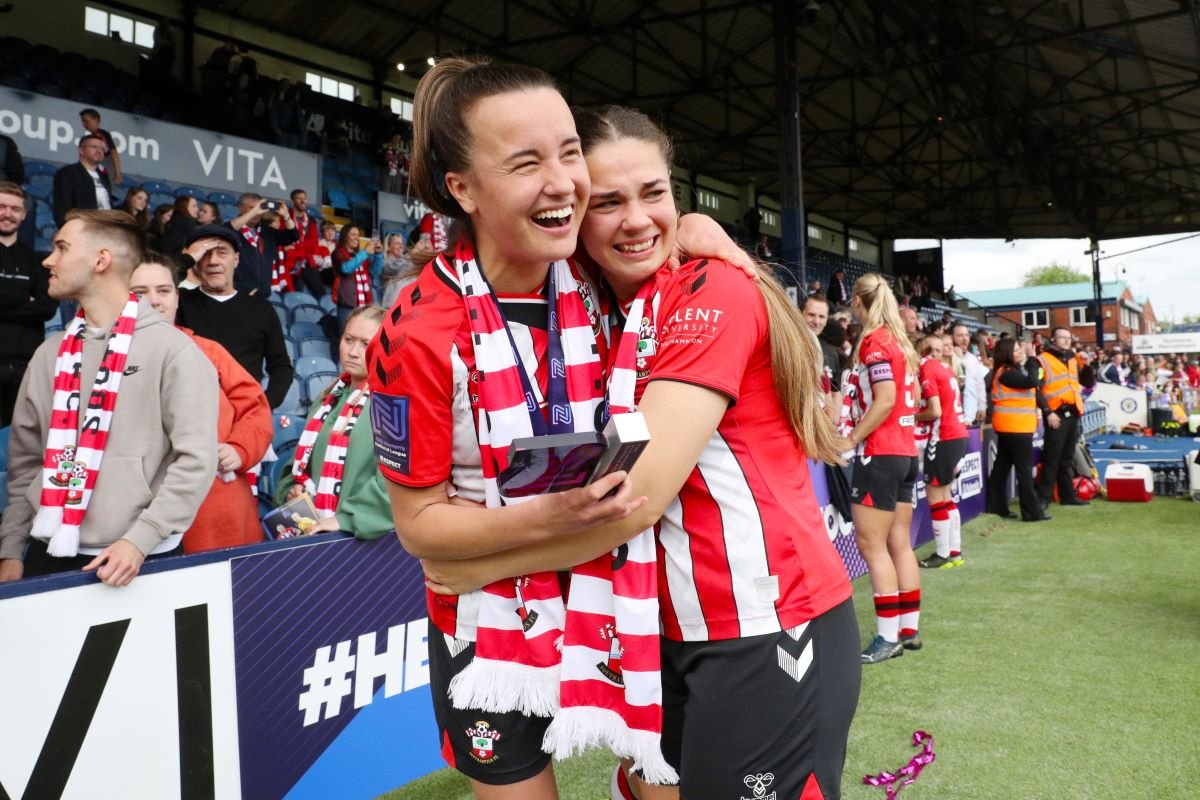 Match-winner Sophia Pharoah shared the glory of her Player of the Match award as she celebrated Southampton's promotion to the FA Women's Championship, by TONY LEIGHTON.
Striker Pharoah hit her 17th goal of the season to clinch a hard-fought 1-0 win against 10-player Wolves in the National League play-off at Stockport County's Edgeley Park.
"I can't take it in at the moment," said Pharoah as she clutched her trophy. "But this award isn't individual, it goes out to the whole team.
"We really put a shift in. In the first half we started really well and I was over the moon to score the goal.
"But (after Kelly Darby's 45 th minute sending-off) Wolves came out and showed what they could do and credit to them in that second half.
"It was tough against 10, the pressure, but we showed our defensive strength and we've come out with the result that we needed.
"It's amazing. We've worked years for this and we've shown the League, everyone, what we can do in this one-off game. We had to win it (to get promoted) and we went out and did it."
Saints are now set to step up to the second tier of the women's game and Pharoah is confident that they will fare well.
She said: "The whole club – the backing we've got, the players, the staff, everyone – we're ready to show what we can do."
Southampton captain Rosie Parnell hailed her team's loudly supportive fans for their backing in the FA National League play-off success that has taken Southampton up to the Championship.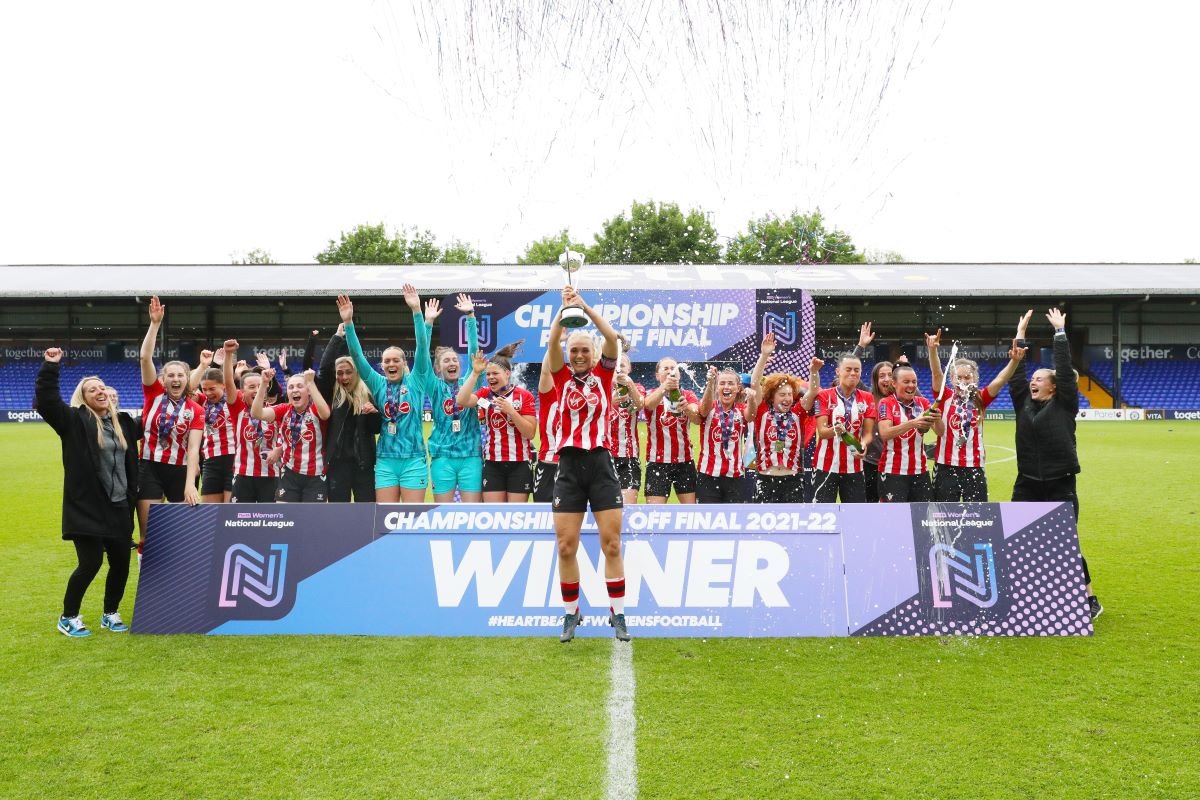 "It was unreal," said Parnell, "we are four or five hours from home yet they gave us a massive crowd. They were our 12th player today, it was amazing."
The supporters never let up their cheering as Saints clung on to their first half lead to win 1-0 against 10-player Wolves.
"We found it harder against 10 players than we did against 11," admitted Parnell.
"But you don't have to perform at your best in games like this, you've just got to get the job done and win the game."
Saints can now look forward to Championship football and Parnell said: "It's amazing. I came here three years ago and although Covid did delay us a bit, we've got the promotion we wanted after a competitive (Southern Premier Division) season.
"Ipswich and Oxford ran us right to the end and we had to perform every week, and that's how we've done it."
Anna Price's 332nd game in a Wolves shirt ended in bitter disappointment as her team lost out to Southampton in the National Division play-off.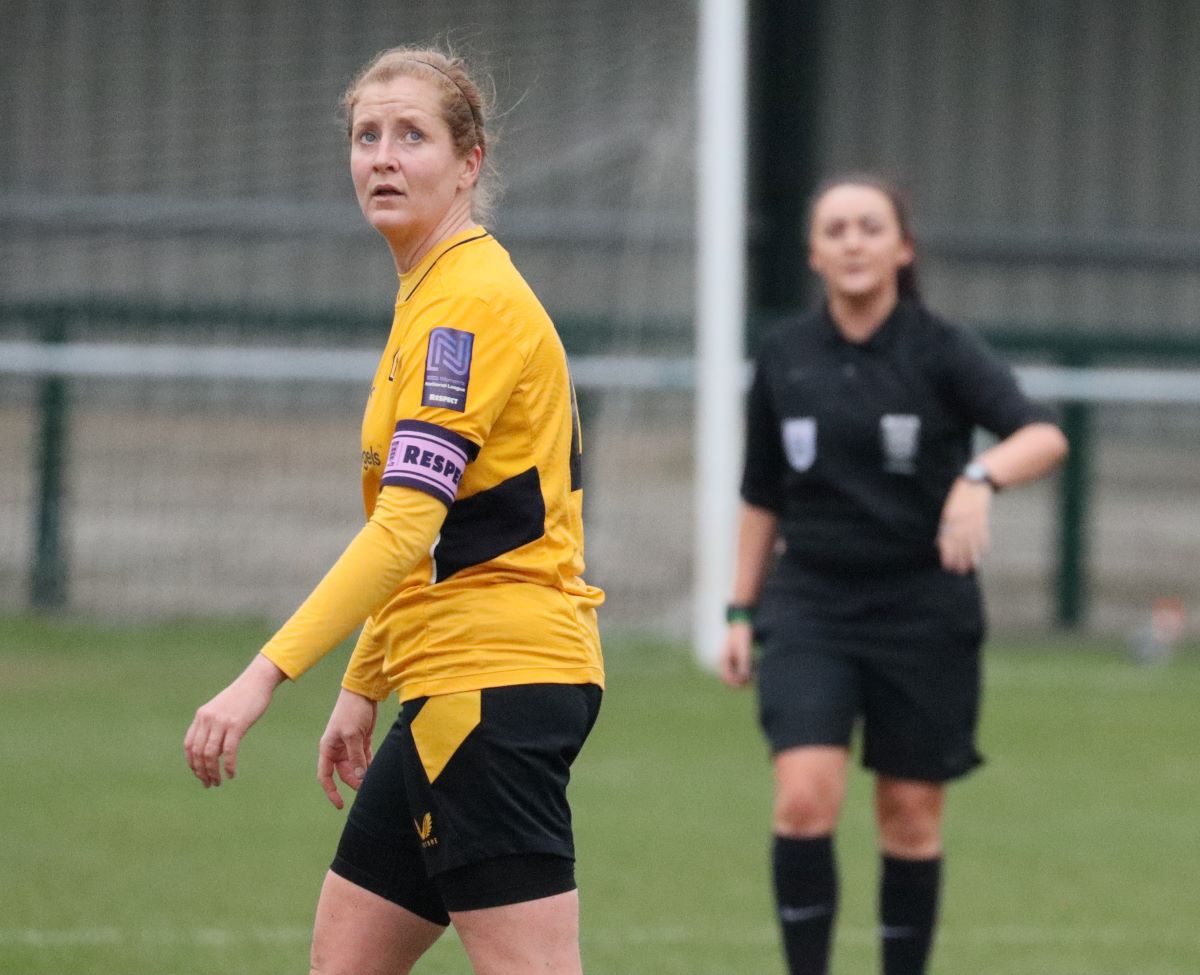 But the long serving club captain, who made her senior team debut as a 16-year-old in the 2001/02 season, declared: "It was the highlight of my career.
"Leading the girls out in a play-off for the Championship is something I'll never forget, the whole day was a fantastic experience.
"But it wasn't about me, it was about us winning and getting into the Championship and we haven't done that."
Wolves would have had a better chance of winning if defender Kelly Darby had not been sent off just before the interval.
But the 22nd minute goal they conceded proved decisive as Saints ran out 1-0 winners.
Many saw the sending-off decision as harsh but Price said: "I don't want to put any blame on anyone. It was what it was.
"Southampton were better than us in the first half, but in the second half what a performance we put in after going down to 10 players.
"In the end it was cruel to lose out, but every player and member of staff were a credit to the club on such a big occasion."
Wolves now have to pick themselves up as they look ahead to another Northern Premier Division season rather than stepping up to the Championship.
A defiant Price said: "We don't stop here. What's happened to us in this play-off has made us hungrier. We'll learn from the experience and next season we'll go again."