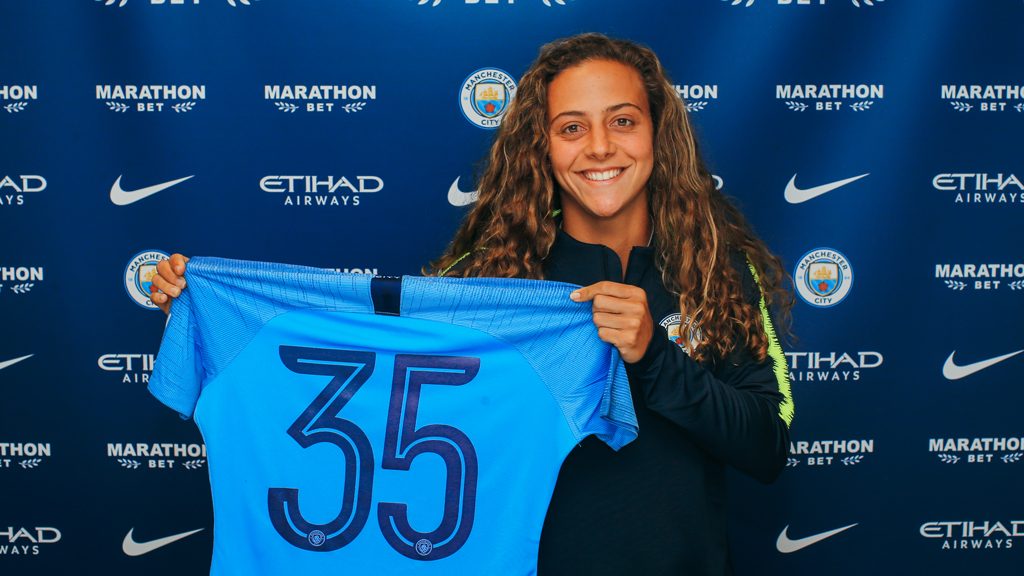 Portuguese international defender, Matilde Fidalgo will join Manchester City Women in July on a two-year deal.
Fidalgo, who has made 43 appearances for the Portuguese national team, moves from SC Braga, current champions of the Portuguese national women's league – Liga BPI.
Fidalgo began her career at CF Benfica where she captained the team and won back to back league and cup double titles in the 14/15 and 15/16 seasons. In 2017, she joined Sporting CP helping the team conquer the national league and Portuguese Women's Cup that season.
Team success on the pitch has been coupled with individual accolades throughout her career. When she was just 22, Fidalgo was crowned Portugal's best female player by the Sindicato dos Jogadores Profissionais de Futebol (SJPF) and in March 2018, she was named in the Portuguese Liga BPI Team of the Year at the Quinas de Ouro awards held by the Portuguese Football Federation.
Fidalgo joins Manchester City following a season in which the Club won both the Continental Cup and the SSE Women's FA Cup.
Commenting on her move to Manchester City, Fidalgo said:
"[Signing for Manchester City] feels like a dream coming true. I was overwhelmed when I heard that this was going to be a reality and I am really happy to be here. I would really like to improve on my technical skills… [and] being able to play at a very high pace in every game is going to make me a stronger, more stable player. Playing in a big team like Man City, the targets are always winning every trophy that we're going to play for."
Manager Nick Cushing explained:
"Matilde came on our radar about a year ago we've been tracking her performances for a while now. She's a committed defender with a strong desire to win every game she is playing in and that winning mentality will be key next season when we're competing on all four fronts. We're delighted to have her at Manchester City and excited to help take her game to the next level."