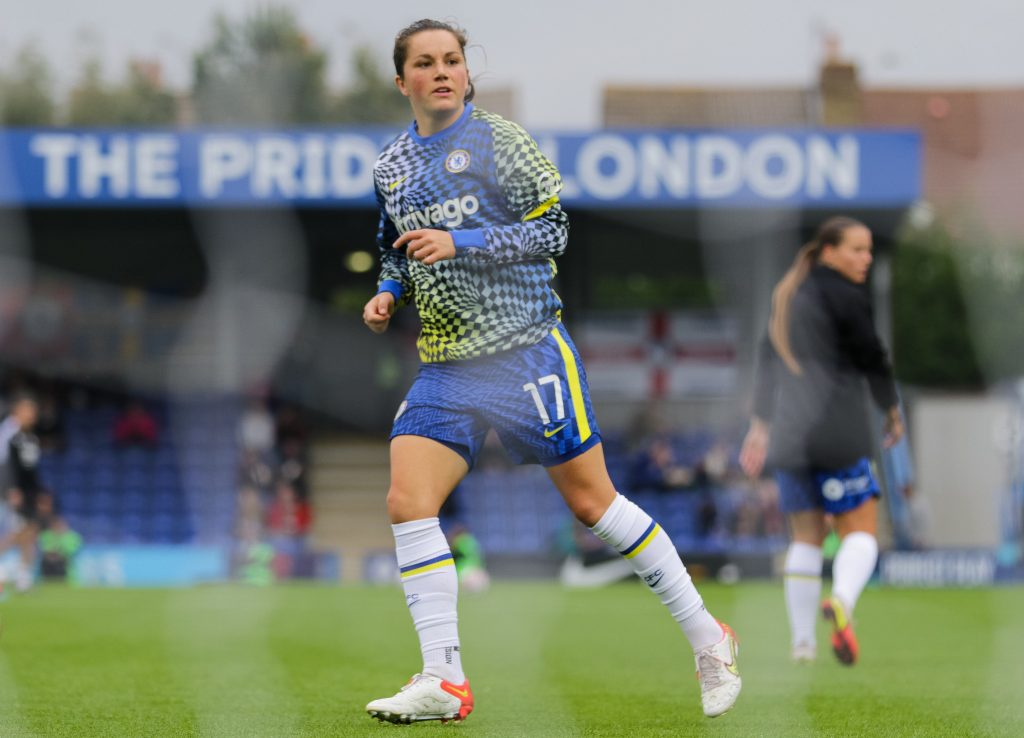 The secret has really been out about Jessie Fleming's immense promise ever since her Canada debut at 15. She may have officially turned professional with her Chelsea move last summer, but the midfielder had already played in two World Cups and an Olympic tournament, not to mention her years with collegiate powerhouse UCLA (University of California, Los Angeles). And that was BEFORE she scored vital penalties in Canada's journey to Gold in Tokyo (and received a Ballon D'Or nomination).
After a Player of the Match-winning performance in the 2-0 triumph against Leicester City yesterday, we thought we'd share this interview with the unassuming, likeable and supremely gifted midfielder, which featured in #SK67, our June/July '21 issue: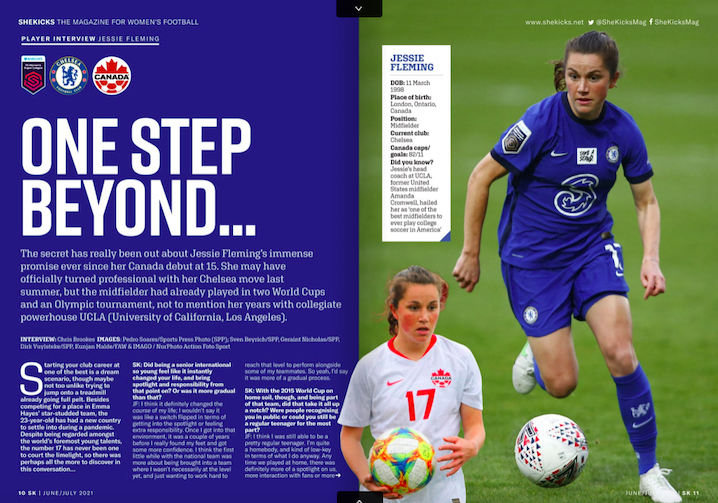 ONE STEP BEYOND…
Starting your club career at one of the best is a dream scenario, though maybe not too unlike trying to jump onto a treadmill already going full pelt. Besides competing for a place in Emma Hayes' star-studded team, the 23-year-old has had a new country to settle into during a pandemic. Despite being regarded among the world's foremost young talents, the number 17 has never been one to court the limelight, so there was perhaps all the more to discover in this conversation…

SK: Did being a senior international so young feel like it instantly changed your life, and bring spotlight and responsibility from that point on? Or was it more gradual than that?
JF: I think it definitely changed the course of my life, I wouldn't say it was like a switch flipped in terms of getting into the spotlight or feeling extra responsibility. Once I got into that environment, it was a couple of years before I really found my feet and got some more confidence. I think the first little while with the national team was more about being brought into a team where I wasn't necessarily at the level yet, and just wanting to work hard to reach that level to perform alongside some of my teammates. So yeah, I'd say it was more of a gradual process.
SK: With the 2015 World Cup on home soil, though, and being part of that team, did that take it all up a notch? Were people recognising you in public or could you still be a regular teenager for the most part?
JF: I think I was still able to be a pretty regular teenager. I'm quite a homebody, and kind of low-key in terms of what I do anyway. Any time we played at home, there was definitely more of a spotlight on us, more interaction with fans or more people wanting to speak to us or take photos. I think that was definitely a positive tournament for our team and for us as individuals, just in terms of more Canadians getting to watch us play and interact with us.
SK: I know the mental side and how to refine that is something that you are heavily invested in, but how in general are you different now as a player to when you made your Canada debut?
JF: I've definitely changed and evolved over time, as a player and also as a person. I'm a bit more settled in myself, on the pitch and off the pitch. I think I've learned a lot of lessons that come with plenty of big games against the likes of Brazil, Germany, Japan and all these national teams. When John Herdman was the head coach, I spent quite a lot of time working on my vision and awareness, and my kind of ability to read and see the game, which I think was really important for me as a smaller, central midfielder. I think that's something that I'm still learning at Chelsea. The speed of play was obviously a step up when I went to the national team, and the speed of play here is quite fast, so I think just learning to adapt to different playing styles and challenges.

SK: Are there any individual opponents you've faced who tested you in a new way? Or even teammates? Maybe Desiree Scott cleaning you out with a challenge in training…
JF: (Laughs) I think Kadeisha Buchanan is one of the best defenders and all-round players I've ever played with and seen. In the Chelsea environment, Fran Kirby is incredibly hard to get the ball off, and just moves really well. I think P, Pernille Harder, her finishing ability in and around the box, she's just so dangerous. In terms of people I've played against, Formiga is one of my favourite players; I think she's really phenomenal. I could talk about so many players that I have a lot of respect for.
SK: There's a piece of skill you did for UCLA in a game, that they shared on Twitter at the time. You flick the ball from one foot to the other and touch it round the opponent, while then running around the back of them to go and collect the ball! Did you always practice skill moves growing up?
JF: I don't really see myself as a flashy player but I definitely have my favourite players that I used to watch when I was growing up and tried to emulate. Players like (Andrés) Iniesta, and I always loved watching the Brazilians play, players like Marta, Cristiane. I'd say more so I tried to practice the skills that I saw my favourite players do.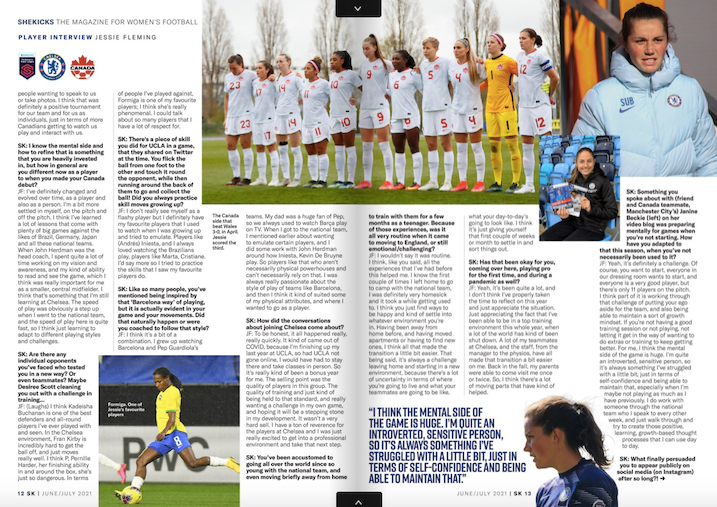 SK: Like so many people, you've mentioned being inspired by that 'Barcelona way' of playing, but it is actually evident in your game and your movements. Did that naturally happen or were you coached to follow that style?
JF: I think it's a bit of a combination. I grew up watching Barcelona and Pep Guardiola's teams. My dad was a huge fan of Pep, so we always used to watch Barça play on TV. When I got to the national team, I mentioned earlier about wanting to emulate certain players, and I did some work with John Herdman around how Iniesta, Kevin De Bruyne play. So players like that who aren't necessarily physical powerhouses and can't necessarily rely on that. I was always really passionate about the style of play of teams like Barcelona, and then I think it kind of suited some of my physical attributes, and where I wanted to go as a player.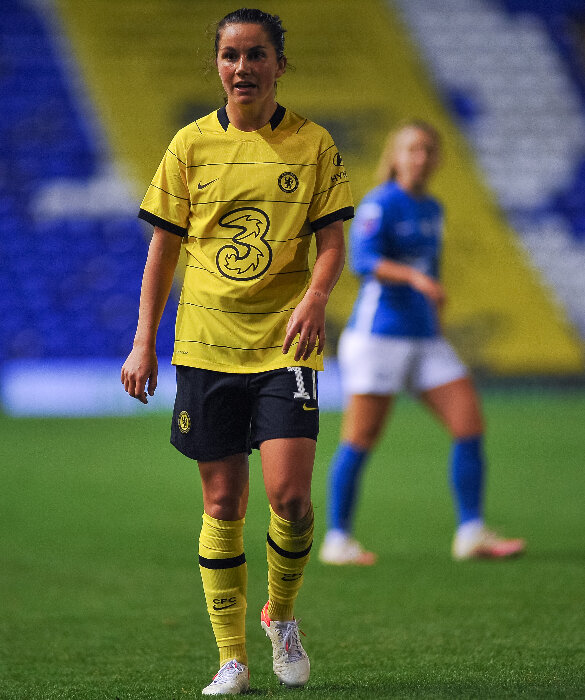 SK: How did the conversations about joining Chelsea come about?
JF: To be honest, it all happened really, really quickly. It kind of came out of COVID, because I'm finishing up my last year at UCLA, so had UCLA not gone online, I would have had to stay there and take classes in person. So it's really kind of been a bonus year for me. The selling point was the quality of players in this group. The quality of training and just kind of being held to that standard, and really wanting a challenge in my own game, and hoping it will be a stepping stone in my development. It wasn't a very hard sell. I have a ton of reverence for the players at Chelsea and I was just really excited to get into a professional environment and take that next step and challenge.
SK: You've been accustomed to going all over the world since so young with the national team, and even moving briefly away from home to train with them for a few months as a teenager. Because of those experiences, was it all very routine when it came to moving to England, or still emotional/challenging?
JF: I wouldn't say it was routine. I think, like you said, all the experiences that I've had before this helped me. I know the first couple of times I left home to go to camp with the national team, I was definitely very homesick and it took a while getting used to. I think you just find ways to be happy and kind of settle into whatever environment you're in. Having been away from home before, and having moved apartments or having to find new ones, I think all that made the transition a little bit easier. That being said, it's always a challenge leaving home and starting in a new environment, because there's a lot of uncertainty in terms of where you're going to live and what your teammates are going to be like, what your day-to-day's going to look like. I think it's just giving yourself that first couple of weeks or month to settle in and sort things out.
SK: Has that been okay for you, coming over here, playing pro for the first time, and during a pandemic as well?
JF: Yeah, it's been quite a lot, and I don't think I've properly taken the time to reflect on this year and just appreciate the situation. Just appreciating the fact that I've been able to be in a top training environment this whole year, when a lot of the world has kind of been shut down. A lot of my teammates at Chelsea, and the staff, from the manager to the physios, have all made that transition a bit easier on me. Back in the fall, my parents were able to come visit me once or twice. So, I think there's a lot of moving parts that have kind of helped.
"I think the mental side of the game is huge. I'm quite an introverted, sensitive person, so it's always something I've struggled with a little bit, just in terms of self-confidence and being able to maintain that"
SK: Something you spoke about with (friend and Canada teammate, Manchester City's) Janine Beckie on her video blog was preparing mentally for games when you're not in the starting line-up. How have you adapted to that this season, when you've not necessarily been too used to it?
JF: Yeah, it's definitely a challenge. Of course, you want to start, everyone in our dressing room wants to start, and everyone is a very good player, but there's only 11 players on the pitch. I think part of it is working through that challenge of putting your ego aside for the team, and also being able to maintain a sort of growth mindset. If you're not having a good training session or not playing, not letting it get in the way of wanting to do extras or training to keep getting better. For me, I think the mental side of the game is huge. I'm quite an introverted, sensitive person, so it's always something I've struggled with a little bit, just in terms of self-confidence and being able to maintain that, especially when I'm maybe not playing as much as I have previously. I do work with someone through the national team who I speak to every other week, and just walk through and try to create those positive, learning, growth-based thought processes that I can use day to day.
SK: What finally persuaded you to appear publicly on social media (on Instagram) after so long?!
JF: To be honest, I don't think my followers are super-happy with me! I can't remember the last time I posted. I always enjoy taking photos and keeping up with friends, and I think when I decided to come play for Chelsea and get back in the pro environment, I was urged a little bit from friends and my agent and whatnot. I think I was always not keen, but curious, to get back on social media and see if I could create something that was kind of personal to me. But like I said, I don't think I'm the best with upkeep!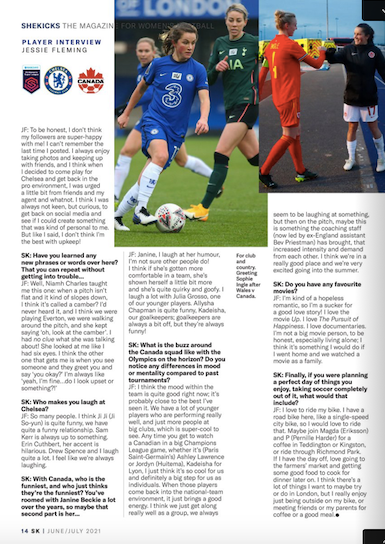 SK: Have you learned any new phrases or words over here? That you can repeat without getting into trouble…
JF: Well, Niamh Charles taught me this one: when a pitch isn't flat and it kind of slopes down, I think it's called a camber? I'd never heard it, and I think we were playing Everton, we were walking around the pitch, and she kept saying 'oh, look at the camber'. I had no clue what she was talking about! She looked at me like I had six eyes. I think the other one that gets me is when you see someone and they greet you and say 'you okay?' I'm always like 'yeah, I'm fine…do I look upset or something?!'
SK: Who makes you laugh at Chelsea?
JF: So many people, I feel like we laugh quite a lot. I think Ji Ji (Ji So-yun) is quite funny, we have quite a funny relationship. Sam Kerr is always up to something. Erin Cuthbert, her accent is hilarious. Drew Spence and I laugh quite a lot. I feel like we're always laughing.
SK: With Canada, who is the funniest, and who just thinks they're the funniest? You've roomed with Janine Beckie a lot over the years, so maybe that second part is her…
JF: Janine, I laugh at her humour, I'm not sure other people do! I think if she's gotten more comfortable in a team, she's shown herself a little bit more and she's quite quirky and goofy. I laugh a lot with Julia Grosso, one of our younger players. Allysha Chapman is quite funny, Kadeisha, our goalkeepers; goalkeepers are always a bit off, but they're always funny!
SK: What is the buzz around the Canada squad like with the Olympics on the horizon? Do you notice any differences in mood or mentality compared to past tournaments?
JF: I think the mood within the team is quite good right now; I think it's probably close to the best I've seen it. We have a lot of younger players who are performing really well, and just more people at big clubs, which is super-cool to see. Any time you get to watch a Canadian in a big Champions League game, whether it's (Paris Saint-Germain's) Ashley Lawrence or Jordyn (Huitema), Kadeisha for Lyon, I just think it's so cool for us and definitely a big step for us as individuals. When those players come back into the national-team environment, it just brings a good energy. I think we just get along really well as a group, we always seem to be laughing at something, but then on the pitch, maybe this is something the coaching staff (now led by ex-England assistant Bev Priestman) has brought, that increased intensity and demand from each other. I think we're in a really good place and we're very excited going into the summer.
SK: Do you have any favourite movies?
JF: I'm kind of a hopeless romantic, so I'm a sucker for a good love story! I love the movie Up. I love The Pursuit of Happiness. I love documentaries. I'm not a big movie person, to be honest, especially living alone; I think it's something I would do if I went home and we watched a movie as a family.
SK: Finally, if you were planning a perfect day of things you enjoy, taking soccer completely out of it, what would that include?
JF: I love to ride my bike. I have a road bike here, like a single-speed city bike, so I would love to ride that. Maybe join Magda (Eriksson) and P (Pernille Harder) for a coffee in Teddington or Kingston, or ride through Richmond Park. If I have the day off, love going to the farmers' market and getting some good food to cook for dinner later on. I think there's a lot of things I want to maybe try or do in London, but I really enjoy just being outside on my bike, or meeting friends or my parents for coffee or a good meal.
This article was first published in #SK67.