IT'S NOW, NOT NEVER…
With the FAWSL rich in notable arrivals from top overseas leagues in recent times, Angharad James' impending move across the Atlantic to the NWSL is an enjoyable reminder that it does still work the other way. Lyon apart, the Reading midfielder's new team in waiting, North Carolina Courage, have arguably been the world's most formidable club side over the past few years.
We have watched 'Haz' make her way in the WSL for the last decade and so it now feels for SK like 'one of our own' flying the nest. For the Welsh international mainstay, this is also the realisation of a childhood dream, and in her words, 'it was now or never'…
SK: As we speak now, do we catch you at a time where you've been juggling playing and training for Reading with various arrangements for the move, plus media requests and wedding planning?!
AJ: Yeah, it's all happening at once, to be honest! I think I've been very clear in the fact that I'm fully focused at Reading at the minute, in making sure that I'm performing for the club and giving 100 per cent every day. The move is pretty much going to happen within days after the WSL season finishes, so I have to prepare for different things and spread it all out so it's not as hectic. But I've got to try and load everything out of the flat and take it back to my mum's, and I'm trying to sort living arrangements over there (in the US). There is a lot to think about but I try my best to do it on my days off.
SK: You are leaving Reading, but in the context of your career so far, what has this spell meant for you?
AJ: It's been the most successful and the best move that I've done so far in my career. We're a very tight we really get on and it's so I've really enjoyed being a p thing that stands out most the coaching staff; they're v supportive and their knowl is unbelievable. I've never experienced it at any other club.
SK: Was there ever any possibility of joining Nort Carolina pretty much straight away?
AJ: When my agent rang me before Christmas, it was a very unexpected phone call. The I said was 'woah', and the second thing was 'can I finish the season with Reading?' I said to him 'if I can't finish the season with Reading, then I'm not sure what to do,' because for me as a person, I have to see out my contract and I have to respect Reading as a club and where I am now. North Carolina are obviously in pre-season, and it's important for them that I'm there as soon as possible, but I made sure that they understood the circumstances. I'm gonna play every game I can for Reading, then after that, I'm straight on the plane and 100 per cent with North Carolina.
SK: For obvious reasons, it wouldn't really have been viable to do the official 'new signing' photos at North Carolina. Was that all done during international camp with Wales?
AJ: Yeah, K (Kunjan Malde), who's our photographer, and one of the best photographers about, nobody else knew at this point other than my family, my teammates and some close friends, and it was kind of a big secret, so I had to put all my trust in her that she'd take the photos and just keep them until it was official!
SK: In terms of your new manager, Paul Riley, one of the most successful coaches in the game, and he's also king of the colourful quote! How did the conversation with him about signing for the club go?
AJ: He'd watched a few of our games this season and he thinks that my attributes fit his squad, which was very nice to hear. Whoever I speak to, whether they've played for him or against his teams, they only have positive words to say. I spoke to (Courage midfielder) Denise O'Sullivan and she said, 'He'll take your game to the next level, he's great at what he does and he lives and breathes success. You have to have a strong mentality to come here, we work hard', and that's the kind of footballer that I am.
SK: How exciting as well is it to be going over there as a Welsh player, into a leading league where up to now, there's only Jess (Fishlock) from the national team who's been there?
AJ: It's exciting. Ever since I was a little girl, it was a dream to go and play in America. I'm at the stage of my career now, I'm 26/27, I've played in the WSL now for ten years, and if I wasn't to take this opportunity now, would it come around again? Probably not. It was a decision where I knew that it was now or never. It's a new culture, a new way of life, and to represent Wales over there, like you said, it's only Jess Fishlock who's been and played in the league. So, to fly the Welsh flag in the States is pretty cool.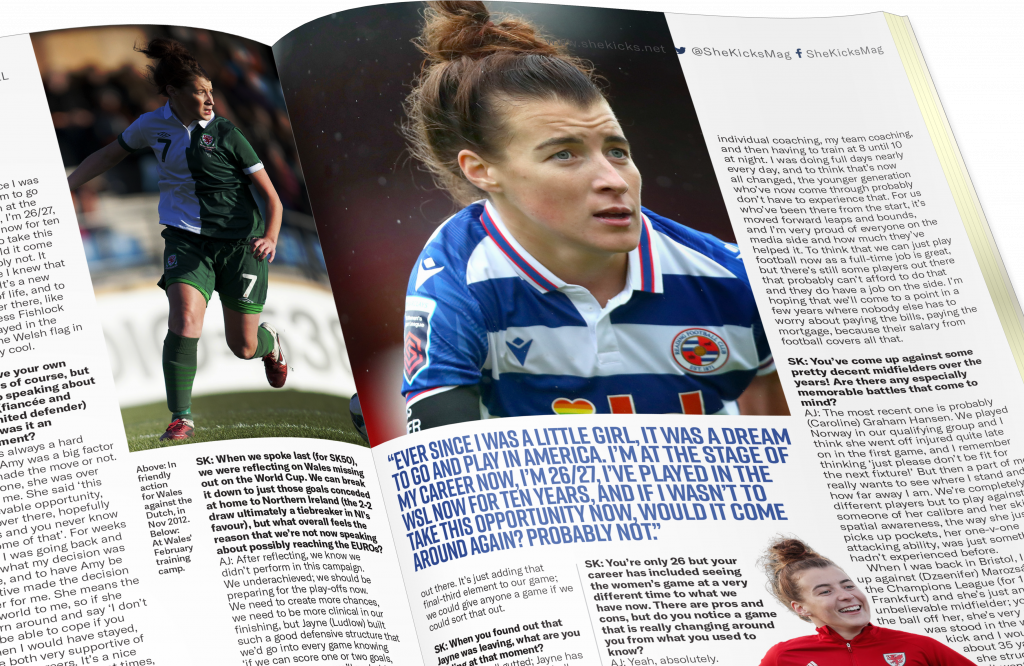 SK: You both have your own top-level careers of course, but when it came to speaking about the move with (fiancée and Manchester United defender) Amy (Turner), was it an emotional moment?
AJ: Yeah, it was always a hard decision, and Amy was a big factor in whether I made the move or not. From minute one, she was over the moon for me. She said 'this is an unbelievable opportunity, you can go over there, hopefully win trophies and you never know what will come of that'. For weeks and weeks, I was going back and forth as to what my decision was going to be, and to have Amy be so supportive made the decision a lot easier for me. She means the absolute world to me, so if she was to turn around and say 'I don't think I'll be able to cope if you leave', then I would have stayed, but we're both very supportive of each other's careers. It's a nice professional relationship at times, where we're probably each other's biggest fans.
SK: When we spoke last (for SK50), we were reflecting on Wales missing out on the World Cup. We can break it down to just those goals conceded at home to Northern Ireland (the 2-2 draw ultimately a tiebreaker in NI's favour), but what overall feels the reason that we're not now speaking about possibly reaching the EUROs?
AJ: After reflecting, we know we didn't perform in this campaign. We underachieved; we should be preparing for the play-offs now. We need to create more chances, we need to be more clinical in our finishing, but Jayne (Ludlow) built such a good defensive structure that we'd go into every game knowing 'if we can score one or two goals, we'll probably win this game'. For
the next manager who comes in (now confirmed as Gemma Grainger), it's just making sure that he or she builds on the foundation that Jayne has left us with, because our defensive structure is one of the best out there. It's just adding that final-third element to our game; we could give anyone a game if w could sort that out.
SK: When you found out that Jayne was leaving, what are you feeling at that moment?
AJ: We were all gutted; Jayne has transformed women's football in Wales completely. We all got on with her and respected her massively, as both a player and coach. As a player, she never got the opportunity to qualify for a tournament, and we were hoping we could do it for ourselves but also for Jayne. We're excited now and we're just hoping that all Jayne's hard work doesn't get scrapped, it gets built on.
SK: You're only 26 but your career has included seeing the women's game at a very different time to what we have now. There are pros and cons, but do you notice a game that is really changing around you from what you used to know?
AJ: Yeah, absolutely. When I first moved to Bristol and had my first contract, I was being paid £20 a game, and at that time, it was unbelievable that I was being paid to do something I love. At that time, I was trying to juggle my studying, my individual coaching, my team coaching, and then having to train at 8 until 10 at night. I was doing full days nearly every day, and to think that's now all changed, the younger generation who've now come through probably don't have to experience that. For us who've been there from the start, it's moved forward leaps and bounds, and I'm very proud of everyone on the media side and how much they've helped it. To think that we can just play football now as a full-time job is great, but there's still some players out there that probably can't afford to do that and they do have a job on the side. I'm hoping that we'll come to a point in a few years where nobody else has to worry about paying the bills, paying the mortgage, because their salary from football covers all that.
SK: You've come up against some pretty decent midfielders over the years! Are there any especially memorable battles that come to mind?
AJ: The most recent one is probably (Caroline) Graham Hansen. We played Norway in our qualifying group and I think she went off injured quite late on in the first game, and I remember thinking 'just please don't be fit for the next fixture!' But then a part of me really wants to see where I stand and how far away I am. We're completely different players but to play against someone of her calibre and her skill, spatial awareness, the way she just picks up pockets, her one-v-one attacking ability, was just something I hadn't experienced before.
When I was back in Bristol, I came up against (Dzsenifer) Marozsán in the Champions League (for 1.FFC Frankfurt) and she's just an all-round, unbelievable midfielder; you can't get the ball off her, she's very strong. I was stood in the wall of a free-kick and I would say it was about 35 yards out, and she struck this ball and it went top corner. I remember thinking I'd never seen a female footballer strike the ball as hard and with as clean technique as she did. I watched the goal back; I'm in the wall and I just start clapping, because I forget where I am for a second. We were 3 or 4-0 down at that point so there was no way back for us. I just remember thinking 'she's one of the best midfielders I'll ever come up against', and to this day, she's right up there.
SK: That's opponents, what about any teammates you've felt that extra understanding with on the pitch?
AJ: Me and Jess Fishlock have a great relationship on the field, and it's probably because we've played with each other for nine or ten years. We've learned each other's game, the pros and cons to each other. Jess will say to me 'I knew you were gonna do that', because we've played together for so long that she'll be there to pick up the pieces, or vice versa. I'd say we get the best out of each other's game, because we understand each other so much. Another one would probably be Sophie Ingle. I think the last international game was the first that me, Jess and Sophie played in the midfield together. I remember after the game thinking 'I hope this stays', because I absolutely love having Sophie in the middle. She's such an unbelievable footballer, she's so calm, she's where she needs to be all the time. It's just a breeze for her, she makes football look so easy.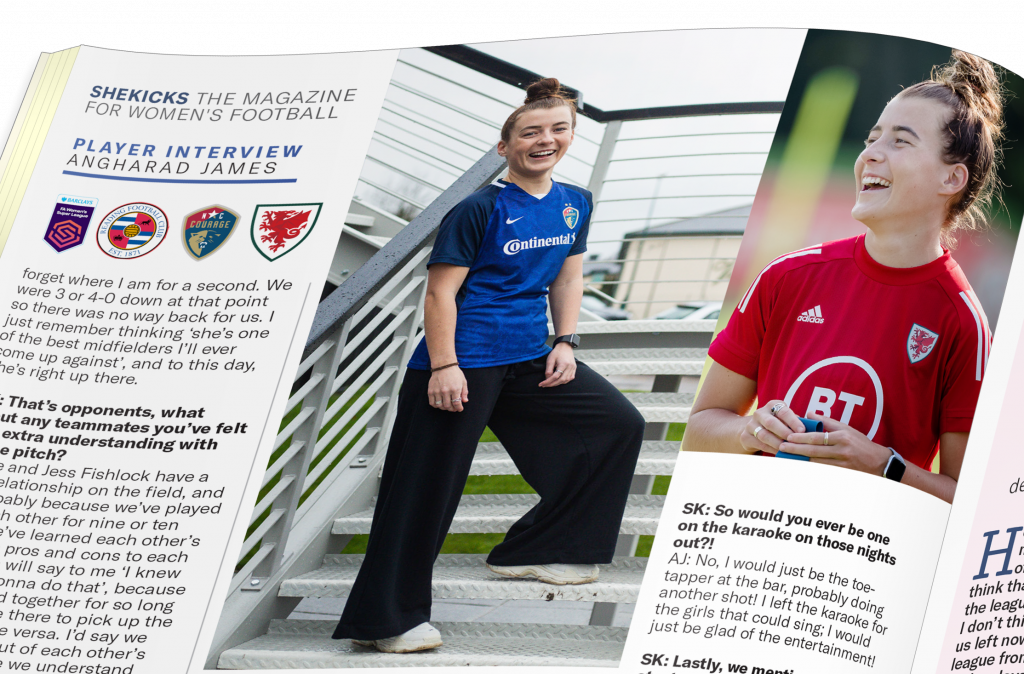 SK: I know that Bristol Academy team was very significant to you. When you reflect at this point on your happiest overall time
in football, the most complete, when would that be?
AJ: I think for my own individual performance, it's where I am now at Reading, because I feel like the coaches have really taken my game to the next level. But then I always refer back to Bristol. Whenever I see any of the girls that I was in that squad with, the same conversation happens and it's 'how good were those days?' We all wanted the same thing and it was 11 on the pitch and seven on the bench who worked their socks off for one another. I think that's so important to have in the dressing room. But times have changed since then, we used to do so much socialising outside of football, because it wasn't as professional as it is now. So as a group, we became a lot closer because we'd go out on a Sunday after a game and think nothing of it. It was just the norm at the time, and being social helps your togetherness and the togetherness that we had at Bristol was something I have never experiencd since. I probably took it for granted at the time but whenever I play against any of the girls or just chat to them over the phone it's always 'let's have a reunion' ot 'let's go back to Bristol for one of our nights out'. We nearly won the league there and if you look at the squad, it was very young and inexperienced but what got us as far as we did was our togetherness and our work-rate. It's something that maybe gets missed slightly these days, the importance of that and making sure that you understand one another as a group.
SK: So would you ever be one on the karaoke on those nights out?!
AJ: No, I would just be the toe- tapper at the bar, probably doing another shot! I left the karaoke for the girls that could sing; I would just be glad of the entertainment!
SK: Lastly, we mentioned at the start everything you currently have going on, what has been helping to keep it all in balance for you, in terms of other interests?
AJ: A big part is my family; they come up most weekends and that helps with everything. It's been so difficult recently, not being able to see them as often as I'd have liked. I went months without seeing them as often as I'd have liked. I went months without seeing them because of the different rules in Wales to England. I've probably struggled over the years to have a day where I switch off. As I've got older that's something I have improved on, where it's fine to have a day in the week where you just switch off and do whatever makes you happy. Just taking it back to normality for a second.
To order the latest issue of She Kicks magazine click here.