Issue #66 (APR21/MAY21)
£4.25
Out of stock
Description
Issue 66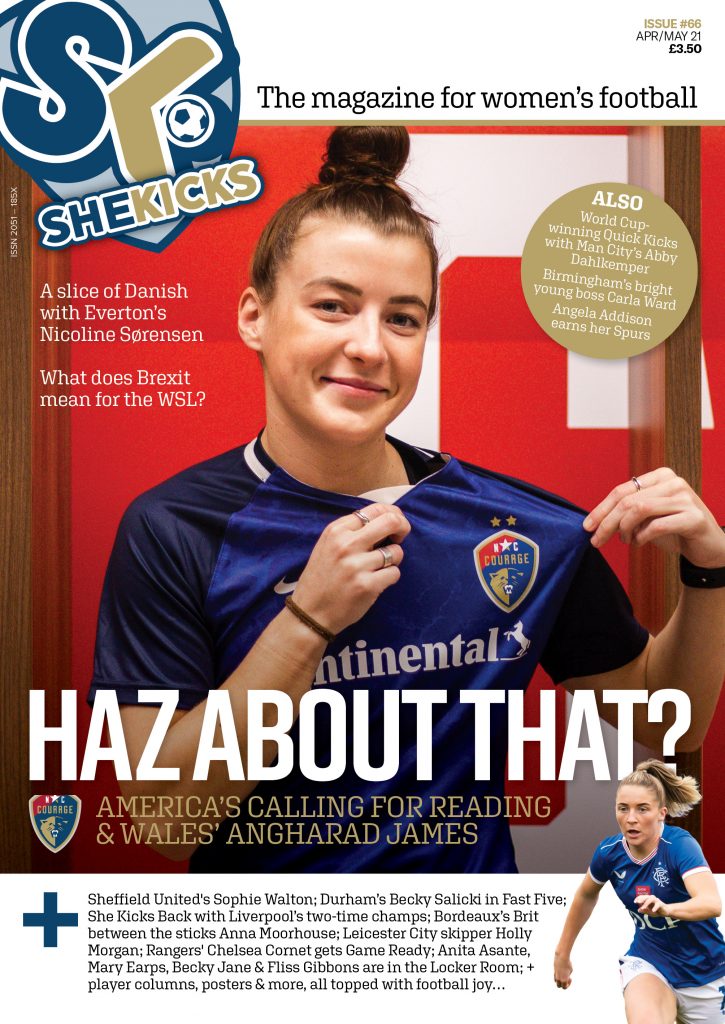 SK66 includes…
ANGHARAD JAMES (Reading/North Caroline Courage/Wales): The Reading and Wales midfielder is ready to make her dream move to the NWSL with North Caroline Courage.
NICOLINE SØRENSEN (Everton/Denmark): How she learned about herself in Sweden, found joy in the game again at Brøndby and is loving life at Everton.
SOPHIE WALTON (Sheffield United): From silverware success with Leeds a decade ago to motherhood and returning to play in the top tiers.
POSTERS: Chelsea & Sam Kerr posters, from the Continental Cup Final.
SHE KICKS INVESTIGATES: What will be the effect of Brexit on the women's game in the UK?
SHE KICKS BACK: We look back at Liverpool's incredible back-to-back 2013 & 2014 title-winning seasons with the boss and players.
+ REGULAR FEATURES:

QUICK KICKS (Top Ten): Abby Dahlkemper (Manchester City/USA)
FAST FIVE: Becky Salicki (Durham WFC)
COACH KICKS: Carla Ward (Birmingham City)
SAFE HANDS: Anna Moorhouse (Bordeaux)
GAME READY: Chelsea Cornet, Rangers FC Women
CAPTAIN'S CHAT: Holly Morgan, Leicester City
LOCKER ROOM: Anita Asante (Aston Villa), Fliss Gibbons (Brighton), Becky Jane (Liverpool) & Mary Earps (Manchester United/England)
WOMEN IN THE GAME: Agent Carlota Planas
SHEKICKSLITTLEKICKS: 
Starsix with Ffion Morgan (Crystal Palace & Wales)
Born Kicking with Wormley Robins U10s
Why not take out an Annual Subscription for only £25 (inc UK postage).  Click HERE for Annual Subscription details.