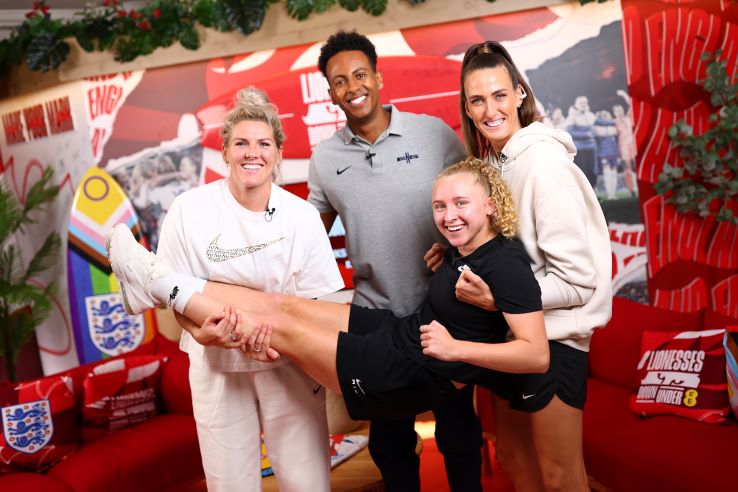 Today's episode of Lionesses: Down Under connected by EE sees Jll Scott and Kyle Walker joined by Millie Bright to discuss yesterday's Round of 16 victory over Nigeria.
Millie Bright
On winning the match on penalties:
"It was a rollercoaster. It's very tense, there's a million and one things going on, but I think as a team we stayed really calm and composed. We stuck to what we needed to do, which was to get the job done, find a way to win and make sure we were the ones going through."
On the squad's mentality:
"Winning last night was everything we have worked for. I think it's something we pride ourselves on as a group, staff included. A night like last night shows we're willing to go through absolutely anything to do the country proud and get the job done. Everyone comes together both on and off the pitch and we showed that last night for sure."
On the process behind the penalty shootout:
"It is really hard watching them, but you've got to stay in your role. There's a process for a penalty shootout from the last whistle of extra time to the first person to step up. It's a step-by-step process and you just have to have full belief. Just knowing that all the girls had put in their practise and knew their roles – that's the key to penalty shootouts for me. It's all about technique, composure, going through your own process and being in control."
On Sarina's post-match huddle:
"She was really proud of us. To overcome the challenges that we faced in that game – going to extra time and then penalties – and we still stuck together with everyone playing a part and their role. I think as a manager you can't really ask for much more from a team other than to stay together and get the job done under difficult circumstances."
On the test Nigeria presented:
"It was a really hard game physically. They were very transitional, super quick, very powerful. Even when we came forward, they were stepping in and getting the ball. We're used to having a little more time and freedom on the ball. We really had to work hard to keep a clean sheet. We knew coming into this tournament that the women's game had gone to a whole other level and teams were going to be extremely difficult to beat. We've seen it in previous results. We were prepared for this and knew we were going to have to put in one hell of a shift to get through it."
On playing tournament football:
"In tournament football, my aim is to keep a clean sheet so our forwards can go on and express themselves and hopefully get a goal. Keeping a clean sheet keeps you in a game, however you can do that. As a team, I think we've showed that we are willing to do that for 90 minutes, 120 minutes, whatever it is. We will put our bodies on the line. This tournament is extremely tough, but you just have to stay calm.
On Chloe Kelly stepping up in the big moments:
"When she shoots in training, I'm always in shock with the power that goes behind each shot. People usually say they'd get out the way for me, but I'd suggest getting out the way for Chloe when she's behind the ball. It was unbelievable for her to stay so composed and be ready to step up and get the job done. She loves these moments. I think she thrives off these opportunities and credit to her for always being ready. She's always there to step up, which is never easy, but she comes prepared every time."
On Mary Earps' attitude to big games
"She's been unbelievable. A true pro, someone who drives us to the next level and is always demanding more. If there's something that we aren't doing in defence, she'll let us know about it which is great because you've got to be quick and sharp in the games. She's another player that steps up in the big moments, she thrives off that."
On leading her country at a World Cup:
"I think it's hard to put into words. Representing your country is one thing, doing it on the world stage and then leading the girls out is just the icing on the cake. I'm just really proud that I've been given that opportunity and that trust is put in me to do it. I think my family speak for themselves; they've been my number one fans since day one. My mum could go on and on with how proud she is."
SK @ the Women's World Cup is supported by NuCalm – click below for more info and a FREE TRIAL ⬇️