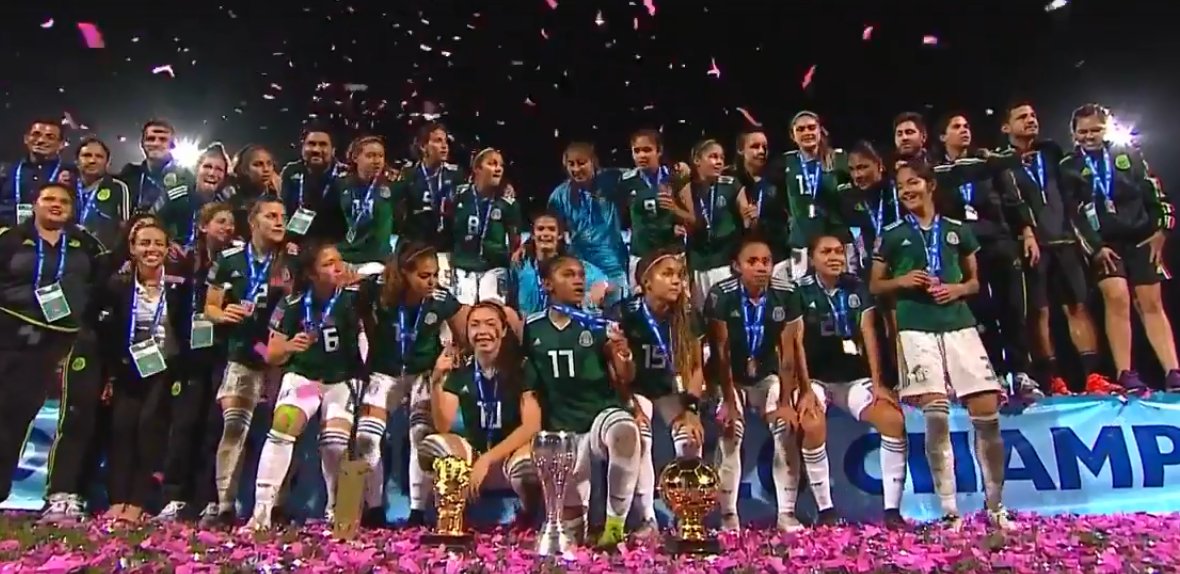 Mexico became CONCACAF U-20 champions for the first time when defeating the USA on penalties, while Haiti also reached the World Cup in France by beating Canada in the third place play off.
Three of the last four matches at the tournament in Trinidad & Tobago were decided on shoot-outs,
The USA had required penalties to get past Haiti in the semi-finals, after Jaelin Howell's 78th-minute breakthrough was cancelled out in stoppage-time by Nérilia Mondésir. The Americans won comfortably in the shoot-out however, three to nil.
Mexico had a similar victory over Canada to make the final, winning 4-3 from the spot after a Jimene López effort brought an equaliser on 80 minutes by Gabrielle Carle.
In the competition finale, Dayana Cázares gave Mexico the lead and although Tierna Davidson replied for the USA early in the second half, the eventual spot-kick drama saw the Mexicans take the title, Belén Cruz with the decider in a 4-2 win.
Haiti had earlier made history by reaching the U-20 World Cup finals for the first time ever, denying Canada a place with a 1-0 scoreline thanks to Shirly Jeudy's 18th-minute effort.
The tournaments awards were won by:
Golden Ball – Miriam Garcia (Mexico)
Golden Boot – Jordyn Huitema (Canada)
Golden Glove – Emily Alvarado (Mexico)
Fair Play Award – Mexico
The Best XI included Haiti's 15-year-old Melchie Daelle Dumonay
Goalkeeper: Emily Alvarado (Mexico)
Right Back: Kiara Pickett (USA)
Centre Back: Miriam Garcia (Mexico)
Centre Back: Maya Antoine (Canada)
Left Back: Jimena Lopez (Mexico)
Right Midfield: Jordyn Huitema (Canada)
Centre Midfield: Jaelin Howell (USA)
Centre Midfield: Melchie Daelle Dumonay (Haiti)
Centre Midfield: Savannah DeMelo (USA)
Left Midfield: Jacqueline Ovalle (Mexico)
Forward: Nerilia Mondesir (Haiti)