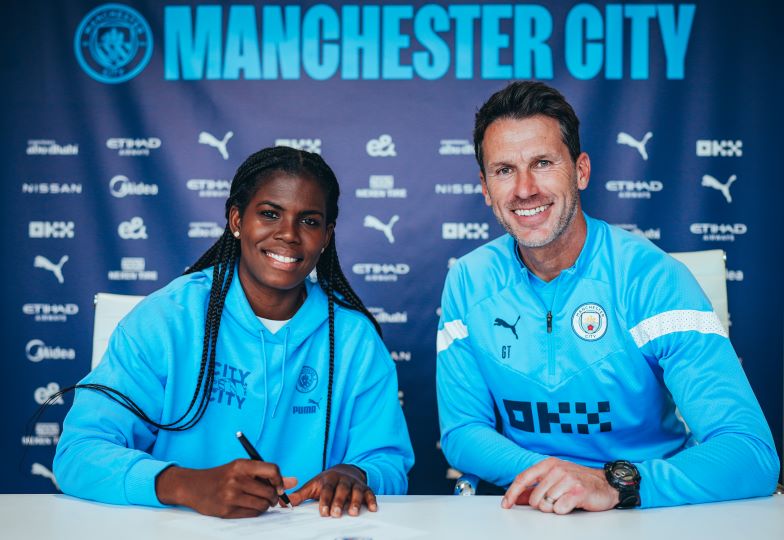 Manchester City Women's Khadija Shaw has signed a two-year contract extension after scoring 31 goals in 30 appearances in all competitions this season. 
The 26-year-old striker – who joined City on an initial three-year contract in the summer of 2021 from Bordeaux – will now remain at the Academy Stadium until the summer of 2026 after putting pen to paper on a new deal.
The Jamaican was in scintillating form in 2022/23, securing numerous personal accolades including City's Player and Goal of the Season awards, numerous league and PFA Player of the Month successes and being named Concacaf Women's Player of the Year.
Her efforts this term have seen her rack up 50 goals in total for Gareth Taylor's side since her arrival in England two summers ago, with her having firmly established herself as one of the most prolific forwards in Europe.
Also making waves on the international stage with her homeland, Shaw helped the Reggae Girlz qualify for this summer's FIFA Women's World Cup and finish third in the Concacaf Women's Championship.
Speaking after putting pen to paper on her new deal, Shaw said: "I'm delighted to continue my journey with this amazing group.
"Everyone made me feel welcome from the first day I came here. I enjoy the way we play and I'm at a stage now where I understand the way we play and I can only get better and grow.
"I think here at City is the perfect place for me. I put all my effort and time on the pitch and obviously for the position I play and the quality I have around me, I know I'm going to be in positions to score goals."
Head Coach Gareth Taylor added: "Bunny's growth and development as a player over the past two years, but particularly this season, has been fantastic and we're thrilled to see her extend her contract with us.
"She has thrived having had the opportunity of extended runs in the team throughout the current campaign and has shown on a regular basis what a talent she is and why we brought her to the club.
"She scored goals regularly in France and America prior to joining us, and has now shown what she's capable of in England too which says a lot about her ability.
"She is still a young player though who wants to improve and is hungry for success, and we're only scratching the surface with her which is a very exciting prospect as we aim to develop her even further over the next three years."