Sarina Wiegman has named a 24–player England squad to travel to North Macedonia and Northern Ireland in the FIFA Women's World Cup 2023 qualifiers.
The squad remains largely unchanged from the group who won the first edition of the four-nation Arnold Clark Cup last month. Chelsea's Beth England returns to the squad in place of team-mate Fran Kirby who is remaining with her club to work on her own programme. Steph Houghton is still sidelined after undergoing an operation at the end of February.
England's April camp will begin with a fixture against North Macedonia on Friday 8 April (7pm BST) at the Toše Proeski Arena in Skopje. Four days later, they face Northern Ireland at Windsor Park in Belfast on Tuesday 12 April (7.55pm BST). The fixture will be an intriguing one with England facing the same opponents in the EURO group stage this summer.
Wiegman said: "I am really looking forward to getting the group back together and hope we can continue our progress as we aim to qualify for the World Cup. We will need to be fully focused as I expect both our opponents to give all they can.
"Every time we play, we want to perform to our best and do what is necessary to get a good result. That will be no different for these two important fixtures.
"It is also another opportunity for us to learn more about ourselves for the EUROs, particularly against a team we will play in our final group stage match. For now though we have to think only about these next games, working hard to improve our style of play and performing well to get positive results."
MORE REACTION BELOW ⤵️
The Lionesses are top of Group D having won six from six so far under Wiegman in the qualifying campaign with four matches remaining on the road to the World Cup due to be staged in Australia and New Zealand next year. They sit five points ahead of second-placed Austria, with only the group winners qualifying automatically.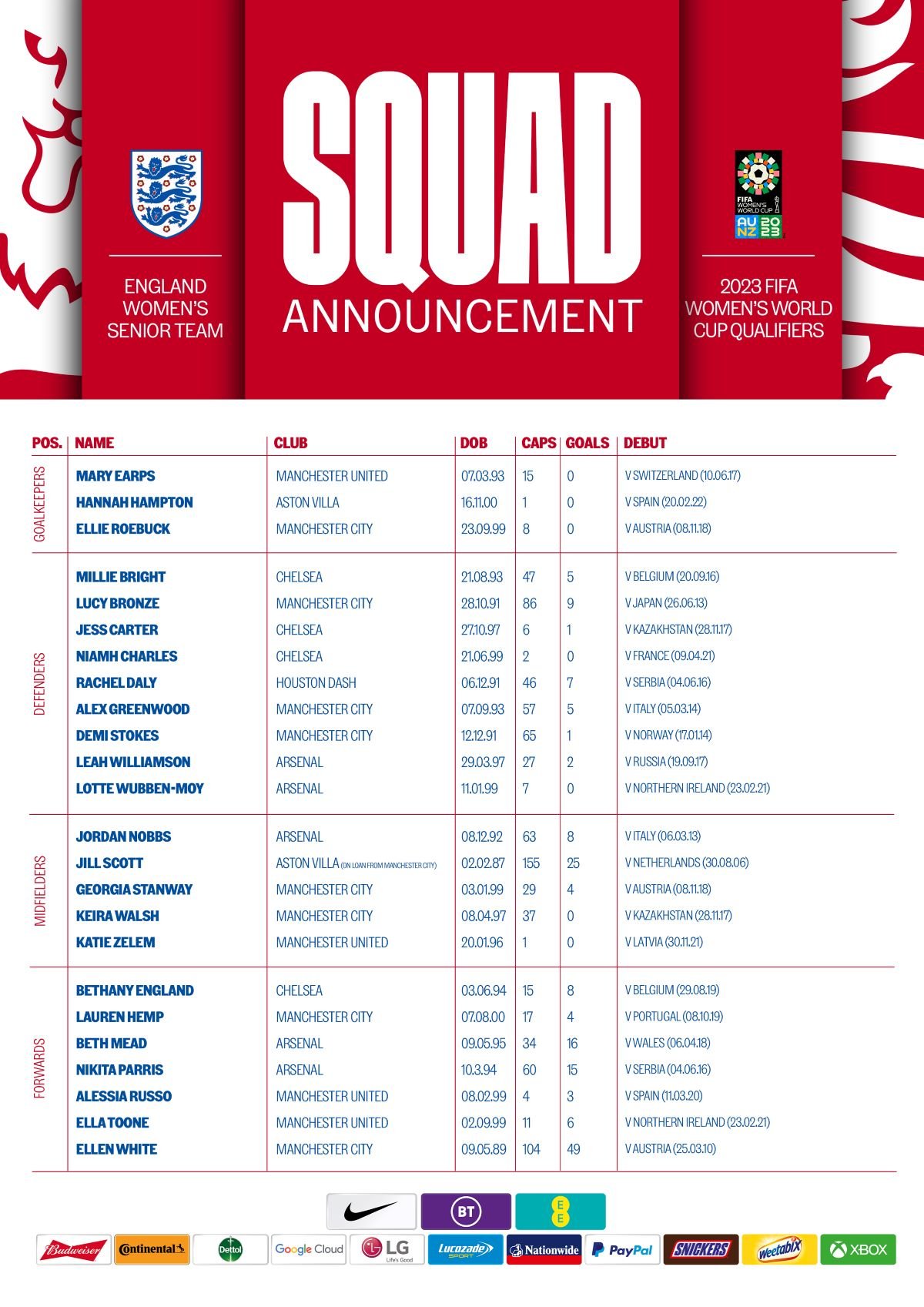 More from Sarina Wiegman's squad announcement press conference. Here's what some of what she had to say…
On her excitement after yesterday's activities with 100 days to go to the Euros:
It's really exciting and you could feel the excitement yesterday, actually, I could feel the excitement on Sunday at Old Trafford, in the stadium where we have the opening game too. So yes, it's only 99 days now and I think it will go really fast. I'm really looking forward to July 6.
On how much this squad in the next two games will help formulate her thinking ahead of having to make a final cut of players and the squad she wants for the Euros:
We've used a group of around 27-28 players throughout the season. So most likely when they keep performing, when they stay fit. Some other players might come back, some still recovering, but that might be the group this close because otherwise they would in the squad. But it's all about staying fit, keep performing, and keep showing what they are capable of. And it doesn't mean that the doors closed for any other player. But if all of a sudden a totally new player would come in now, then we would have probably made the wrong decisions earlier.
On her squad selection including only one or two changes, one being the return of Bethany England (who has four goals and two assists in her last two games):
I'm really happy for her because she was a little struggling with her injury and then she came back and now she gets more playing minutes at the club, so that's really nice. And she's doing well, you can tell that she feels comfortable. Up front we have a lot of competition but it's good to have competition. It's a luxury to have such good players in the squad.
On whether she had considered calling Manchester City's Chloe Kelly into the squad:
No I haven't considered that. Of course we know how good she was when she got injured, and what form she was in, she did very well, and I saw her play before I got this job too. But I know she's doing well at the club, there's contact all the time. But she hasn't played a game yet and first she needs to start playing games. She's had a pretty tough injury with the ACL and she needs rhythm now. And that's where it starts, playing at your club, getting consistency at your club level, and then you can take the next step. She hasn't played any minutes yet, she will hopefully very soon, that's what we expect, and hopefully she'll get to her level that she's capable of. That will probably take a little more time but, yes, we keep a close eye on her.
And on how much she has spoken to Steph Houghton and her hopes that Houghton will be fit for the summer:
I've spoken to her of course. It's going to be really tight. She's doing everything she is capable of, everything that's in her control she will do, to make the Euros. She's still in the first period of her rehab, and hopefully she proceeds well, and from there we'll see, step-by-step. And as I've said, the competitiveness in this team is really high, she has had a tremendous CV with us, so I hope she will make it, but I hope first of all she needs to be on the pitch, she needs to start training, and then be fit enough to be on the pitch every day to train and then recover well, and that's a little further away.
We give her a little more time, because we know she needs it and with the history she has with this team and the contribution she has had over the years, I would like to give her a little more time. But she needs to be fit and playing well. She has been out for a long time… we're in contact with her all the time. Now the first part of the rehab should go well. If that does well, we go to the next stage. That's how we approach it and how she approaches it too. She absolutely wants to do whatever is in her control to make the Euros, she has a clear plan and we just keep each other updated about the situation.