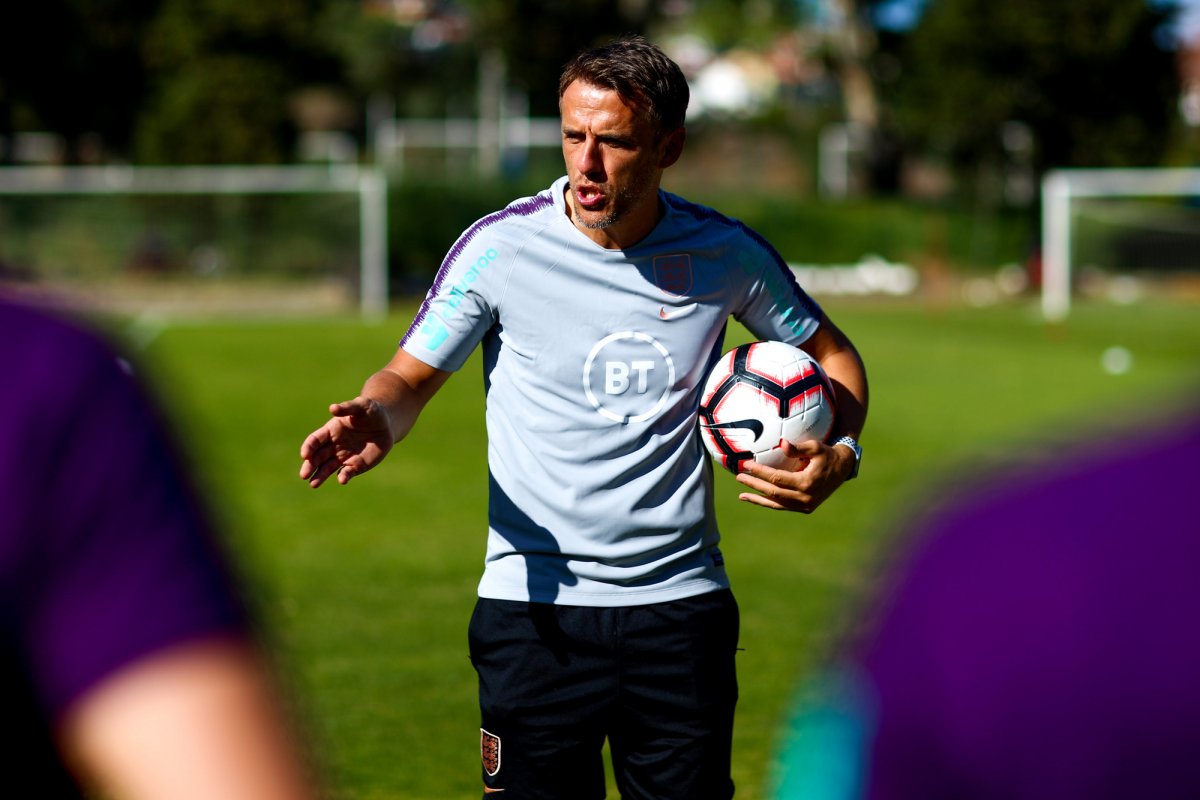 Phil Neville has named the England Women's squad for the forthcoming autumn internationals against Germany and Czech Republic.
The 21-player squad will meet up at their St George's Park base next week in preparation for the visit of Germany to a sold-out Wembley Stadium on 9 November [kick-off 5:30pm GMT].
The Lionesses are set to break the all-time attendance record for a women's game in England. It is hoped the final crowd on the day could top the current record of 80,023 that came when the United States beat Japan 2-1 at Wembley to claim gold at the 2012 Olympic Games in London.
The squad then travel to České Budějovice to play Czech Republic on 12 November at the Stadion Střelecký ostrov [kick-off 7:15pm GMT]. The match at the home of SK Dynamo České Budějovice will be the Lionesses' final game of 2019.
Neville has selected an experienced group which includes 17 members of England's FIFA Women's World Cup squad who reached the semi-finals in France earlier this year.
Ellen White, Georgia Stanway and Gemma Bonner will also join their England teammates at St George's Park to train with the group. White and Stanway are returning from injury and Neville will continue to asses their fitness on camp before making a decision on whether they are ready to be recalled to the squad.
England Women's Senior – International Matches v Germany & Czech Republic -Squad List

Phil Neville said: "This is going to be a momentous occasion in the history of women's football in England. To have sold out Wembley Stadium for the first time and to have potentially over 80,000 fans cheering on our team will not only be record-breaking, it will be an incredibly proud and humbling experience for myself and my players and staff.
"It will be a hugely significant landmark moment on our journey and we are all extremely honoured to be playing a part in that. But it will also be a moment for us to say thank you and show our enormous appreciation to all those players throughout the history of the women's game in England whose hard work, determination and resilience in far tougher times has helped bring us to where we are today.
"The hairs will be standing up on the backs of our necks a week on Saturday when we walk out onto the Wembley pitch. I'm delighted that so many of England's former players are able to join us for an occasion which celebrates the achievements of every one of them.
There's an incredible amount of work that goes on behind the scenes at The FA to help us attract huge crowds like this and I want to thank everyone for their tremendous support.
"On my recent travels around Europe to watch my players I can tell you that what's happening in England – the way the Lionesses have connected with the nation and the attendances in the Barclays FAWSL and of course at Wembley – is attracting huge admiration from other nations."
The Germany and Czech Republic fixtures are part of the Lionesses' continued preparations for the UEFA Women's EURO 2021, which will be played at nine venues across England. As the host nation, the Lionesses do not have to qualify for the final tournament.