England Women may not have won Euro 2017 but they gave it their all and should be admired, writes MARISSA THOMAS.
Since the England squad for Euro 2017 was named on 3rd April, there has been one aim; to win the tournament. The Lionesses were unable to achieve this aim so they've failed, right? Wrong. Yes, England wanted to win the tournament and they didn't do that, but they still have so much to proud of.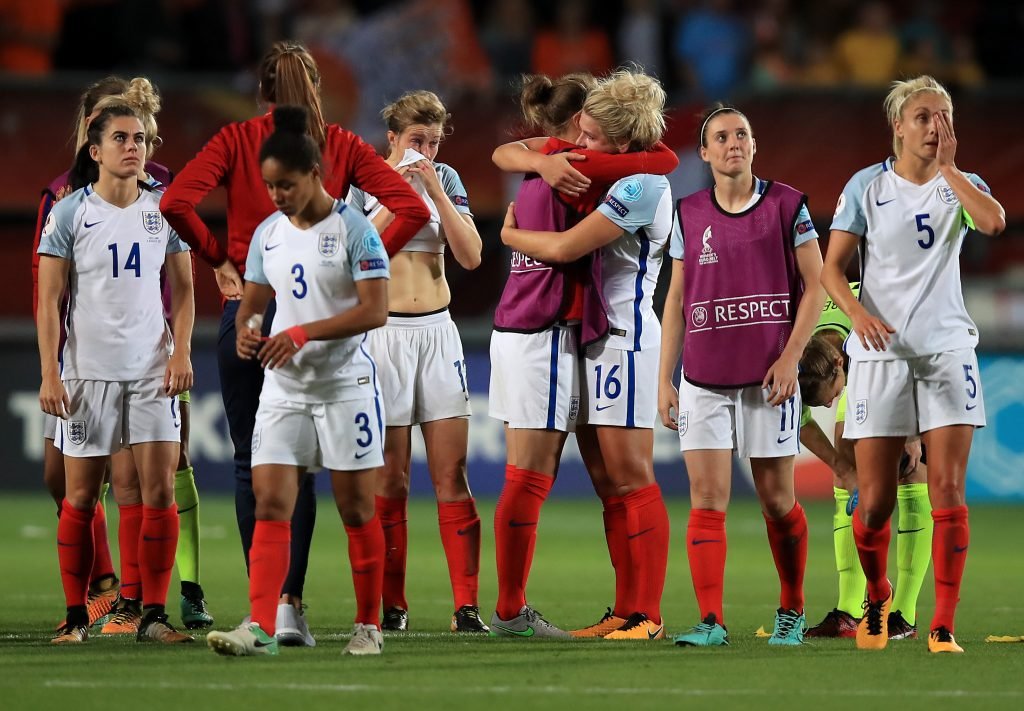 The fact that some of the players left the pitch in tears after losing 3-0 in the semi-final to hosts The Netherlands, shows how much they cared. This squad of 23 genuinely and wholeheartedly believed that they could go all the way.
For a start, they have improved from Euro 2013 when they finished bottom of their group with a solitary point. This time they finished top of their group, winning all three games and conceding just one goal. Then they beat France, at the quarter-final stage, for the first time in 43 years. That in itself is progress. It might not be the type of history that England wanted to make but beating France is still a positive to hold on to.
It was in the semi-finals that England came unstuck. They faced the Netherlands who were just as confident as them but with the advantage of the home crowd. England were simply outclassed by the Netherlands and lost 3-0 as they suffered a semi-final defeat for the second time in as many years. It might be strange to feel proud of a team when they lose, especially as they were the highest ranked team left in the competition, but I was. Because I felt their pain. I felt connected to the England Women and even though they had failed in their quest to win Euro 2017, I knew they had done all they could. It just wasn't meant to be.
England have nothing to be ashamed of and deep down, once the dust has settled, the players will realise this. Millie Bright and Lucy Bronze, two of England's best players throughout the tournament are 23 and 25 respectively and will be even better players when the 2019 World Cup kicks off in France. The core of this squad is still relatively young and desperate for success, having come so close on two separate occasions, and they will be more determined than ever to make it to the World Cup Final.
England also have an aim to grow women's football and this is something they achieved at Euro 2017. Around 3.3 million watched the quarter-final victory against France and then a peak audience of 4 million tuned into the semi-final defeat. The level of interest in women's football continues to grow and just like after the World Cup, there is every reason to assume that crowds to Women's Super League matches will increase when the new season begins.
There is also the wonderful approachability of this squad which makes them such fantastic role models. Members of the England Women squad are always happy to talk to the media, interact with the fans and do all they can to help their sport progress. During the current tournament, Jordan Nobbs did a Q&A on Twitter and gave a signed shirt to a young fan (& She Kicks reader, Holly Manning) via Mary Earps while Fran Kirby Facetimed two young girls to thanks them for their support by giving them a signed shirt and some boots.
These Lionesses want to make a difference on and off the pitch and their tenacity is commendable. England have allocated more money to women's football than any other country in Europe since the last European Championships and that is definitely a worthwhile investment.
England Women didn't win Euro 2017 but they have once again inspired a generation and sooner or later their hopes and dreams of winning a trophy will come to fruition. I believe in the squad and they believe in themselves. As long as that belief doesn't fade away, it's only a matter of time.
DO YOU AGREE WITH MARISSA?