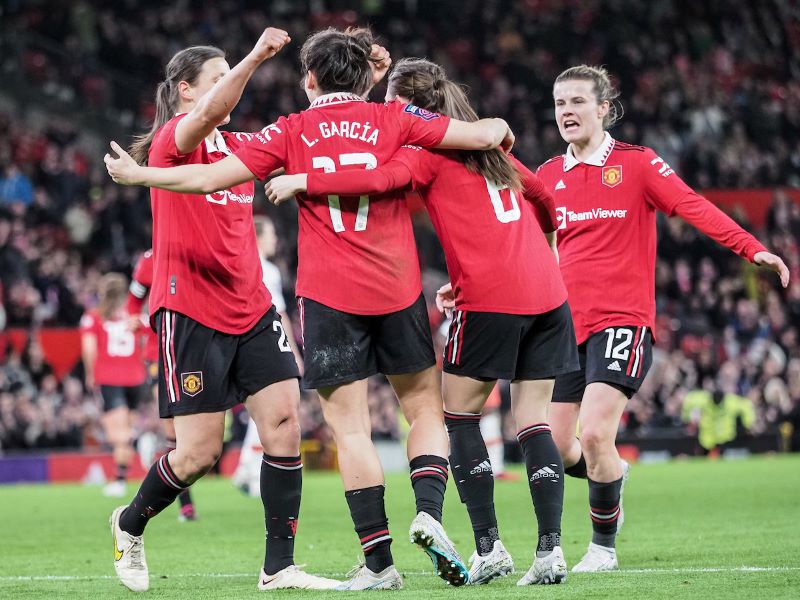 Manchester United Women have become far more comfortable playing at Old Trafford, believes manager Marc Skinner, as they approach this weekend's showpiece Manchester derby at the stadium.
The club announced earlier this week that ticket sales for Sunday's game with Manchester City had reached the 40,000 mark, in what will be the first WSL derby at the venue. United overcame City in their last league meeting, winning 2-1 in May, but were playing at their regular home ground, at Leigh Sports Village.
Home fans have established a regular atmosphere at LSV in recent seasons that players – from both United and opposing teams – have often cited as a significant and potentially-influential factor in games. Skinner was asked by She Kicks in his pre-match press conference whether playing at Old Trafford means any necessary adjustment for his players.
"I would say when we first played at Old Trafford – I wasn't here in the COVID period when it was behind closed doors, but when we first got to there – it felt a little bit alien; now it doesn't feel like that," he explained. "So, when we get to Old Trafford, many of these players actually support Manchester United, so they've been there as fans themselves."
"Actually now, it's much more business-like. We keep it business-like.
"When we get to Old Trafford, it's about utilising and using the history of our club, all the massive moments that happened on that pitch, but it's also about making our own moments. Our team within this club doesn't have to just follow in the greats, it can create its own narrative.
"But also…stand on the shoulder of giants, and that's what we need to do on Sunday, we need to stand on the shoulder of teams that have come before us, but also give our own spirit and our own style towards a Manchester United team."
The WSL runners-up will have captain Katie Zelem available, with Skinner confirming that the England midfielder did not suffer concussion against West Ham United last weekend. Spain international and World Cup winner Irene Guerrero remains sidelined (knee) for a couple more weeks, while youngster Evie Rabjohn is out with a minor foot injury. Longer-term absentees Aoife Mannion, Gabby George and Emma Watson also remain unavailable.
Skinner's team go into the game in 3rd place, four points behind leaders and reigning champions Chelsea but unbeaten from their six WSL fixtures, also scoring 19 goals in their last four in all competitions. The United boss offered his view on whether the outcome of derby games, good or bad, has the potential to slightly distort perceptions of a team's season and overall progress, at least in the short term.
"I don't think it'll skew perspective. It always will for some people, of course; you lose a game, it's the end of the world, you win a game, you're the best team in the world.
"For our perspective, it's about consistency, and we need to have consistency against Manchester City if we want to win the game; consistent defending, consistent in attacking, we have to build effectively. So, for us, we have to create that consistency, and that's what we're going to do.
"We don't get skewed by wins, draws or losses if we've performed well, because we know on our day, if we perform well, then we'll have a great chance of winning the game."