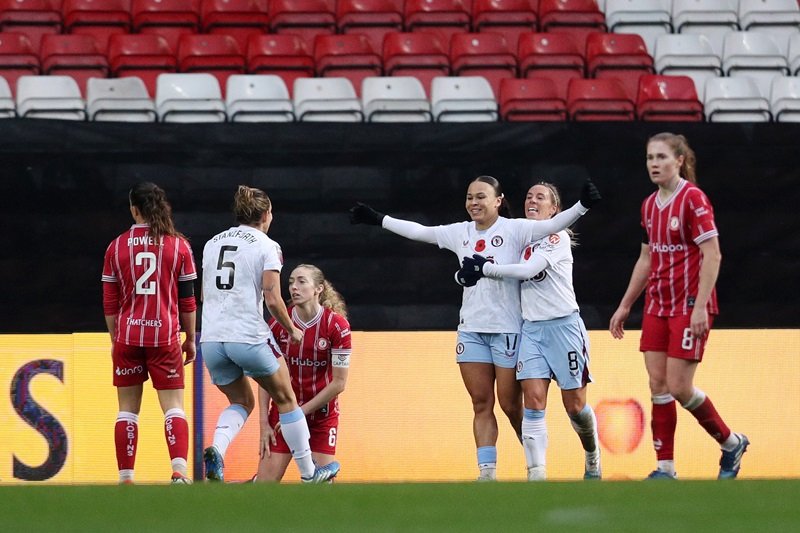 Aston Villa manager Carla Ward has credited the recent impact of new signing Ebony Salmon, with the forward scoring her second goal in two games to help Villa secure a first league win of the season against Bristol City last weekend.
England prospect Salmon returned to Villa this summer from the NWSL's Houston Dash, five years after initially leaving the club. The 22-year-old scored her first of the season in the 5-0 Conti Cup win against Sheffield United, before adding another at former club Bristol City.
Speaking in Friday's press conference to preview this Sunday's Barclays WSL game at West Ham United, Ward was asked by She Kicks about her approach so far to finding how best to fit Salmon into Villa's line-up, alongside the likes of last season's Golden Boot winner Rachel Daly.
"She obviously went over to America; they play a very different way over there," said Ward, who signed Salmon on loan for Sheffield United from Manchester United in 2019. "So, coming back here, it's making sure we work with her on the elements that maybe the WSL needs."
"Ebony's been great for us, it's been an unbelievable impact in the last couple of weeks, for sure, but we'll keep working with her. Her ultimate goal is obviously to be knocking on the door for England, as well as starting games for Aston Villa, and we'll help her with both of those things."
Another standout pre-season addition for Villa was Netherlands goalkeeper Daphne van Domselaar. The 23-year-old came to prominence for her sensational performances in UEFA Women's EURO 2022 and was coveted by many clubs towards the end of her time at FC Twente back home.
Van Domselaar is now playing overseas for the first time at club level, with glimpses of her vast potential, but for a team who have endured a difficult start to the new season, moving off the bottom of the WSL last Sunday. Ward was asked whether it is easy to overlook the challenge for a young goalkeeper to become fully comfortable commanding a defence in both a new country and a second language.
"Yeah, and we've got to remember she's a young player, and she's just moved country for the first time. She's moving out of her comfort zone, and I know I always go back to the person, but we've got to look after her as a human being, because it's a massive change, moving countries.
"First and foremost, we have to help her develop that, we have to help her settle in, because naturally, as that happens, the more comfortable an individual gets in their new surroundings. Naturally then you will see what you see at national-team level."
Speaking last week about the support she received from fellow coaches and her players after the 6-0 home defeat to Chelsea on 4th November, Ward described the feeling in the hours after their crucial first win last weekend.
"It was a funny one; it wasn't joy, it wasn't sad. It was 'wanna get back on the training pitch and get back to work,' because like I said before, it's only one game.
"I think we've got to keep working hard; winning one game, you're not out of the woods, you're really not. I think it's really important that we understand that we have to continue to win football matches, and the next two are vitally, vitally important that we go and take maximum points from."