When the crowds come flocking Bethany England comes knocking, with the Chelsea and England forward relishing another big occasion on Saturday as England Women face Brazil at the Riverside Stadium in Middlesbrough.
Having launched her club side to an opening weekend victory over Tottenham Hotspur in front of a bumper Stamford Bridge crowd, the 25 year old is eyeing up another stellar occasion, with over 30,000 tickets snapped up for the sold-out match on Teesside, this Saturday lunchtime. 
Her strong start to the current Women's Super League campaign and international recognition are the fruits of hard work and perseverance from the Barnsley-born attacker, often previously being deployed at her un-favoured berth of wingback. Having switched blue for red in a loan-spell on Merseyside for the 2017-18 season, England earned her stripes at Liverpool – where she was the league's joint-third highest goalscorer – and has since forced her way into Chelsea's plans with a breakthrough season last term for Emma Hayes' team.
England cemented her place in the starting lineup at Kingsmeadow in 2018-19 striking no fewer than 22 times for the London club in all competitions, as she ended the campaign as their top goalscorer. Whilst called up for England's pre-World Cup training camp, she narrowly missed out on Phil Neville's 23-player squad for the tournament in France where England finished fourth.
Making her Lionesses debut in the most recent international break, England is looking to add to her two caps gained against Belgium and Norway, as she spoke to Thomas Smith, (Football Journalism Student, University of Derby) at The National Football Centre, St. George's Park, ahead of the international double header against Brazil and Portugal.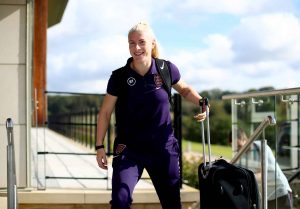 BETH on how much she is looking forward to the Brazil game:
"It's going to be exciting, obviously with a big crowd that I think we're going to relish it on home soil for a change, because the last two games weren't great for us when we played away. It is going to be nice playing in front of a home crowd and get the result that everybody is expecting from us."
On how exciting the prospect of a big crowd is:
"I saw that something like 100,000 tickets had been sold and again I think that just shows how much the women's game is growing and the knock-on effect that the World Cup has had for English football and especially for the women. I'm excited for it and I think it is going to be a special occasion."
On how good it is to be part of the England set up and in this environment:
"It is one of them where it is out of my control. I can only play as good as I can and it is Phil's job to pick the squad. I think timing, I'm a big believer that everything happens as it's supposed to. To me the timing's right, I feel like I'm fit, feel like I'm playing well, so I'm excited to be here again and get a second call up. The girls are great and they have let me integrate into the team, so it's nice to finally be a part of the squad."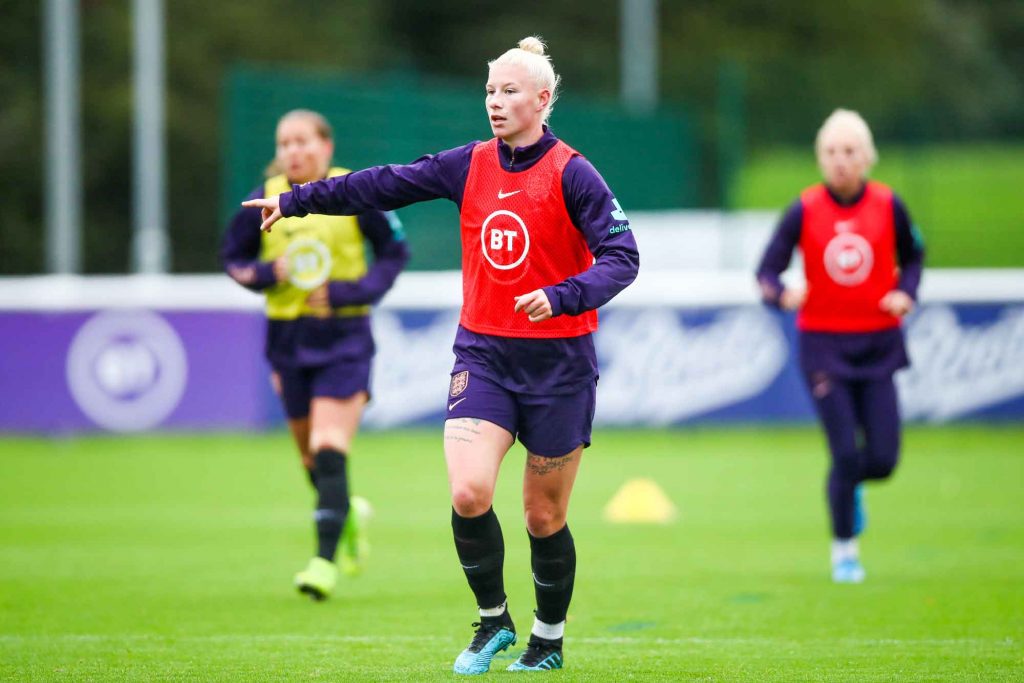 On whether she feels she's playing the best football of her career so far:
"It's early this season, but definitely last season I think that was the highlight. I've started it [the season] quite well, I was pretty chuffed with my goal at Stamford Bridge. Hopefully many more of them this season and hopefully manage to get one of them for England as well."
On the celebration for her cracking goal in the game at Stamford Bridge:
"Do you know what, I've never done a knee-slide in my life. I think the occasion just got the better of me and it was just unbelievable to play in front of that crowd.
"To be fair, I think it was because I was running towards my family. That's where my family was sat, they have been through a long journey with me so I felt like that goal was for them."
On who she told first, about her call up?
"It was my mum – but when I actually found out I was with my teammate so I told her not to say anything – but I rang my mum straight away and that was it all the family knew. I was like don't post anything until it goes out. You know what parents are like they get dead eager. But yes straight away, my mum is always the go to with that one."
What she said:
"She's proud, obviously she's been on this journey with me ever since I was a kid, coming to every football game. She tries her best to get up and down the country even though she's crap on motorways. It takes her hours to get to London for Chelsea games. She's my best friend and she's my number one fan so she knows everything."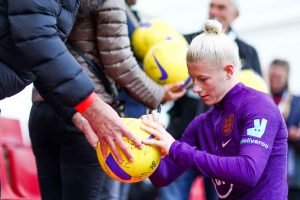 On whether she senses a winning mindset in the group after the summer:
"I think you can tell the disappointment of not medaling and that was apparent straight away. Coming in, obviously, I wasn't a part of the World Cup, but you could see how much the girls were still hurting from that and their desire to really go on and kick start, because they need to and want to win something. They wouldn't be in it if they didn't. The atmosphere has been really great, it's probably been more so nicer this camp, it's settled more because after the World Cup first camp back after a tournament like that is always going to be a bit tense. But I think that's under the carpet now, obviously looking ahead to these games, there's an Olympics next year, there's a lot more to focus on now, so it's about putting that to bed and kicking on from there."
On how hard it is going to be to get into the [18 player] Olympic squad:
"Less people and less places I guess with Scotland and Wales being in there, you can't doubt that it's going to be the toughest competition. To even drop people from England who went to the World Cup is going to be tough; let alone if he has to bring in players from Scotland and Wales. It's going to be difficult, but like I say all I can do is give him [Phil Neville] a headache, by playing well and performing, it's his job to pick the squad. It would be pretty awesome if I did, but you can't really bank on that. So just hope that the season goes well really."
On the potential that she and Erin do well at club level, they could both go:
"It just depends on what Phil wants and who he sees in that squad and what he wants to get out of it. There's a lot of great players in this league, England, Wales, Scotland, Northern Ireland. It's tough all round and you can't bank on players being secure I don't think, it's healthy competition, for a lot of places and people that are ready to fight for that position."
On healthy competition improving a squad:
"Training here compared to club level the standard is so much higher and the expectation from you is greater. That can only push you on and I think if you're not in this environment to compete and fight then you'll soon fade out, you'll get picked off so easily. Any sportsperson would know that the competitive edge is something that you have in you and you want to win and you want to fight for it, if you don't then you're in the wrong environment."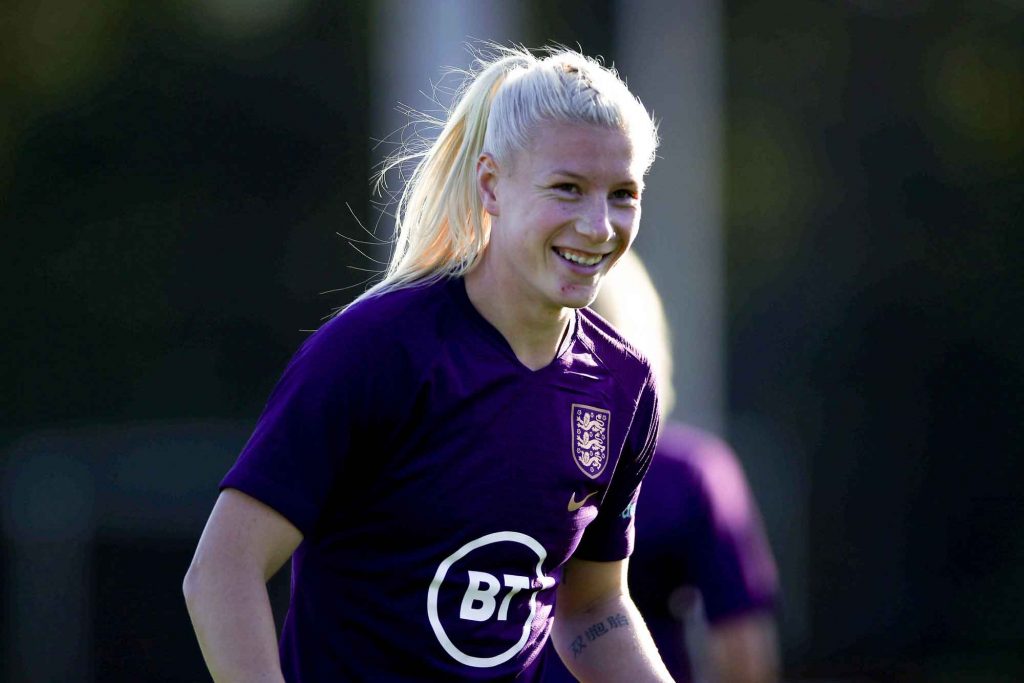 On Phil Neville's first contact with her and then how regularly since:
"My first contact with Phil was actually when I was on loan to Liverpool. I had a fairly good season there before I got brought back to Chelsea and I had the odd couple of conversations there, I know he'd been to some games I played. But that was just minimal contact then and then towards the latter end of Chelsea, I'd say after Christmas when I started scoring some goals, the contact was a little more frequent and then obviously I got into the pre-camp before the World Cup to train with the girls which was really special for me to do that. So it's been on and off but I wouldn't be expecting him to be calling me every week. He had a big tournament to prepare for and I guess his priorities was the team that's going so I completely respected that and then since the World Cup he's been very hands on communication wise and I'm finally here so it's been a nice little journey."
On the fact that it has been a three to four year process to get to where she is now:
"I think the first year and a half at Chelsea I struggled to find my feet a bit. I moved away from home, everything was different, I went from part time to full time, so that was quite a big adaptation. There were some great players in that squad then, especially the forwards, so it was quite difficult I think I ended up playing wingback for the Spring Series which I hated, which was a lot of running. As much as I didn't agree with it at the time, it was the right decision for me to go on loan and going to Liverpool is probably the best thing to happen to me. There was a lot of doubts with how Liverpool was ran and Scott Rogers as the manager but for me helped wonders, he helped me get in that nine role and really work on my play and I felt like I had a really good season for Liverpool and then managed to kick on even better last season at Chelsea. It was a tough journey because in my head any player that gets loaned out you think that your manager doesn't want you. At Chelsea no player that got loaned out got brought back so in my head I thought okay, they don't want me no more. But it was changing that mindset and showing you that I can be the player that you need me to be and thankfully I did that, so I was really proud of way I handled it and managed to get back into the Chelsea squad and now I've got the nine shirt. So quite a big journey, but I've loved every minute of it with the tears and all."
On how it has been integrating into the England squad:
"It's been lovely, the girls are really sweet and are all adults about it and are really welcoming. Fortunately I know a few of the girls already, some at my club and some who I have played with. The older ones definitely try and look after you a bit more and give you advice which is always nice, because I think it can be a bit daunting coming in after a World Cup when they've spent a solid six weeks together. To be fair they're probably all a bit fed up of each other! The girls are great and I have got no issues with that, the staff are just as welcoming so it's been really easy to just slot straight in."
On any advice she has been given:
"Just be myself, work hard. We had training yesterday and it was nice to have Jordan [Nobbs] back, she is quite talkative and she is very hands on, will come up to you and speak to you. You know it's going to help and for me that's something as a player that I like. Obviously the experience that they've got and the level that they've played at for so many years they are making sense, because they've not got where they've got not knowing the game. So I think that as a, I say a young player, I'm not young but I feel like I am, I think any advice in this environment it is appreciated and you take it on board regardless."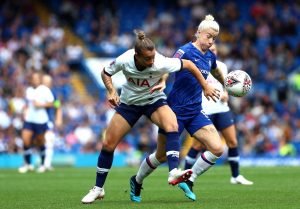 On enjoying the big crowd atmosphere at Stamford Bridge and looking to get out for the big upcoming crowds in future England and club games:
"I don't really think that occasions like that phase me a great deal, obviously it is amazing and the noise; it is harder because you can't hear your teammates with all the shouting from the crowd. It was unbelievable and god knows what it will be like to play in from of 75,000 if that was to happen. It brings the girls on because if you know you've got that support and backing of the fans it gives you an extra gear on the pitch and I don't think the fans realise how much when there chanting and cheering it does give you that extra boost. It makes it that little bit better and on home soil you want to win and it's the main thing, we didn't do well in the last two games so winning is nothing but an option in the next two games."
On the "England for England" chant:
"The girls take the mickey out of me all the time. I walk in the changing room and 'England for England', but it got around a lot and I couldn't have appreciated it anymore because it was nice to know that the fans had my backing and and again they've been on the journey with me. Everyone's saying I need a new chant now I'm finally here, but as long as they keep supporting me I am happy with that."
Interview by: Thomas Smith, (Football Journalism Student, University of Derby)