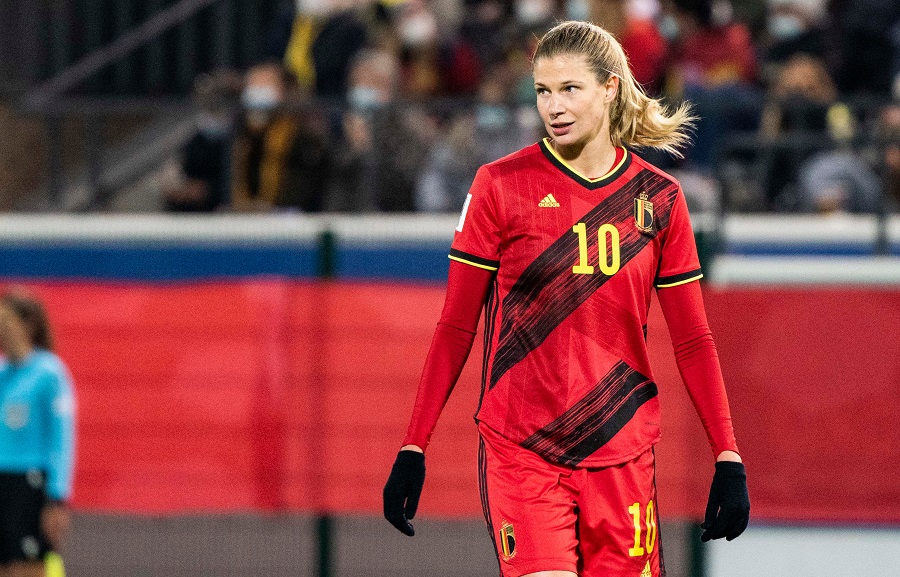 For a spell this season, Reading's FA WSL form was such that the suggestion of European football at the Madejski Stadium was actually not all that fanciful. Their outside shot at Champions League qualification may have ebbed away of late but continental competition remains a hot topic for the Royals' international contingent, as UEFA Women's EURO 2022 nudges ever closer.
Among them is Belgian midfielder Justine Vanhaevermaet. The Sint-Niklaas native is usually a safe bet to crop up in the nearby town of Boom during the summertime, when renowned dance-music festival Tomorrowland rolls around.
Set for three weekends this July, 600,000 tickets have been sold, as it returns in full (and extended) form for the first time since pre-pandemic. With her sights set on another internationally-in-demand event, though, Justine laughs that she would be happy enough to miss out on this one.
"I've been there I think around five times already. It always fell in our summer break, and it's a 20-minute drive from where I live.
"That's something I really like to do, but I hope I can't go this year because that day I'm in the final!"
The closing Sunday does indeed coincide with Wembley's EURO final, and though Belgium would admittedly be behind many teams in the experts' tips for the tournament, there is belief from within that they are capable of at least exceeding outside expectations. Besides the prestige of representing her nation on the big stage, with the added charm of it being in her current adopted homeland, Justine has even more reason for wanting to officially punch her ticket.
As the Red Flames took to the field in neighbouring Netherlands for EURO 2017, their very first major competition, the then-Anderlecht player was cruelly relegated to a watching brief, having torn an ACL shortly beforehand.
"The first two weeks after the injury were maybe the worst weeks of my life," she smiles ruefully. "I was crying all day and questioning why, but then I switched on and focused 100 per cent on my rehab."
"In the beginning, it was hard for me to accept that I wouldn't be at the EUROs, but after a while, I was like 'okay, this is the situation – just handle it'. They asked me, the Belgian national television company, to analyse the game, so I was on TV doing the games.
"Given the circumstances, that was a nice experience, just to see how everything goes behind the scenes when a game is broadcast. After that injury, I think I enjoyed football more, because I appreciate being out on the field more, to do what I like to do every day."
The 29-year-old has been in the thick of the action during her debut season in England, and even on penalty duties in her most recent appearance, putting Reading ahead in the 1-1 draw away to Aston Villa. As well as her native league, her career has encompassed time in the brief Belgian-Dutch hybrid BeNe League, and in both Germany and Norway.
With the exception perhaps of those coming from the NWSL or US college game, most arrivals in the WSL note its increased physicality to what they have been accustomed to. 'Way more physical' is Justine's assessment, but she feels she is dealing well with the challenge.
The wider set-up that now surrounds her, though, is the most noticeable aspect of all.
"Firstly, it's way more professional than what I'm used to. Everyone around the club is working full-time for the club, so that's something I wasn't used to at all.
"We have a big coaching staff, two full-time physios, an S&C coach, we're training with GPS systems, we eat at the club; these are all things I'm not used to."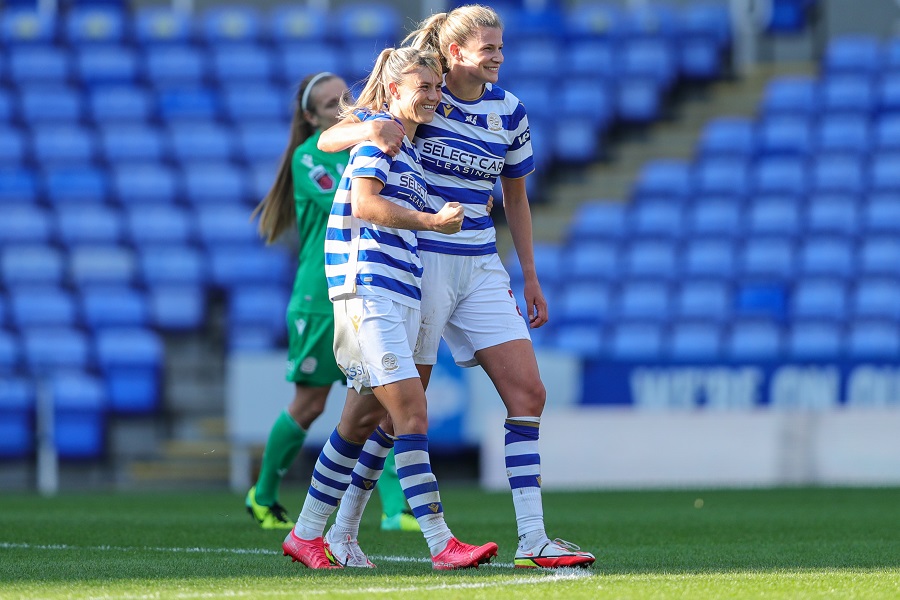 Although she arrived via seven-time Norwegian champions LSK, following a stint at former leading force Røa and Germany's SC Sand, Justine played exclusively for Belgian sides until the age of 26. It is not just her aforementioned injury that gives her cause for extra appreciation at being able to call football her profession now.
"I always earned a little bit when I was playing football, in the highest league in Belgium, but I went to university and did a master's degree in physiotherapy, and I worked for almost two years before I went professional. I've been a physio, and then I played football at Anderlecht, so I was working from 8.30 until 7 in the evening, then drove to Anderlecht, to Brussels, eat in the car, so actually, it was terrible!
"I also tore my ACL that year, so I think it was just too much. So, I've been working besides football, and that also makes me appreciate this even more, being professional, getting the rest I need and just focusing 100 per cent on football."
Well, maybe not quite 100 per cent…
"I think I did (my initiation song) the weekend we played Everton. Everyone was doing a performance, with dancing and everything, so I did the same; I did 'Dynamite' by Taio Cruz.
"The reason I picked that was I was hoping that the others would follow suit when I started singing!"
If making an on-field impact in an unfamiliar league is testing, then singing for an audience in a language that is not your own is a definite bungee jump out of the comfort zone. It is incredible to think that some of football's most impressive and effective communicators are individuals not even conversing in their native tongue.
The mastery they show hugely belies the restriction that they actually feel sometimes in trying to fully convey their thoughts and emotions. Although extremely fluent in English, it is something that Justine certainly also feels on occasion.
"I think my English was already quite okay (before joining Reading), but obviously now it's getting easier. I find it difficult sometimes to express my real meaning of things; it's always easier in your own language to find the right words.
"That's the only thing, but I can just chat normal with the girls, with the coaching staff, I understand everything. It's just some little things I find difficult to talk about, because it's hard to express what I really mean."
A lovely header from @JVanhaevermaet to pull one back for the Royals! 👑#BarclaysFAWSL @ReadingFCWomen pic.twitter.com/nDNKIyP2Nk

— Barclays FA Women's Super League (@BarclaysFAWSL) January 23, 2022
The wild and wonderful mix that is a football changing room when differing nationalities come together in one team can be one of the game's more endearing quirks. After all, not even Rosetta Stone can give a Belgian some authentic Scouse!
"Faye Bryson, she comes from Liverpool, and there was a moment where we were walking to training – I think I said three or four times 'sorry, can you repeat that?'! I think it was my second day or something and I couldn't understand a thing!"
On that theme of clarity and understanding (loosely speaking, at least!), Justine says she likes to feel trust and faith in her from coaches she works with, alongside hearing where she can or needs to improve. She has been enjoying a good rapport with Kelly Chambers and her Reading staff, and believes there is a similar connection with long-time Belgium coach Ives Serneels.
A stint up front in her late teens aside, midfield has always been her position, though her role shifted from attacking to deeper during her time in Norway. It is a tweak that she has ultimately welcomed.
"I think it's a position that suits me really well, because I'm physical but I also have the overview, a good passing foot, left and right, I see the game, so that position suits me."
Nevertheless, she is keen to preserve her attacking instincts, and they were certainly in evidence when she started the 3-2 comeback win at home to Birmingham City in January. One of three goals she has scored for Reading, the looping header was befitting of any classic 'target player', but it does not take much analysing of Justine's game to see that there is comfortably more finesse than force to how she works.
Has she ever felt any misunderstanding of her abilities, as a result of the height advantage she possesses over most opponents?
"Not from the coaches, because they know me, and I'm better with my feet than my head! It's more the perception of the people around, so maybe the people who are writing about the game, but the coaches know my skills and they're not getting me to the club because I can head a ball well, it's way more than that."
There are a couple of notable squad-number vacancies at Reading. Despite the availability of both seven and eight, Justine explains why she chose to continue with the 27 she adopted before coming to England.
"When I went to Norway, I came a few weeks later, so I had to take a number that was still available, and my fiancé Thomas was born on the 27th. It's a bit of a lucky number between us, and also, Vincent Kompany was wearing 27 when he was at Anderlecht back in the day!
"It was always the club I was a big fan of when I was young. I remember I saved some money to buy my own jersey with my name on; that was 'Justine, number 10!'"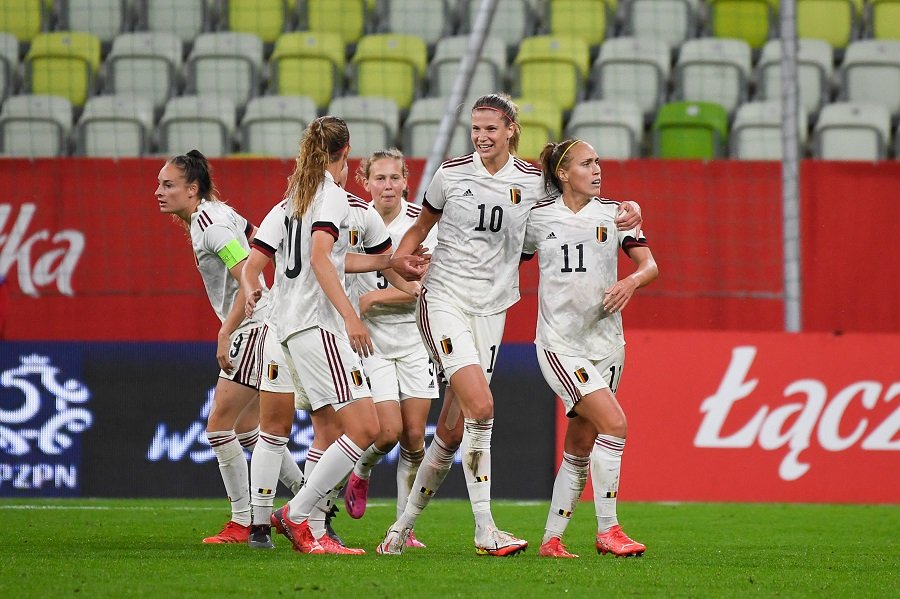 That Purple & White fondness was passed on by her father, and the feeling for family and home typically clenches much tighter when you are far away. Currently in her own apartment in England, she is happy to have her own space at times, though she admits it is far tougher to put aside an unsatisfactory result or personal performance while separated from loved ones.
"When I feel I didn't have the best game, I'm very angry at myself, asking myself 'why was it bad today?' I'm always hoping then that we're training again very soon, because I can leave it behind after the first training.
"I had games where I didn't perform well and then we had two days off, so those two days, I'm in a bad mood! It's very hard for me to switch off, especially when I'm here in England, on my own, without everyone around me.
"It's important for me (to do well), I think that's the reason why I'm in a bad mood, but after the first training, I'm motivated again to prove to myself that it was just one game."
The ever-approaching EUROs, however, offer the prospect of not just her first major tournament, but a special and extended reunion. With Belgium's group games a few hours from her Berkshire base, at Manchester City's Academy Stadium and Rotherham United's New York Stadium, the plan is for a little corner of England's north to welcome Sint-Niklaas on tour.
"Yeah, it's a bit too far from here to Manchester, so my parents actually booked a house, up in the north, and my brother and sister and their partners are coming over as well. Thomas, my fiancé, is coming over, his parents are also staying there for a while.
"So, I think they're just having their holidays in England for the summer! It's really nice that they will be there to support me."
Pinatar Cup winners in February, Belgium find themselves in arguably the most balanced EUROs group of all. Although France and Italy will be favoured to progress, they and Iceland believe they have a very real chance of muscling in and upsetting the odds.
Ex-Manchester City forward Tessa Wullaert, now the current World Cup qualifying campaign's 15-goal top scorer, is a captain who leads primarily by on-field actions, Justine confirms. Janice Cayman and Julie Biesmans (formerly of Bristol City) tend to be the team's standout voices, which she tries to supplement with her own input.
A free kick from the captain @TessaWullaert and there is @JVanhaevermaet with a header! Her 2️⃣nd goal for Belgium. #BELKVX pic.twitter.com/epztRtt2Xt

— Belgian Red Flames (@BelRedFlames) October 21, 2021
Unlike many national teams, Belgium's players do not come from what would be considered – even if not strictly true in practice – a monolingual country. Justine explains how the national team typically communicate.
"Mostly we speak Flemish, because we only have a few that are speaking French, and they understand Flemish. Flemish and Dutch is actually the same, it's just the pronunciation is different, but when you write it, it's the same.
"95 per cent is Flemish, so when the coach is talking, when we talk on the field, but our presentations and our principles, the way we want to play, are in English. Our PowerPoints are mostly in English, because it's football language.
"We don't have that many French players; we had them before and the coach tried to swap with French, or sometimes he said everything double, first in Flemish then in French!"
Five points clear of 3rd-placed Poland in World Cup qualifying, they are almost assured of a play-off spot for Australia/New Zealand, with the possibility still of overhauling leaders Norway, as they switch back to EURO preparation. The picture is clear for Justine as well: help her Reading team to a strong finish in the WSL before heading into the summer fit and firing.
She was given a further personal boost recently when becoming a Nike athlete, something that brought great pride, having long dreamt of such an endorsement. If she can line up against Iceland in Manchester on 10th July, it will be another golden goal accomplished.
Besides their ultra-sleek, new black (home) and gold (away) kits, what else has changed about the Red Flames since 2017, in her view?
"There's a lot different. Firstly, everything around the team is way more professional, so we have a bigger coaching staff, we have our video analysts, dietician, an extra physio, masseurs, our own cook.
"Actually, we have everything around the team the same as the men's team, so we're treated the same way, and we have so much advantage with that. As a group, I think we're way better than five years ago.
"Some players have been there for a long time, so the automatisms have grown, but also, the youngsters that are coming up are really talented, they had a good education. I think overall, we're tactically much stronger, physically stronger, and also technical, because everyone is training more than the EUROs in 2017.
"We're a better team than five years ago."
Interview/article by @chris_brookes