Football journalists and broadcasters from all over England gathered at the annual Football Writers Association Awards at the Landmark Hotel on Thursday. The main purpose of the evening was to honour and pay tribute to the female and male players that the FWA's members had voted as their footballers of the year.
As you will know, Sam Kerr of Chelsea and Australia, was the women's winner (receiving over 40% of the vote) ahead of Arsenal's Vivianne Miedema and Lauren Hemp, while Liverpool's Mo Salah was a second-time winner of the men's award.
She Kicks' Jen O'Neill had a quick chat with Sam just ahead of the dinner. You can watch it here or quickly read what the mega-chilled, super striker and super-suited Sam had to say below…
FWA Women's Football of the Year Sam Kerr on winning the award and how perhaps this season has compared to previous award-winning seasons in other leagues in other countries:
Every year I strive to be the best player I can be. I think when I was younger, I took it for granted sometimes but now I appreciate it more and I appreciate all the people that helped me be able to do what I do on the field so it still is enjoyable.
On having her parents and Nana Kerr come over to London to see her play this season:
It was their first time seeing me play for Chelsea which sounds weird because I've been here for two years now. It was nice to have them in the crowd. My family are really proud of me and a big part of my success and my career. So yeah, it was an amazing feeling.
On Karen Carney, former Chelsea star, saying that she [Sam Kerr] is the difference, that without her Chelsea wouldn't be in the driving seat for the title:
I think that's my role as a number nine to score the goals and I'm in a very privileged position – I play for Chelsea, one of the best teams in the world. But I love that challenge. I love being the the driving force of any team I'm in and I love where I am. I love what I do. And I get excited when people say things like that.
On the fact that 10 different Chelsea players, including her, received votes for the Football Writers' award and how much fun is it to be playing in that Chelsea team:
Amazing. I mean, the team is so talented. There's so many players that could win this award just within our team and I feel really lucky to be a part of it. Every day I go to training and train with some of the best players in the world, who I think are much better footballers than me! But I'm just really proud to fly the flag for Chelsea and I know the girls are really proud but it's a team effort. These types of things you don't win them alone.
On keeping the award for the 'Kerr-by' duo (Fran Kirby has won this award twice in its previous four years and though sadly sidelined at present 'Kerr-by' partnership was vital for Chelsea last season and for the first half this season too):
Yeah, obviously I had a really great relationship with Fran on the field and hopefully there's more to come of that but like I said, I'm just happy, as she would be, we're flying the flag for Chelsea and we have a strong team and so many players could have won this. So I'm really proud to win it and hopefully she's back out there with me soon.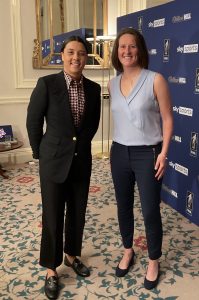 Her record shows 40 goals in 45 WSL games in her time with Chelsea and Emma Hayes says that the WSL has improved Sam but that that's all down to Sam's diligence and hard work. How does she think that playing in the WSL has impacted her game:
I think it's probably made my game more all-rounded. I think when I played in the NWSL it a little bit more transitional and attacking-minded. Now it's a little bit more tactical and I have to play in small spaces and with my back to goal, which I wasn't super strong about when I first came here. But now I think I'm getting an understanding for the English League and I'm loving it.
Amongst the match-winning goals, epic celebrations and tackling pitch invaders – what's been a moment that stands out for Sam:
To be honest, I think probably the last few weeks. We've only won by one goal each game and when we went down to 10 men at Tottenham probably everyone wrote us off and against Villa everyone probably thought we'd tied and lost the league. So the last couple of weeks, just the team's togetherness to stay together with so many key players out. It's been a real team effort to be where we are, going into the last game of the season.
Captaining the Matildas to fourth in the Olympics in the summer and becoming Australia's all-time record goalscorer earlier this year, on how tough it is flying back and then returning and playing 48-72 hours afterwards and being a match winner for Chelsea:
I think being an Australian I'm used to that. I think we travel probably more than any other national team in the world, maybe other than New Zealand. Sometimes it works. Sometimes it doesn't. It's just about doing everything you can to be prepared for the game. I think the FA Cup [final] against Arsenal, I came back and I was flying when we went to Wembley and then the semi final [in April] I came back and I wasn't feeling too great. So you do everything in your power but sometimes it's out of your hands. I enjoy the the ride and the process and like I said at the start I have lots of people that help me to be at my best.
On this year having been phenomenal but with Australia as co-host of the Women's World Cup, how good 2023 will be:  
I think Australia a sporting nation so we're really going to embrace the women's game and hopefully take it to new heights. After France in 2019 the game's elevated so much, so hopefully, Australia can really promote what the women's game is about. And I might be biased but I think we have one of the most beautiful countries in the world. So hopefully everyone enjoys it just as much as we're going to enjoy playing at home in front of packed stadiums.