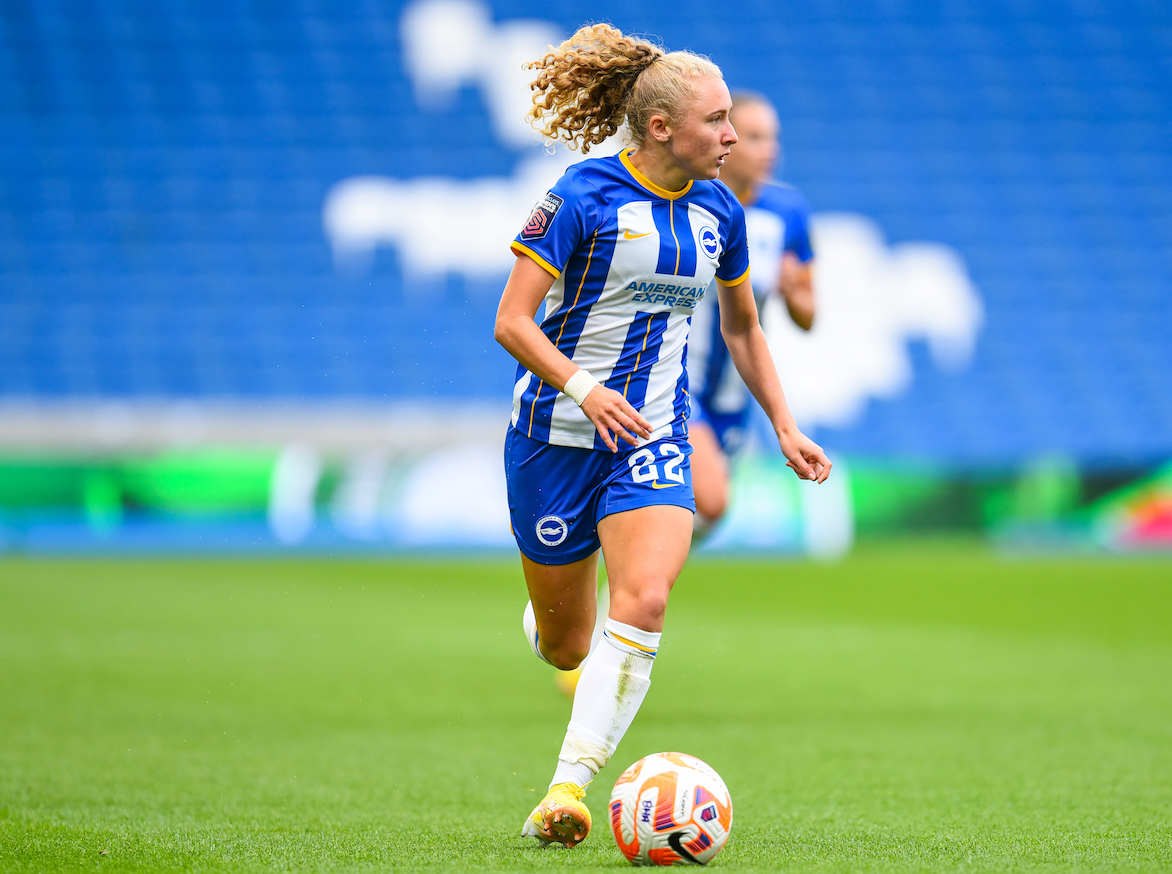 THIS INTERVIEW FIRST FEATURED IN #SK77 IN FEB/MAR '23
Sarina Wiegman's 23-player squad for the FIFA Women's World Cup included six players that will be heading to their first major senior tournament. One of those was rapid young winger Katie Robinson. She may only four caps to her name but this Brighton forward has a very bright future. We spoke to 'Robbo' back in January for our Feb/March issue (#SK77), so here is most of that interview to read again…
KATIE ROBINSON
CATCH HER IF YOU CAN!
FACTFILE
Date of birth: 8 August 2002
Place of birth: Newquay
Position: Forward
Current club: Brighton & Hove Albion
Previous clubs: Bristol City, Charlton Athletic (loan)
England caps: 4* (*correct to 2 June 2023)
Did you know? Katie did a lot of athletics when she was younger, including sprinting events and the long jump.  
Katie Robinson's rapid rise through the recently-reformed U23s to her senior debut for the Lionesses this past autumn almost matched the dazzling pace of her wing play for Brighton this season. Still only 20 years old, this smiley, bright and thoughtful young Newquay native has a bucketload of resilience and quiet determination. From the many miles travelled across the South West and then south coast to make the best of her talent, and bouncing back from the harrowing blow of an ACL injury, Robbo's budding career is surely only just beginning… 
SK: Are we OK calling you Robbo? Who first called you that?
KR: Yeah, that's cool. I think it was Hope [Powell] when she was here and maybe a few of the other staff members and players. It just started and now it's stuck.
SK: What was it before?
KR: Just Katie. I'm literally only 'Robbo' at Brighton; anywhere else, I'm Katie!
SK: Did that transfer to England as well then?
KR: No, not quite. Obviously, I was only at one camp… although a few of them there call me Robbo, ones that I played with in the younger age groups, but that was about it.
SK: Were any of your family there when you made your debut [in the 1-1 draw against Norway in Spain, in November]?
KR: No, they came to the first game [v Japan], but I didn't make my debut for that one, then they went home, and then obviously I came on in the second one.
SK: That's a shame because they've surely seen most of the other big moments in your career so far?
KR: Yeah, all of them. My mum, in particular, has been there throughout, so that's been nice.
SK: Where is your England debut shirt?
KR: It's at home back in Cornwall; I've asked my mum if she can frame it for me. I don't know if that's actually happened yet, but we'll see.
SK: You ARE an England player now, you're a Lioness, what does it feel like when people say that?
KR: It's surreal. You have to kind of pinch yourself because, like, I think I forget sometimes that it even happened. I have to try and remind myself of the achievement that I made and that it was quite a big deal.
SK: Did anyone give you any helpful advice beforehand or were there any speeches or anything?
KR: No, I didn't know if I was going to make my debut or not, so it was all very 'in the moment.' Afterwards, the amount of support and messages I received was just unbelievable. It was definitely better that I didn't know because I would have been overthinking it. I didn't really have much time. I got called to warm up and I thought, 'Maybe. Maybe I'm about to come on.' But yeah, I was glad that I didn't know that I was going to.
SK: Do you overthink other things in your career? Going into camp must have been quite stressful?
KR: Yeah, definitely in the lead-up. Obviously, you're thinking you're going to go on camp with these big names, who I've grown up watching. To be with them in that environment was, I guess, a little bit daunting at first, but just a really exciting opportunity to get to know these people, these girls, off the pitch as well, which was really nice.
"I'm at my happiest when I've got the ball at my feet and I get to run at players."
SK: What is it about playing football that you love?
KR: I love the feeling of being on the ball and being able to be as expressive as possible. I'm at my happiest when I've got the ball at my feet and I get to run at players. Just that feeling, it's the best really.

SK: How would you describe yourself as a player?
KR: I'd say very attacking-minded, always want to try and go forward. Always going to try and make runs and try and beat players one-v-one. Very direct.
SK: Lauren Hemp wears white tape around her wrist and writes short messages on it to reinforce things during a game, like 'Be Brave.' How do you stay confident enough to keep trying to take on a full-back?
KR: It's definitely hard if you're not having the best game to tell yourself 'come on'; if a coach isn't doing it or another player, then you've really got to find it in yourself. I think that's definitely something that I could look into myself. Just those little reminders to yourself can definitely help.
SK: If someone gave you a magic wand that you could wave and instantly improve one thing in your game, what would you want it to be?
KR: Probably being a bit more adaptable and a bit more unpredictable to opponents. When you come up against teams, they probably know your strengths, but I want to be a player that [teammates] can come to feet and that does not just do the running part but can move into those small gaps and play in tight areas. So, I guess just mixing up my game and making myself more unpredictable.
SK: Seeing young players being successful in the summer and seeing them in camp, knowing that there are opportunities for players in your age group, does that add fuel to your fire?
KR: Yeah, definitely. The competition aspect of the amount of young players there are at the moment is so high, and the talent that there is in England is crazy. I've got to try and 'stay in my own lane' as they say and be focused on myself, because if I let other factors distract me, then I might not play as well as I can.
SK: Is managing the pressure to perform at trials or training with new groups of players something you can get better at?
KR: I'd probably say I'm quite a bit of a stresser, so I'm not the best at being relaxed before big things, but once I've got going, then the nerves and stresses go away. It's always the build-up that's the worst part!
SK: You progressed out of Cornwall and the South West, where there was a less established route for players, so did you just have faith that the pathway would discover and develop your talent, or did it take coaches and your parents trying to find the best way for you?
KR: I'd say it was a little bit of all of those things. At the time, I never really thought too far ahead as to, 'What or where can I be? What are your opportunities and possibilities?' Luckily, they invested in the South West a bit more* when I was younger and that's led to myself and Maya [Le Tissier, from Guernsey] and hopefully many others coming through.
But of course, if it wasn't for my family driving me to Devon and other places, then I wouldn't be here either. When you're younger and you're from somewhere like Cornwall, for example, you don't really have the people to look up to, not in the same journey that you might have. I've never really had that opportunity where, 'I'm gonna go and trial for Chelsea and I'm gonna be the next…' I didn't have that. So, I guess I just really had to work hard and kind of go myself.
*The FA introduced Advanced Coaching Centres in regions like the South West, Cumbria and East Anglia. 
SK: Whilst you were playing at Plymouth Argyle Boys' Centre of Excellence, were you quicker than a lot of the boys in your age group?
KR: Yeah, I would say I probably was; it's kind of my strength, my pace. I would always back myself to be quicker than them and I relished the challenge of playing with them. I didn't care if they'd call me names. I think for a lot of young girls, that's probably quite daunting, but I think it obviously depends on the type of person you are. I think to go through that probably makes you a stronger person in the end.
SK: Are you the most successful graduate of your group?
KR: I'd probably say so! I don't think many any of them are playing any more.
SK: How difficult is it as a young player to make the decision to move away for your football?
KR: It was extremely hard, but I think at the time, I just remember talking to my mum and being like, 'I've got no choice. This is the only choice I've got, so it doesn't matter where I go in the country, I'm going to be moving away.'
SK: Do you feel that Bristol City perhaps don't get the credit they deserve for bringing through young players, especially without Yeovil Town in the top tiers, in recent years?
KR: Yeah, I definitely think they probably don't get enough credit, the amount of young talent they have. When I went there, it was academy football alongside your college, and it was all at the same place. You literally couldn't have had it any better in terms of the education and the academy. I'm forever grateful for Bristol and the opportunities I had there. I really loved my time there.
SK: It was then quite ballsy to decide that you wanted to go to another club and the Brighton offer comes around?
KR: Yeah, I think it was just as COVID started and going into that uncertain season, I got an offer from Brighton. I think I just wanted a fresh start, a fresh challenge. As I said, I loved my time at Bristol, but at the time, they were probably a club that was struggling at the bottom of the table, and Brighton, with the facilities that they had etc. I thought it would be a great challenge, and another step even further from home.
SK: And then came the ACL knee injury. How do you feel about that experience now and especially when you see other players suffering the same injury?
KR: It was tough. I had not been at Brighton long and I did it in September after having just joined in the July. You can't really put into words that feeling of when you hear the news… but now I look back on it and it's a bit of a blur, it doesn't really feel like it happened, it's a bit of a weird one. I think I'm glad it happened; it probably changed my perspective on a lot of things.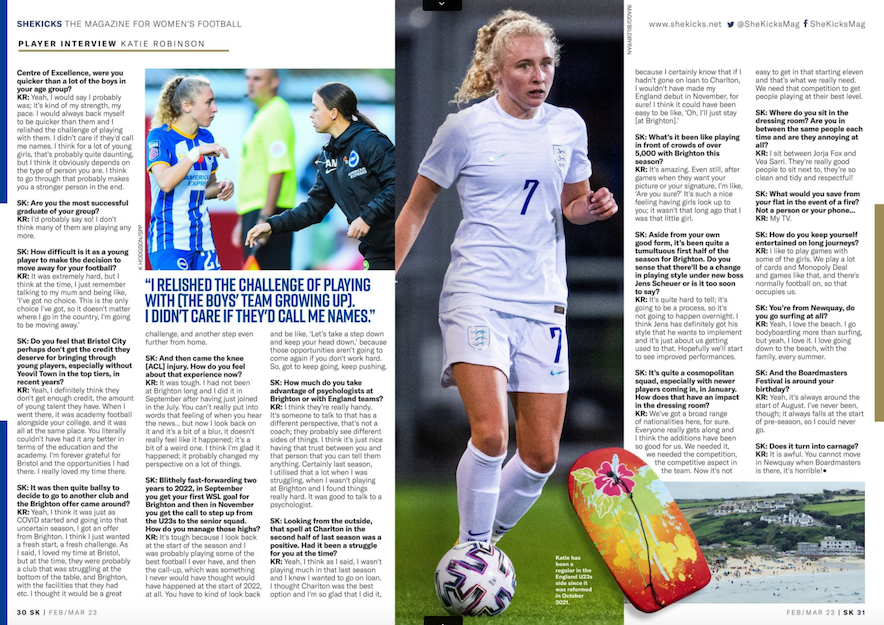 SK: Blithely fast-forwarding two years, in September you are scoring goals for Brighton. In October, you play for the U23s, you're doing really well and you get a senior call up. How do you manage those highs?
KR: It's tough because I look back at the start of the season and I was probably playing some of the best football I ever have, and then the call-up, which was something I never would have thought would have happened at the start of 2022, at all. You have to kind of look back and be like, 'Let's take a step down and keep your head down,' because those opportunities aren't going to come again if you don't work hard. So, got to keep going, keep pushing.
SK: How much do you take advantage of psychologists at Brighton or with England teams?
KR: I think they're really handy. It's someone to talk to that has a different perspective, that's not a coach; they probably see different sides of things. I think it's just nice having that trust between you and that person that you can tell them anything. Certainly last season, I utilised that a lot when I was struggling, when I wasn't playing at Brighton and I found things really hard. It was good to talk to a psychologist.
SK: Looking from the outside, that spell at Charlton in the second half of last season was a positive. Had it been a struggle for you at the time?
KR: Yeah, I think as I said, I wasn't playing much in that last season and I knew I wanted to go on loan. I thought Charlton was the best option and I'm so glad that I did it, because I certainly know that if I hadn't gone on loan to Charlton, I wouldn't have made my England debut in November, for sure! I think it could have been easy to be like, 'Oh, I'll just stay [at Brighton].'
SK: What's it been like playing in front of crowds of over 5,000 with Brighton this season?
KR: It's amazing. Even still, after games when they want your picture or your signature, I'm like, 'Are you sure?' It's such a nice feeling having girls look up to you; it wasn't that long ago that I was that little girl.
SK: It's quite a cosmopolitan squad, especially with newer players coming in, in January. How does that have an impact in the dressing room?
KR: We've got a broad range of nationalities here, for sure. Everyone really gets along and I think the additions have been so good for us. We needed it, we needed the competition, the competitive aspect in the team. Now it's not easy to get in that starting eleven and that's what we really need. We need that competition to get people playing at their best level.
SK: Where do you sit in the dressing room? Are you in between the same people each time and are they annoying at all?
KR: I sit between Jorja Fox and Vea Sarri. They're really good people to sit next to, they're so clean and tidy and respectful
SK: What would you save from your flat in the event of a fire (not a person or your phone)?
KR: My TV.
SK: How do you keep yourself entertained on long journeys?
KR: I like to play games with some of the girls. We play a lot of cards and Monopoly Deal and games like that, and there's normally football on, so that occupies us.
SK: You're from Newquay, do you go surfing at all?
KR: Yeah, I love the beach. I go bodyboarding more than surfing, but yeah, I love it. I love going down to the beach with the family every summer.
SK: And the Boardmasters Festival is around your birthday?
KR: Yeah, it's always around the start of August. I've never been, though; it always falls at the start of pre-season, so I could never go.
SK: Does it turn into carnage?
KR: It is awful. You cannot move in Newquay when Boardmasters is there, it's horrible!
'I know I need to be around better players than me': IN CONVERSATION with Man City midfielder Laura Coombs