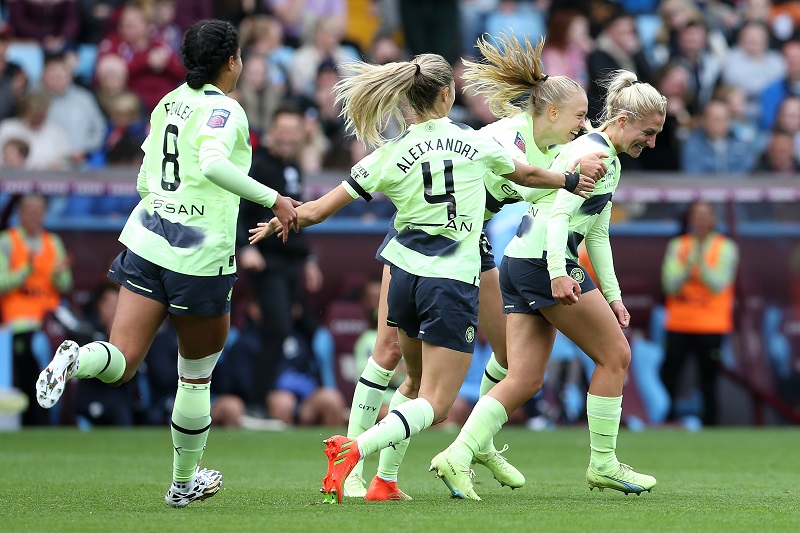 After farewells to some popular stalwarts, Manchester City are hoping that their recent influx of multi-national talent will reap rewards. It is a squad now stretching from Catalonia to Australia, and Venezuela to Japan, but perhaps as notable a contribution as any this season has come all the way from Kent.
The wind of change was audibly swirling at City over the summer. Excitement at the capture of coveted overseas prospects like Deyna Castellanos and Mary Fowler was maybe understandably lost in the conversation that surrounded the departure of various established figures.
There is firm belief from within, though, that a team spearheaded by in-form Jamaica star Bunny Shaw and England's Lauren Hemp and Chloe Kelly, and which still maintains an enviable breadth of international calibre, can ultimately spark in tandem with its newcomers. Midfielder Laura Coombs, enjoying her own impressive start to her fourth season as a Blue, has been among those to warmly welcome the likes of Champions League winner Leila Ouahabi and fellow Spain international Laia Aleixandri to life in the North West.
"We've been quite good, we've spent quite a bit (of time together), because of the language barrier," she explains. "I think it was important for us to spend time away, just going for coffees after training and maybe spending a bit of time on a weekend together."
"Leila is probably the one who can speak the least, but she's picking it up so quickly, I would say, and she's obviously having English lessons as well, so it helps."
A significant piece in the changing-era feel at the club was the retirement this year of three City and England greats, in Jill Scott, Ellen White and Karen Bardsley. Like goalkeeper Bardsley, midfielder Scott had been with City (recent loan spells apart) for the duration of their eight years in the WSL.
The 'alternative' dance moves may have been lost from the dressing room but their erstwhile number eight is still close by, also co-owning the Boxx 2 Boxx coffee shop in Northenden with fiancée Shelly Unitt. Her glorious UEFA Women's EURO swansong this summer included the extra-time win over Spain in the quarter-final, but away from the full-blooded bustle of tournament football, have City's new La Roja pair added their names yet to Boxx 2 Boxx's famous customer list?
"I don't think they've been there yet, although they have met her," says Coombs. "One of the first times we went out for coffee, we went into Takk in town and Jill was actually in there – I don't know why she was in there when she has her own coffee shop!"
She believes their Iberian additions could become contenders for the team's 'Joker of the Year' crown, won last season by Keira Walsh. Walsh's reportedly-world-record September move to Barcelona followed that of Georgia Stanway (Bayern Munich), Caroline Weir (Real Madrid) and Lucy Bronze (Barcelona), with head coach Gareth Taylor admitting it had not been in their plan to lose her, bringing a subsequent need for 'adaptations' in midfield.
Yui Hasegawa would sign from West Ham United, and though Coombs' midfield counterparts in the opening games of the season included Aleixandri and Filippa Angeldahl, it is the Japan international and Venezuela's Castellanos she has been alongside in the past two league matches. While the typically-attacking Hasegawa has been taking on the holding position, has the overall shift in personnel meant any big or intricate changes to Coombs' role?
"No, not really, I'm still sort of in one of the two attacking roles. Before, if Keira wasn't available, sometimes I would step into that role, but I'd say I'm still more attacking.
"We're quite structured in the way we play, so not a lot has really changed for me."
There is, however, the sense of an increased opportunity for the former Liverpool and Chelsea player. England's Rachel Daly took the headlines on the opening day with her two Aston Villa goals in a surprise 4-3 win over City, but Coombs was the other name to net a double in the game.
Laura Coombs loves a rocket!@ManCityWomen score two in ten minutes!#BarclaysWSL pic.twitter.com/6k7SoL0bgX

— Barclays Women's Super League (@BarclaysWSL) September 18, 2022
Her superbly-taken second contained the kind of composure often associated with her play, with a touch to control Chloe Kelly's cross before an emphatic half-volley beyond Hannah Hampton. The Blues' 3-0 away win over Tottenham Hotspur last weekend marked the first time she had started four games in a row for the club, with her part in Lauren Hemp and Bunny Shaw's goals seeing her credited with a pair of assists.
Those who have worked with the 31-year-old during her career know what she offers, but perhaps this is a season when she begins to gain greater outside acclaim. Asked about the tussle that players often experience between self-belief and doubt, she describes how she has unquestionably felt the presence of the latter on occasions.
"Yeah, self-doubt, I think I would say I've definitely had some hard times with that, especially my first year here at City. Playing time was limited, I came in on a bit of a high, playing every minute for Liverpool.
"I didn't think I was going to get straight in the team but I thought I would maybe get more opportunities than I did get. So, that first year for me was really, really tough, and during COVID, obviously had a couple of months away from here, and managed to work on myself a little bit, do some training and came back in a really good headspace.
"I think since then, my performances, and me in general, I've been a lot better here. I think I'm definitely a confidence player.
"I like when people come to me and tell me if I've done something well, but also, to get the best out of me, I know I need to be around better players than me. The year when we had the Americans here, Sam (Mewis) and Rose (Lavelle), Keira and Caz (Weir) in midfield, I was every session having to be at my best to compete with them, and I think that really gets the best out of me."
"City are a really ambitious Club and there are a lot of things in my career I still want to achieve. I feel that being here gives me the best opportunity to do that."

— Manchester City (@ManCity) June 3, 2019
In her time at Liverpool, manager Scott Rogers called her 'a great asset for any team,' with later Reds boss Vicky Jepson speaking of the ex-Arsenal youngster as 'an absolute catalyst in the heart of the pitch' and 'an unsung hero.' Her old club are the visitors to City's Academy Stadium this Sunday, and she looks back on her time as a Red as the happiest previous spell of her career.
"My years at Liverpool, we didn't necessarily have the best results on the pitch, but I moved away from home, I think I grew up quite a lot as a person, and a player. It was probably the team I played the most regularly in, I think I had great friends there and we had a really good team.
"I think my years at Liverpool I will always look back fondly on."
She is among the players whose career has spanned the distinctly different times for the women's game, when thoughts of it even being a job seemed fanciful, right through to the juggernaut it has started to become. Gravesend-born, she remembers a time before life up north, and before the relative luxury of full-time training and recovery days.
"At uni, I got a degree in business and HR, and I did have a part-time role in London alongside training at Chelsea. I was doing HR, but I think I knew it was not something that I wanted to do forever – being in an office is probably not going to get the best out of me!"
While not one to actively seek out her game stats from staff, when thinking back to earlier years in her career, she certainly appreciates the comparatively-advanced times she is now playing in.
"It's kind of crazy how different it is, because we would turn up maybe an hour-and-a-half before a game – this is going back ten years – and they would name the team, we wouldn't really know anything about the opposition tactically, we would just know from playing them in the past what their players were maybe good at, but we wouldn't really go into it with much of a game plan. It was kind of pot luck how you did on the night, whereas now, you have video, you go through analysis, you have scouts at games, you go into games knowing exactly the strengths and weaknesses of the other team, so it's come on a lot since I've been playing."
What a finish! 🙌

Laura Coombs leaves absolutely no doubt as she puts @ManCityWomen 2-0 up heading into halftime!#BarclaysFAWSL pic.twitter.com/wWjYJBoZ7M

— Football on BT Sport (@btsportfootball) November 14, 2020
The level of external analysis and coverage also feels unrecognisable in 2022, especially for a player who was part of a 2012 FA Cup final for Chelsea against Birmingham City memorably relegated to the red button during extra-time, with the men's League One play-off final build-up due to start. The idea of the women's game as an afterthought, while admittedly still not completely consigned to history, certainly looks more outdated by the day.
For someone who played for years without the backdrop of detailed and dedicated TV coverage, plus widespread fan interest and scrutiny, it would be understandable to find it something of a culture shock.
"Yeah, there's definite positives and negatives to it. If you have a great game, everyone knows about it; even if they didn't watch it, they'll hear about it on social media or the news.
"But when you don't play or you don't have a good game, things are out there on social media that aren't nice to read and can be hard. I'm definitely not used to it.
"That never happened even five years ago, so that's been hard to adjust to. I've kind of learned to stay away from it really when times are not going so well."
It is enough to make a 2000s teenager long for the simpler days – back when Bebo and MySpace ruled the land.
"I had MySpace, and I remember it really well because you could have a song as your background when someone went on your MySpace; I was literally changing mine every day to make it the coolest profile! You'd have your 'top friends', which would maybe change if you'd had a falling out!
"I really remember MySpace, and Piczo. Do you know what?…I really hope I've deleted that!"
What about an accompanying email address that would later be completely unsuitable for use in adult life?
"I was really lucky, I just had my full name, because some people had some terrible ones. I remember Caroline Weir had coolbutcrazycaz, and she actually had that email until not that long ago as well!"
Unlike most teenagers, her spare time included being an up-and-coming Arsenal player, in an era which included the Gunners becoming European champions as part of their historic 2007 quadruple. She was also in the 2009 UEFA Women's Under-19 Championship-winning England team in Belarus under Mo Marley, alongside the likes of Lucy Bronze and Jordan Nobbs.
Her senior debut came at 24, as a late sub against China in Yongchuan in October 2015, with her second cap against Australia arriving during the same trip. With 2020 winding down, she was called up by Phil Neville for a St. George's Park training camp, to her surprise, having made peace with the idea of not getting an opportunity again.
Two years on, the depth of the selection pool has arguably never been so considerable, but experienced players have stepped away, and her case is as credible as anybody currently on the periphery. Club focus takes precedence, but how much has the thought been with her in recent times of what she can possibly do to make the breakthrough again?
"I think through the years of my career, it's something that I always wished and hoped for, to be in the England squad, but the last couple of years, in myself, I feel like I can't keep putting all my hopes on that, because at the end of the day, I'm going to end up disappointed if it doesn't happen. So, now, to be honest, I don't really think about it.
"I just really try and focus my attention on how best I can play here at City, and even just getting in the team here is hard enough!"
View this post on Instagram
Part of Chelsea's first WSL title win, which came as a double with the 2015 FA Cup, she has won both domestic cups with City, but to add the club's elusive second league crown to the one they lifted in 2016 is the overriding wish. The hurt of another early European elimination is something they have to live with for now, but finding their feet again as a Champions League contender is also paramount for a club that were semi-finalists in 2017 and 2018.
City fans will hope their number seven has one or two more derby delights to go with the right-footed ripper she delivered at Manchester United two seasons ago. She may not actively court the attention but she continues to steadily impress, in a period of her career and life she is savouring.
"To keep enjoying it and being a good person and teammate to everyone here, I think that's really important. We've got a great group here and I'm just going to enjoy it.
"I think most of my development has come over the last couple of years as a player. Here at Man City, I feel super-confident that I can carry on adding goals to the team, and assists, and if I can keep going with that, I think I will be really happy with the career I've had."
Interview/article by @chris_brookes