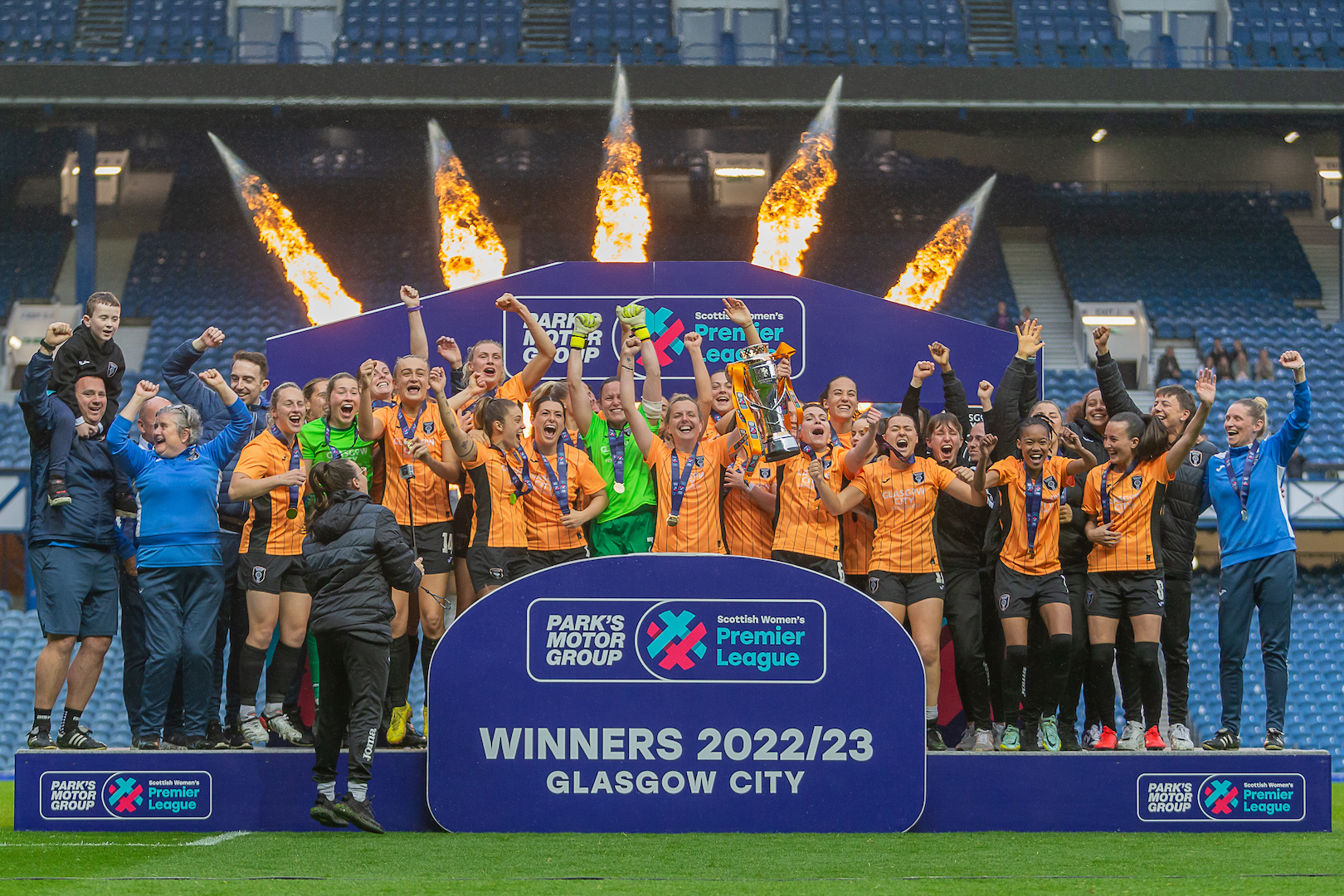 A thrilling end to a season was played out in Glasgow on Sunday reports Catherine Etoe, as the three-horse race for the Scottish Women's Premier League title went down to the wire. Ultimately, a last-gasp goal from Lauren Davidson against Rangers secured a 16th crown for Glasgow City. But it was a heartbreaking finish for Celtic, who missed out on a first title by two points, while defending champions Rangers finished five off the pace. She Kicks was at Ibrox to see City crowned and here's a snapshot from the press conference afterwards.
Glasgow City head coach Leanne Ross on the title win:
It's been an exciting four or five weeks for everybody involved in women's football in Scotland. It's been a pretty tough time for us in terms of the results that we've had. So [I'm] absolutely delighted for everyone involved at this club that we've managed to win the title and bring that trophy back home.
On her feelings as a new manager:
It's a huge relief. It was a big pressure coming in midway through the season and taking on the manager's role, but this is a club that I love. And a lot of the players, I've played with them for a few years and we've got close relationships, so it means everything to see them out there celebrating – it's thoroughly deserved.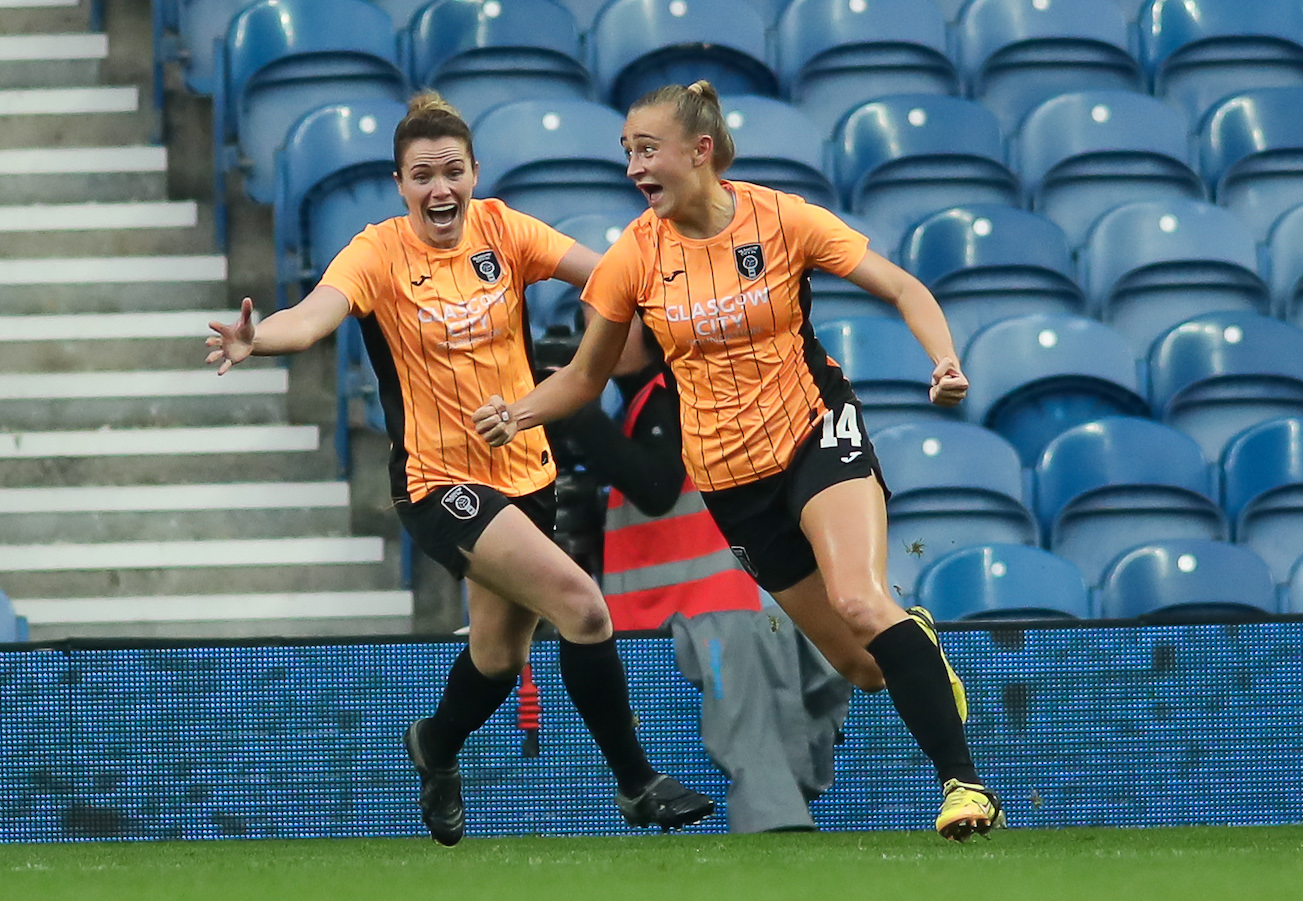 On winning her 15th league title and first as a head coach:
They're all special. Every time you win a title you say the one you've just won is the most special, but the first one in my coaching career is really something special. The fact that we've been pushed all the way to the last two minutes, it's just been really exciting.
On her thoughts as the clock ticked down:
Even before that we were starting to think yes we want to go and win the title, but if you push and you twist at that point, we could have lost that Champions League place as well. It was really about keeping the belief in the team and making the changes that we thought were going to bring us more attacking opportunities.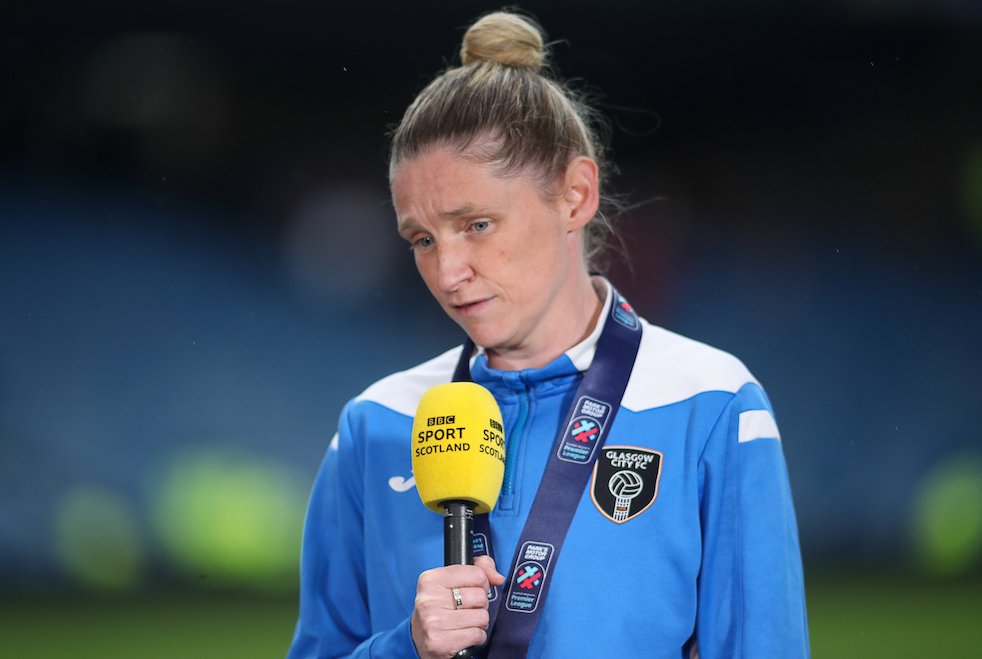 On City's ability to bounce back:
It was always important that we bounced back. Obviously it was difficult last season not winning anything and losing the cups this season was difficult, but we've tried to put all our focus in that one last chance we had today and I'm thankful to say it paid off.
On getting a well earned rest:
I am going to have a break. I've not had a good night's sleep for a while now, worrying about results and who to pick and who to play and who not to play and how to tell them they're not playing. So just to have that wee bit of time to clear the head – and the players certainly need time off because it's been a very hectic schedule and it's taken its toll on them.
Glasgow City captain Hayley Lauder on where this title ranks for her:
It's definitely up there. I think after the disappointment of last season, the fact that we took accountability of ourselves in the club from top to bottom and we came back even stronger this year and to do it on the final day, scary but perfect.
On what was going through her head as it remained goalless:
I felt like we were making good moves, our final ball was maybe a bit lacking at times and I looked up and it was 84 minutes and I was just like, we just need to do it now or never. [Then] Lauren's just stuck it in the back of the net like she's done all year for us. At that point it was just pure relief.
On the strength and mentality of the team:
We've been knocked down quite a few times recently and to come here with the pressure on us, and show our true worth and true character is so pleasing for me. It was like a cup final today for us, a one-off game and we were well worth it I thought.
On her emotions at full time:
To do it so late on is horrible for the heart but perfect in so many ways. There's going to be a lot of photos of me just sitting on the floor and crying, but it means everything to me, this club, and I think physically it takes it out of you but mentally as well over the course of a year. I'm just so proud of everybody that's associated with us.
On the celebration plans:
I think we go out and party! I'm not really sure, we hadn't planned anything. I think in times gone by we've maybe been a bit guilty of not enjoying these moments as much as we can, but we've got such a good group, I'm incredibly proud to play alongside all of them and we'll go and enjoy [it] for sure.
Rangers head coach Malky Thomson on the end result:
We wanted to win the campaign and it wasn't to be. I'm extremely proud of the girls and their efforts the whole season. It's a success in a sense that we've got a lot of young girls that have been put in this situation and they're going to learn from this. Disappointed for the fans, what a fantastic turn out, but we'll move on quickly and we've got a very important game to go next Sunday [the Scottish Cup final].
On bouncing back with the chance to complete a cup double:
We go on. The proof has been every knock and bump that group's taken they've bounced back from. They're hurting just now and they will be ready for next Sunday. It's a massive game against Celtic, it's a cup and it's what we're here to do, to try and win as much as we can and we'll be ready.