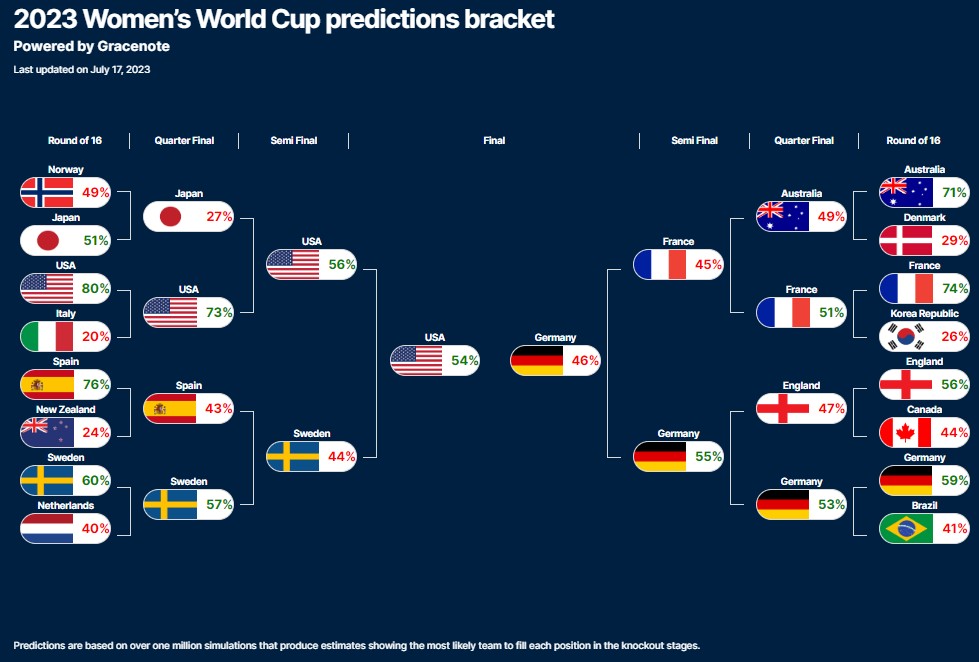 Sweden, Germany, France and England are likely to be main challengers to FIFA Women's World Cup holders USA, according to Nielsen's Gracenote forecasting methodology.

Nielsen's Gracenote today released its forecast for the forthcoming Women's World Cup using data from the FIFA Women's World Ranking to estimate the results for every potential match scenario during the tournament.
Based on approximately one million simulations of the entire tournament, defending champions USA are the favourites to prevail ahead of Olympic silver medalists Sweden in what looks to be a wide open competition.
Germany, France and England are the main contenders for the USA and Sweden. There is around 58% chance that this year's World Cup winners will come from this quintet.
Spotlight
As world number one, USA are favorites to win this year's World Cup and successfully defend their title. However, the USA's chance of winning a very open competition is only 18%. If the USA are successful, it will be the team's fifth world title. USA will also become the first team to lift the trophy at three successive World Cups.
Gracenote estimates Sweden, currently rated the third best team in the world by FIFA, to have an 11% chance of winning the World Cup 2023, making them second favorites behind the U.S. team. Sweden and USA are in the same half of the draw so only one of them can reach the final.
Germany (11%), France (9%), European champions England (8%), Spain (8%), host nation Australia (8%), Brazil (7%) and current Olympic champions Canada (6%) are the other teams whose estimated chance of winning World Cup 2023 is above 5%.
France (96%), Brazil (95%), Sweden (95%), Spain (95%), Germany (95%), USA (92%), Japan (90%), Australia (89%), England (88%), Canada (85%), Norway (83%) and the Netherlands (81%) all have at least 80% chance of reaching the knockout phase according to Gracenote's simulations of the tournament. Italy (75%), Korea Republic (73%) New Zealand (60%) and Denmark (57%) are most likely to join them in the last-16.
The eight most likely quarter-finalists are Spain, USA, France, Germany, Sweden, England, Japan and Australia in that order. The most likely semi-finalists are USA, Sweden, Germany and France.
The most likely World Cup final is USA v Germany which has a 5.9% chance of taking place according to Gracenote's simulations. USA v France, USA v England, USA v Australia and USA v Brazil are the remainder of the top five most likely finals.
Simon Gleave, head of analysis for Gracenote, said: "Our simulations confirm that World Cup 2023 is likely to be a very open and competitive tournament. There is a strong challenge to champions and favorites USA from Europe and Australia's home advantage has boosted them to the seventh most likely team to win the competition."
Most likely World Cup 2023 finals
| | | | | |
| --- | --- | --- | --- | --- |
| Chance | Match |   | Chance | Match |
| 5.9% | USA v Germany |   | 4.0% | Sweden v Germany |
| 5.5% | USA v France |   | 3.7% | USA v Canada |
| 4.8% | USA v England |   | 3.5% | Sweden v France |
| 4.6% | USA v Australia |   | 3.3% | Sweden v England |
| 4.0% | USA v Brazil |   | 3.3% | Sweden v Australia |
The forecast will be updated at https://www.nielsen.com/womens-world-cup-2023-data-hub/#predictions throughout the competition.