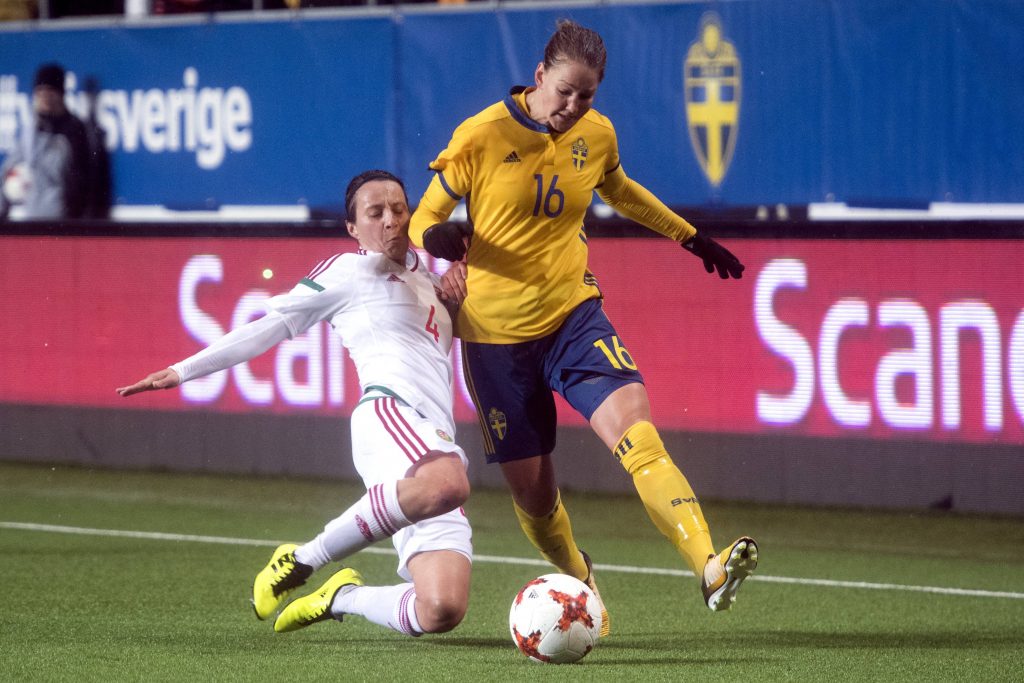 When next June comes around, the Sweden squad at the FIFA Women's World Cup will most surely feature various established names. The beauty of such a tournament, however, is that it can always accommodate newcomers. A major competition can be the golden hour in a player's career, and off the back of a momentous year at club level, defender Mia Carlsson is eyeing her place in France with the Blågult.
She is the ten-season stalwart chasing a breakthrough. As contradictory as that sounds, and as much as Kristianstads DFF means everything to Mia Carlsson, to go to a World Cup would be the ultimate. The 28-year-old is part of the fabric at the Damallsvenskan side, having spent her entire senior career as a KDFF player, though with the national team, she is working to go from periphery to prominence.
The defensive competitor has this year moved up to nine caps with Peter Gerhardsson's Sweden team, having won the first three of those in 2014 and 2015 during Pia Sundhage's tenure. She has been part of the former BK Häcken (men's) manager's plans since he took over following Euro 2017, staking her claim to be a more permanent fixture as 59-year-old Gerhardsson bids to transition the 2016 Olympic silver medal winners into a high-intensity pressing side.
The coach himself smiled when asked after last Sunday's 2-0 friendly win over England in Rotherham if he has an idea of how many names are more or less set, in terms of his World Cup squad, and how many places may be up for grabs. Gerhardsson talked of still trying out a number of potential inclusions, rather than having a specific number in his head, before adding 'but if you force me, I could maybe tell you!'
Although she was one of the travelling contingent not to figure against England, Mia is in an encouraging position, having helped Kristianstad achieve an all-time high finish of 4th in the Damallsvenskan this season. With her immediate club future sorted, the former Under-17, 19 and 23 international spoke enthusiastically about the work ahead of her in the months to come.
"I think I have to work on some things. I see 2019 as a big year for me personally.
"I just signed with Kristianstad for another year, which is really exciting. They are going to help me achieve my goals of getting into the World Cup squad, but I need some extra minutes and some hard trainings."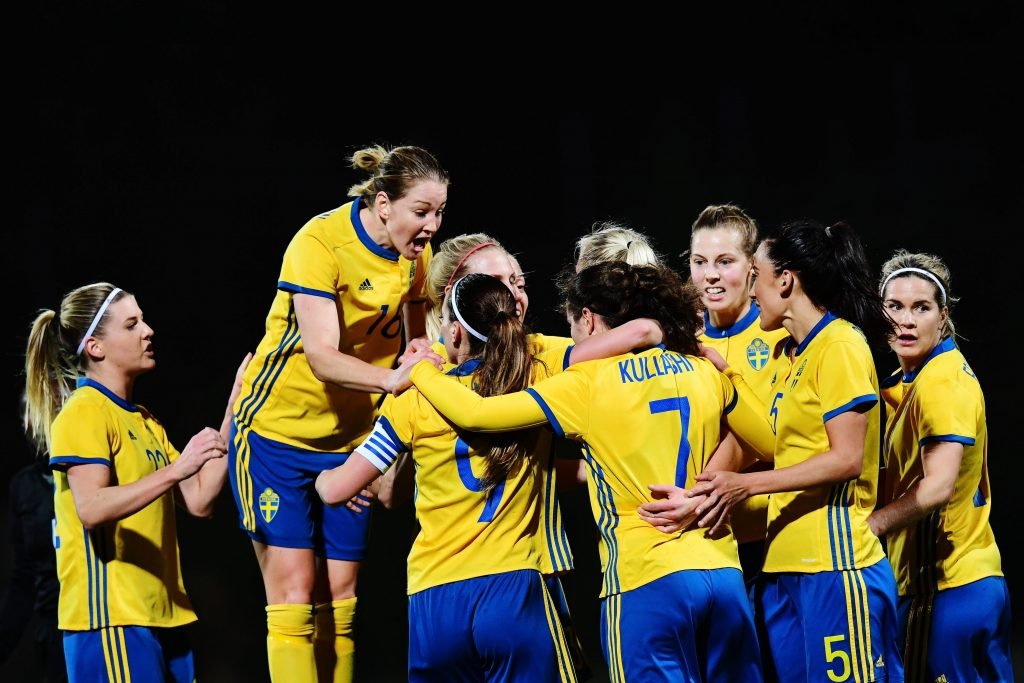 Mia was the player responsible for a stunning chest control and left-footed volley against Eskilstuna United last October that nestled perfectly into the corner. It was an aesthetic delight for any football lover, but goalscoring is admittedly not all that high on the priorities for her, with left-back and central defence alongside league MVP nominee Sif Atladóttir where you can typically find her.
Kristianstad won half of their 22 league games this year, moving up eight points and one place from 2017. It is hugely commendable for a team that were 10th in 2016 and just two points above relegation.
Together with Nigerian forward Ogonna Chukwudi and midfielder Rita Chikwelu, Amanda Edgren, Therese Ivarsson and captain Alice Nilsson all contributed multiple goals and/or assists. Vastly experienced American midfielder Becky Edwards, who recently departed, was another dependable figure KDFF were able to call on for another season.
Kopparbergs/Göteborg FC ultimately took the second UEFA Women's Champions League spot, eight points ahead of KDFF, and while there is huge satisfaction to feel, that leaves added fuel for a further push going into 2019.
"Before the season started, we just said that we want a medal this year," Mia explained. "Of course, when there was three rounds left and we had the chance for being in the runners-up position, it was just a massive excitement.
"Then in the end, when we lost against Gothenburg, we realised that we had one more step to take before we get really close to the higher positions."
ahhhhhhhhhhhh!!!! oh it's incredible! Mia Carlsson! #BestWoSo17 pic.twitter.com/EtXAR2FQjW

— WoSo Comps (@WoSoComps) December 28, 2017
A club from a small town, those on the inside at Kristianstad believe in the potential for something big. Mia originally comes from around an hour away, in Skånes-Fagerhult, and started her football there before joining Vittsjö GIK at 16.
Kristianstad have become her club, however, and she is someone who 'lives and breathes KDFF,' according to their sports director Henrik Nygren. Winning her first medal after being with the club since her teens, she believes that commitment and a chemistry that has been allowed to build is what much of the progression this season can be attributed to.
"I think this year we have been so even in the league, and we have a lot of players who have been with us for a lot of years. This was my tenth year at the club and I think when you are with your squad every day, every year, you get something.
"I mean, Piteå won this year without having any star players, but they have something else in their squad, and I think that's what we had this year."
Though Amanda Edgren has been recently involved, Mia was the sole KDFF representative in Sweden's latest squad. Icelandic coach Elísabet Gunnarsdóttir has been in charge of the club since 2012, overseeing a year of great development for youngsters and more established players alike this time around.
Mia answered mischievously (and light-heartedly, of course) when asked how her club and national team coaches differ, and more specifically, what Peter Gerhardsson has been like to work with since bringing her in.
"Peter is very nice, compared to Elísabet!" she laughed. "Peter is very clear and he always says exactly what he wants from you."
"It's always nice to come here, because you know exactly what your mission is for every camp."
Mia figured in every group game at this year's Algarve Cup, as Sweden came top above Canada, South Korea and Russia, though they were deprived of a final with the Netherlands due to inclement weather, instead left to share the prize. Before last weekend's England win, they had beaten Norway 2-1 and lost 1-0 to Italy last month, games which Gerhardsson sees as crucial high-calibre tests for their developing style.
For Mia, she looks back with an overwhelming sense of pride at what her club have done in 2018, but she wants to use the standout campaign of her career so far as a springboard for more, rather than simply allowing it to be the peak.
"I think this year has been one of the best, for sure. It's always tough coming in to the national team, in a tournament year, besides the season with my club, but I'm enjoying every moment.
"Personally, I'm just trying to be the best I can."
As well as training, match preparation, and some shopping in Manchester, the Swedish team were in attendance at two (men's) games during their stay in England. One came from the Champions League and one from the Championship.
"We went to Manchester and saw the City v Shakhtar game, which was really amazing. Then we went on Friday to Sheffield for the Steel City Derby and that was unbelievable."
But who were the Blågult cheering for in the white-hot, Friday night atmosphere at Bramall Lane – Blades or Owls?
"We didn't dare to, because we had the United fans there and the Wednesday fans there, so we were in the middle of everything! We stayed neutral."
Interview/article by @chris_brookes